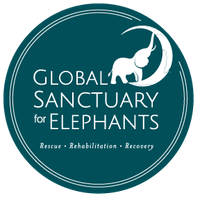 Global Sanctuary For Elephants
Global Sanctuary For Elephants
Want to make a donation using Daffy?
Lower your income taxes with a charitable deduction this year when you donate to this non-profit via Daffy.
About this organization
Mission
Mission: Protecting, rescuing, and providing sanctuary for elephants worldwide. Thousands of captive elephants in zoos and circuses around the world are suffering. Year after year of isolation, restraint, malnutrition, abuse and lack of adequate exercise and proper medical care exact a harsh physical and psychological toll on these highly intelligent sensitive and social creatures. These elephants are in need of sanctuary, but too few exist to be able to care for them all. GSE exists to create vast safe spaces for captive elephants, where they are able to heal physically and emotionally from the traumas of captivity. Our pilot project is Elephant Sanctuary Brazil, the first and only elephant sanctuary in Latin America.
About
OUR FOUNDING DIRECTORS ARE WORKING ON LOCATION IN BRAZIL, OVERSEEING THE DEVELOPMENT OF ELEPHANT SANCTUARY BRAZIL AND ESTABLISHING A FOUNDATION THAT IS IN ALIGNMENT WITH THE CORE VALUES OF GLOBAL SANCTUARY FOR ELEPHANTS ("GSE"). THEY HAVE ATTRACTED INTERNATIONAL SUPPORT AND ARE RECRUITING AND TRAINING CORE TEAM MEMBERS IN BRAZIL TO RUN SANCTUARY OPERATIONS. PRESENTLY, PREPARATIONS ARE BEING MADE FOR THE TRANSFER OF 8 ELEPHANTS FROM ARGENTINA, 1 FROM CHILE AND 3 FROM WITHIN BRAZIL. HAVING OUR WORLD RENOWNED FOUNDING DIRECTORS ON THE GROUND IN BRAZIL IS PIVOTAL TO PROVIDING HANDS-ON EXPERTISE AND RECOGNITION FOR ELEPHANT CARE AND TRUSTWORTHY OPERATIONS NECESSARY TO BUILD ELEPHANT SANCTUARY BRAZIL INTO A SELF SUSTAINABLE AND POSITIVELY IMPACTFUL ORGANIZATION FOR ELEPHANTS THROUGHOUT SOUTH AMERICA.
Interesting data from their 2020 990 filing
The non-profit's mission is outlined in the filing as being "See schedule odedicated to rescuing, protecting and providing sanctuary for elephants worldwide. our founding directors and elephant care specialist consult internationally for the wellbeing of captive elephants. currently based in brazil, working directly with brazilian ngo santuario de elefantes brasil, our founding directors are focused primarily on the continued development of the first sanctuary for captive elephants in south america. with the arrival of the first residents, global sanctuary for elephants and santuario de elefantes brasil have gained international exposure and support to further the mission of global sanctuary for elephants. this increased exposure, success and rapid progress has spurred additional interest from throughout south america, as santuario de elefantes brasil is quickly being recognized as the solution for ailing captive elephants.".
When outlining its responsibilities, they were referred to as: "Protecting, rescuing and providing sanctuary for captive elephants worldwide".
The state in which the non-profit operates has been officially reported as TN.
The filing reveals the non-profit's address in 2020 to be 2624 BENTLEY DRIVE, PALM HARBOR, FL, 34684.
As per the non-profit's form for 2020, they have 1 employees on their payroll.
Is not a private foundation.
Expenses are between $500,000 and $1,000,000+.
Revenue is between $500,000 and $1,000,000+.
Revenue less expenses is -$91,940.
The organization has 3 independent voting members.
The organization was formed in 2013.
The organization pays $48,478 in salary, compensation, and benefits to its employees.
The organization pays $16,525 in fundraising expenses.