Daffy launched a few months ago with a relatively simple mission: help people be more generous, more often. And to fulfill that mission, we launched the first fully functional donor-advised fund available in the App Store.
Daffy, however, did not set out to just build a modern donor-advised fund. Our product goal is to build a better system for giving.
The Daffy system has four core features:
Set a goal for your annual giving.
Automate your contributions to put money aside regularly for giving.
Automate your recurring donations to support your favorite organizations.
Consolidate all your receipts in one place for tax season.
Today, I'm very pleased to announce that with the addition of recurring donations, all four elements of this better system for giving are now available on Daffy, both on iOS and on daffy.org.
Step 1: Set Your Giving Goal
For new members of Daffy, setting your giving goal is taken care of during your account setup. All you have to do is answer one simple question: how much do you want to give to charity every year?
If you don't have a goal in mind, Daffy can help you pick a number that's right for you, either with a simple percentage of your income or based on what the average household in your city gives to charity.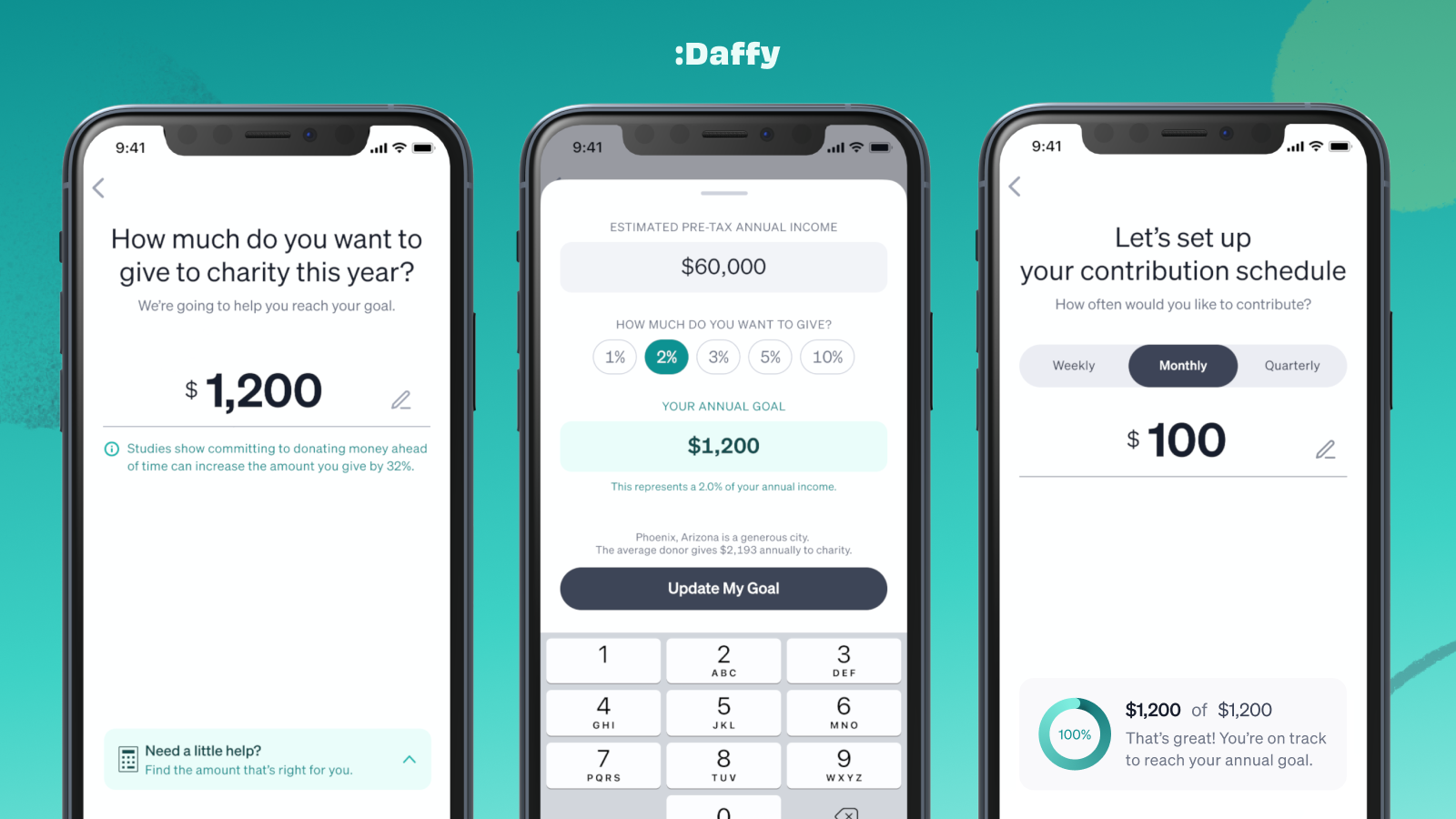 Step 2: Automate Your Contributions
Daffy makes automating your contributions as simple as saving money for retirement. All you have to do is select the frequency (weekly, monthly, or quarterly) and then link your bank account and we take care of the rest.
We call this commitment, The Daffy Pledge.
While automating your contributions is likely the easiest way to fund your account, for members who want to make a one-time contribution, Daffy supports contributions from bank accounts, debit cards, credit cards, stock, ETFs, crypto, or transfers from existing donor-advised funds.
Step 3: Automate Your Donations
Automating recurring donations is one of the most obvious "win-win" arrangements in philanthropy. For the donor, it means no anxiety about mistakenly forgetting to make the donation, and for the organization, it means a reliable and repeatable source of funding.
With Daffy, it's simple to create a recurring donation:
Select "Donate" from the home screen.
When entering your amount, choose the tab below for recurring.
Pick "Monthly", "Quarterly", or "Scheduled" for your recurring donation.
As you can see, "Scheduled" offers the flexibility to pick any start date, so you can line up a donation with a date that matters to you, whether that's the beginning of the school year or in memory of a loved one.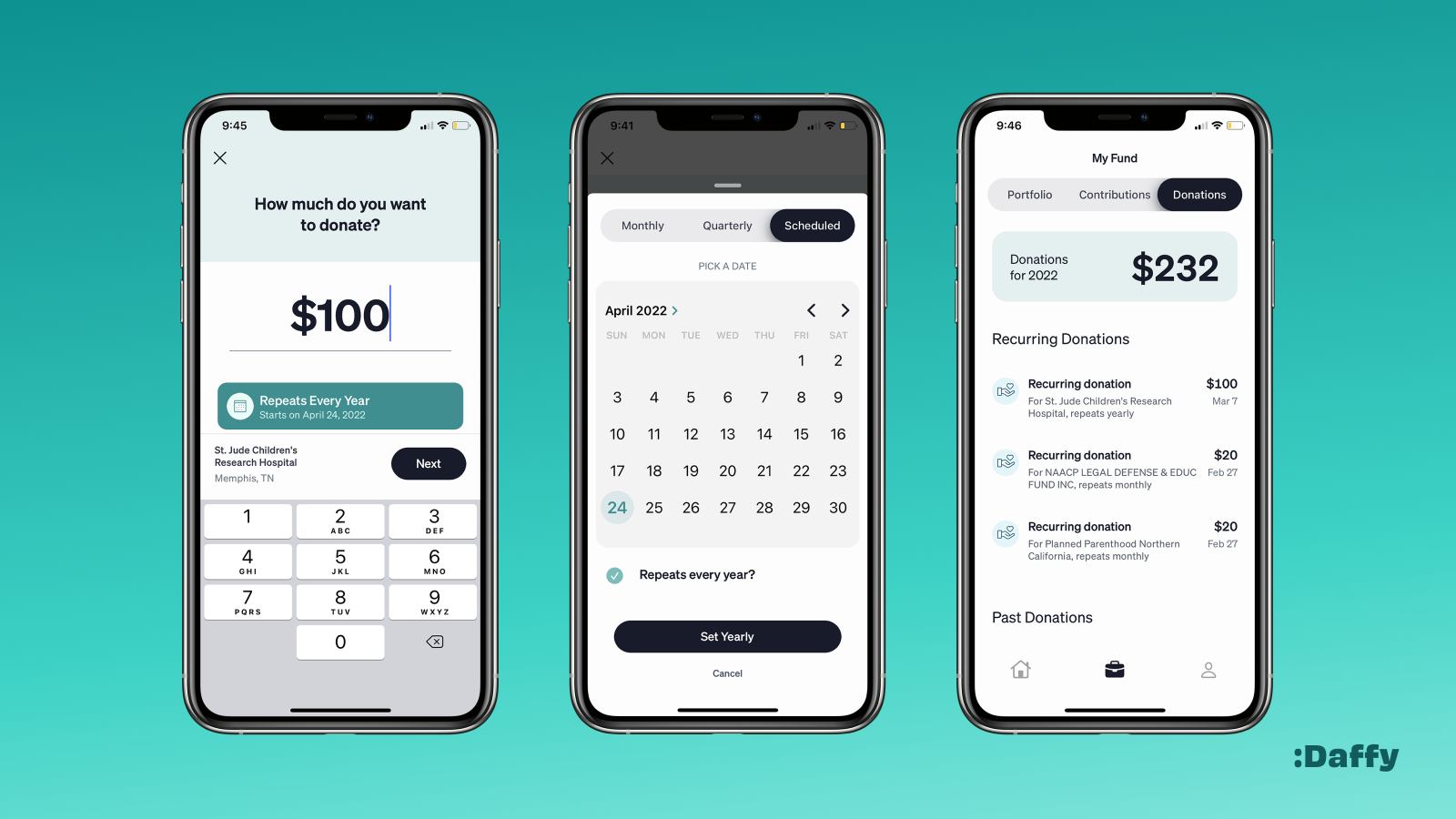 Step 4: Consolidate Your Tax Receipts
Filing your taxes shouldn't be difficult, but as we all know, getting your documents together can be stressful and difficult for many people.
Fortunately, with Daffy, you never have to search for a charitable donation receipt again.
Every tax-deductible contribution that you make is automatically added to your Daffy contributions report, which is updated throughout the year. Whether you are filing taxes in April, or just want to verify a particular contribution, your information is just a few taps away on your phone.
Daffy handles every type of tax-deductible charitable contribution: cash, stock, crypto, or existing donor-advised transfers.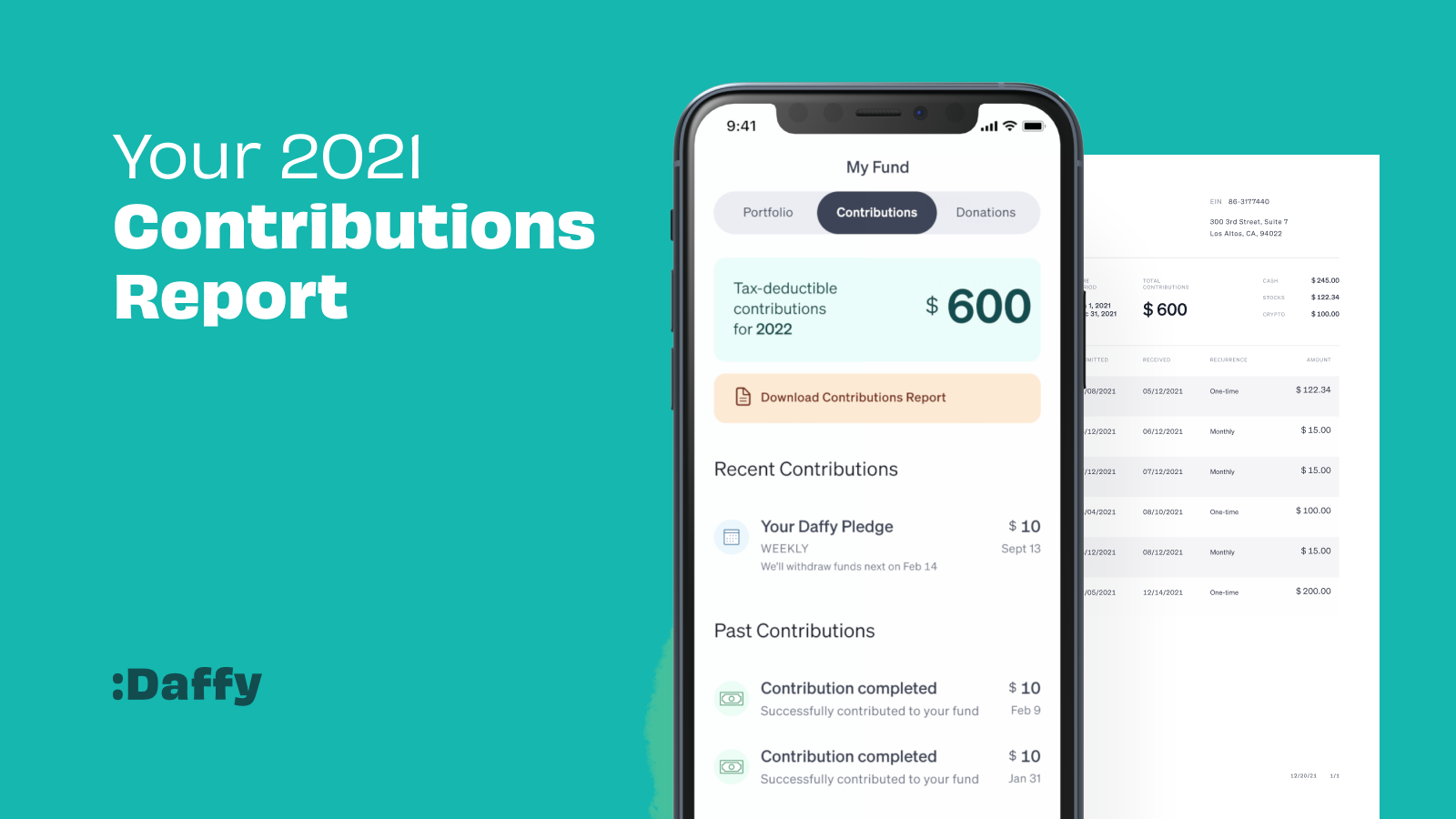 A Better System for Giving → A More Generous Life
At Daffy, we work every day to try to make it a little bit easier for our members to be more generous. The research is clear: by making a commitment to give and automating your contributions and donations, we may be able to close the $1.27 trillion dollar generosity gap together—and better support the many organizations and people in need.
Join us.