A donor-advised fund combines a tax-smart strategy with bigger-impact giving to your favorite charities. But the type of donor-advised fund you choose can have a huge effect on both your personal savings and the amount you're able to contribute and get out to charities. Costly fees and limited tech capabilities can quickly diminish the benefits of using a donor-advised fund.
To help you through the decision-making process, we're pitting Daffy head-to-head with the Bank of America Charitable Gift Fund to reveal the best option at multiple contribution levels. Here's a sneak peek at the results: Daffy beats out Bank of America in terms of pricing, investment options, and user experience.
Fees: Daffy vs. Bank of America Charitable Gift Fund
Daffy and Bank of America are worlds apart when it comes to funding accounts and charging fees. For starters, there's no minimum contribution with Daffy; but with Bank of America, you'll need $25,000 to open your account. After that, your fee varies based on your balance. The lowest cost is reserved for account holders with the largest balances.
See how Daffy beats out Bank of America at two account levels: the $25,000 threshold and the $100,000 threshold.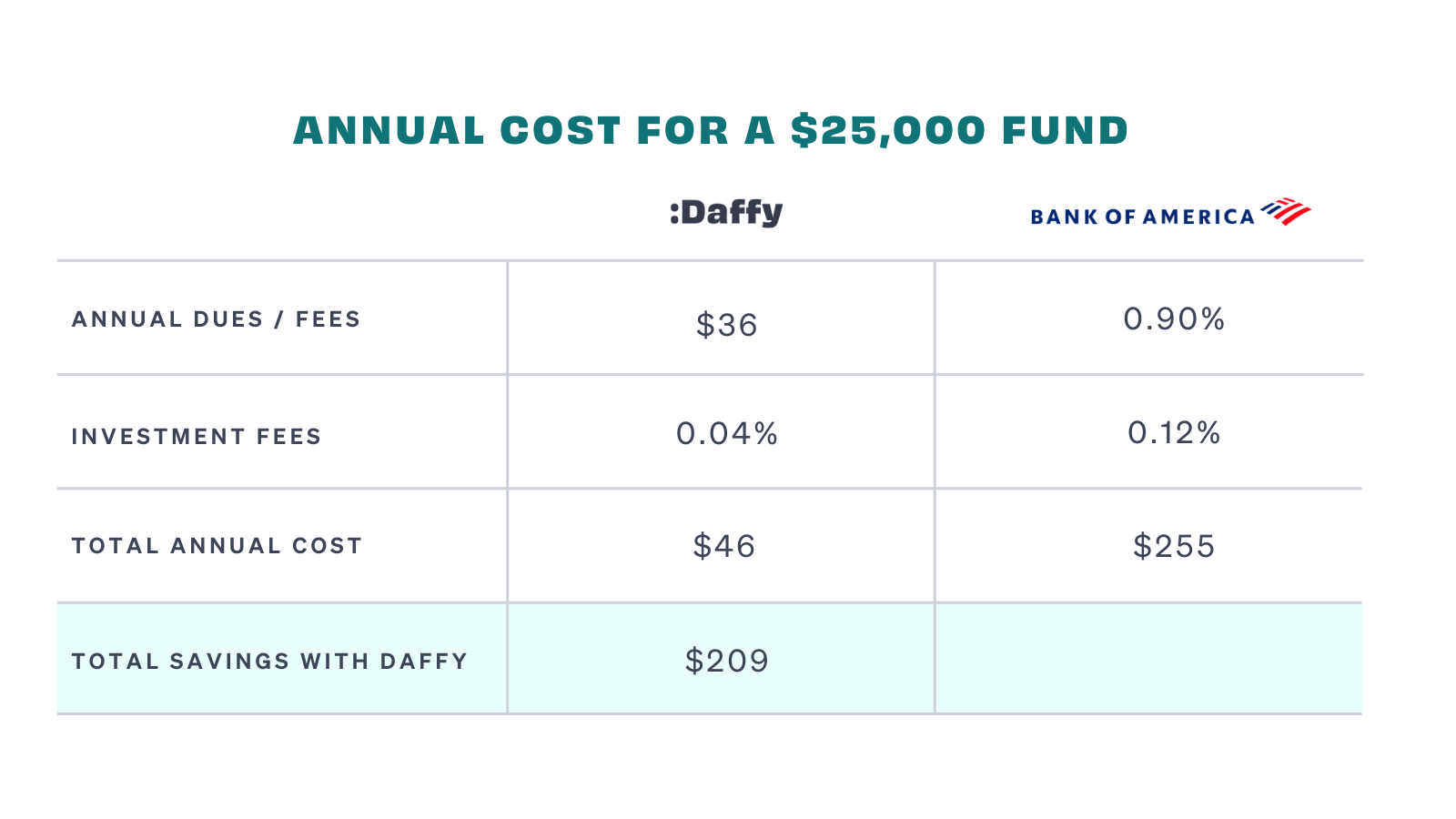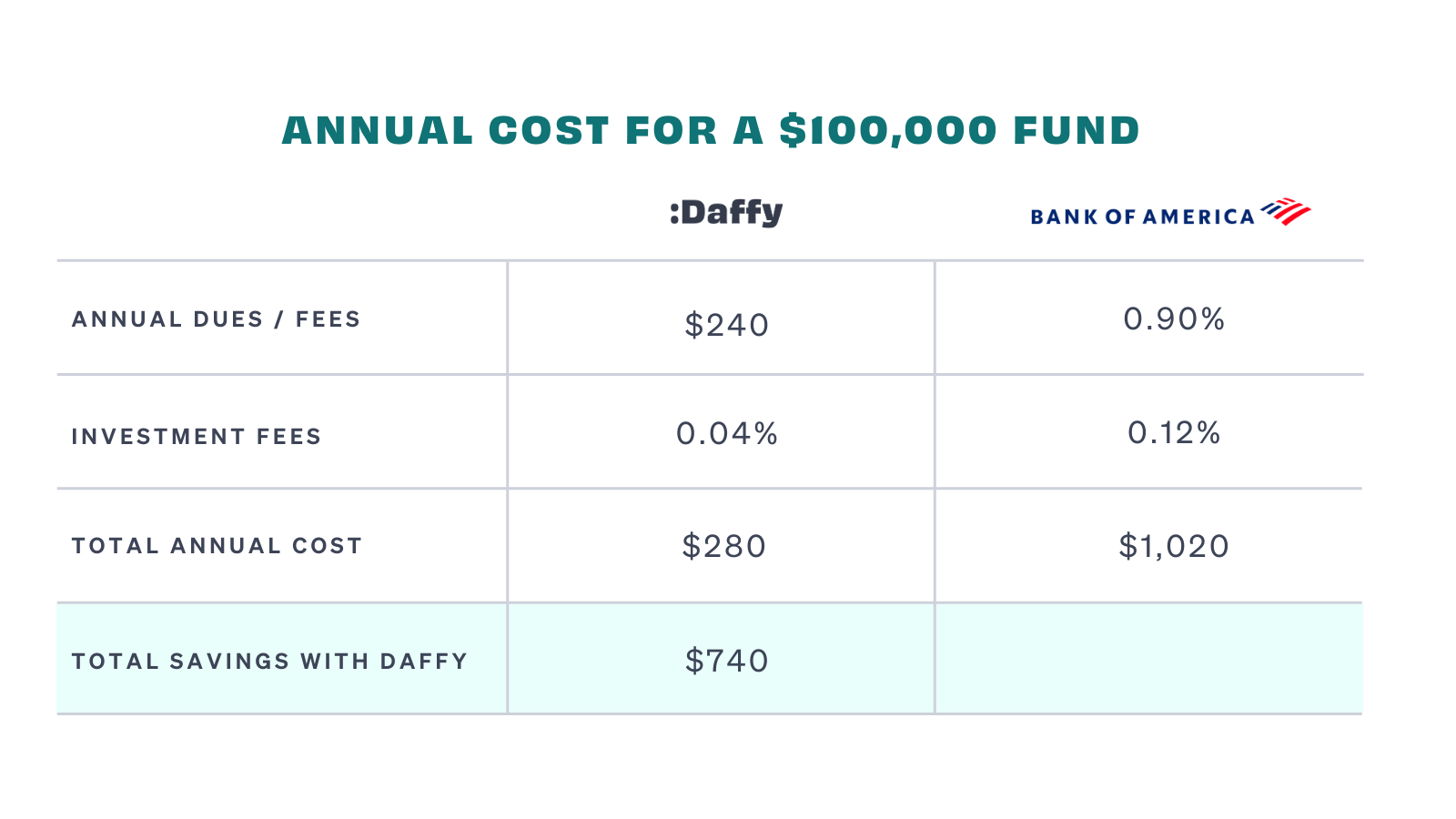 What Does Daffy Do Better?
Daffy stands out from the Bank of America Charitable Gift Fund in several different categories.
Transparent Membership Pricing
Unlike Bank of America, Daffy offers a low-cost membership for accounts of all sizes. Bank of America charges fees based on the account balance, which starts at 0.90% and goes down to 0.10% as you contribute more. But even at the 0.10% fee level at $100,000, that adds up to $740 more each year in fees. Compared to $240 per year with Daffy, that saves you $500 per year.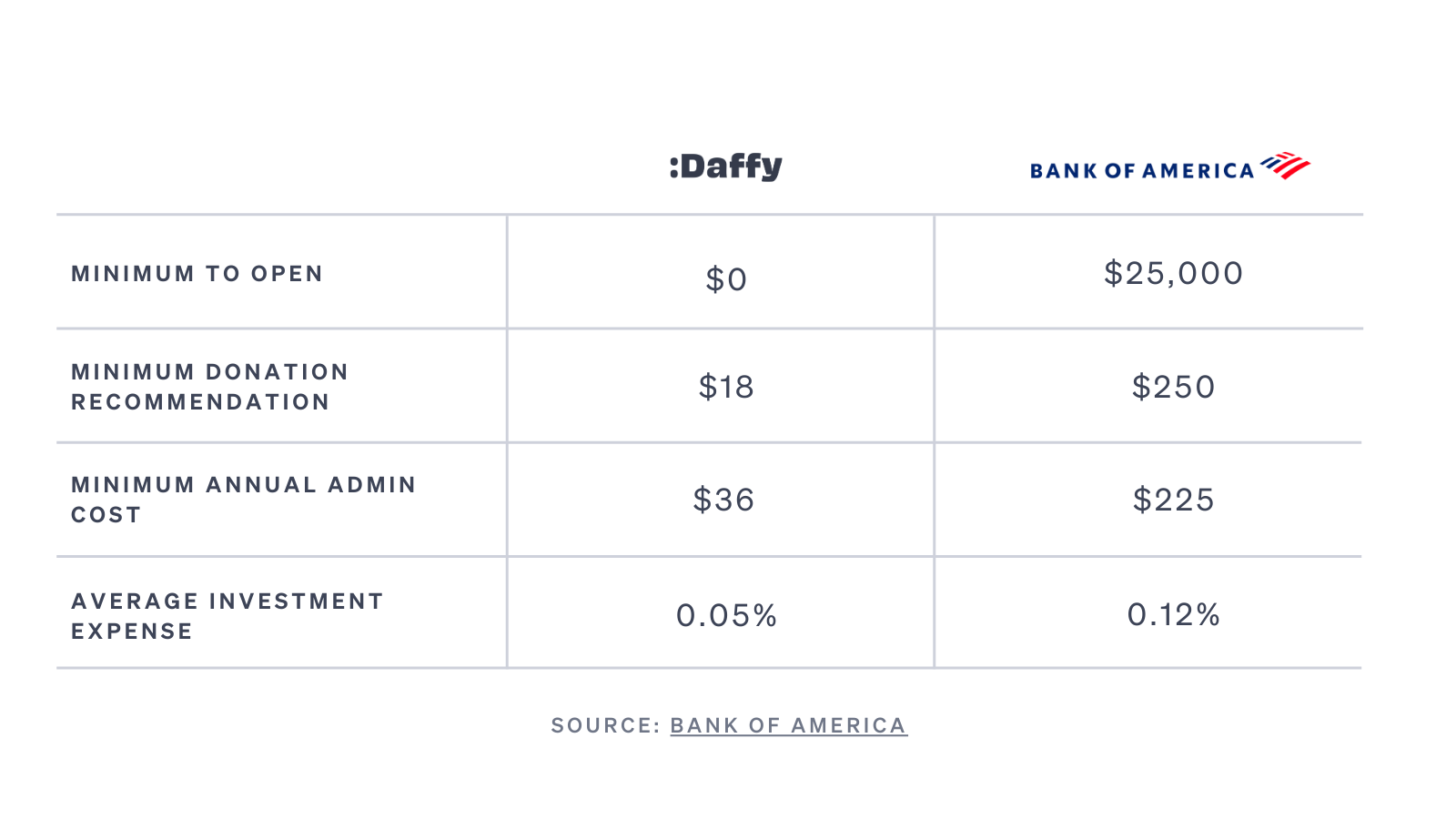 Easy Account Management with App
Daffy's mission is to help people be more generous, more often, and our platform is designed to make the process as easy as possible for our members. Not only can you search for eligible organizations directly within Daffy, but you can also download annual documents with all of your tax-deductible contributions for easy tax reporting. Plus, you can donate stock, index funds, and crypto with just a couple of clicks.
We also launched Daffy for Families to create a multi-generational giving experience. Multiple family members can make donation recommendations within the same account, sparking meaningful conversations and lasting memories. The primary account holder has the ability to review and approve all recommendations, making it a seamless way to involve your kids, siblings, grandkids, or nieces and nephews.
The Bank of America Charitable Gift Fund, on the other hand, falls short when it comes to user experience. Accounts may only be accessed via the website, and you're required to work with a financial advisor from Bank of America. While at Daffy, you can enjoy high-quality investment options from Vanguard, Schwab, and BlackRock with just a few taps.
Here's a side-by-side comparison of Daffy features versus the Bank of American Charitable Gift Fund.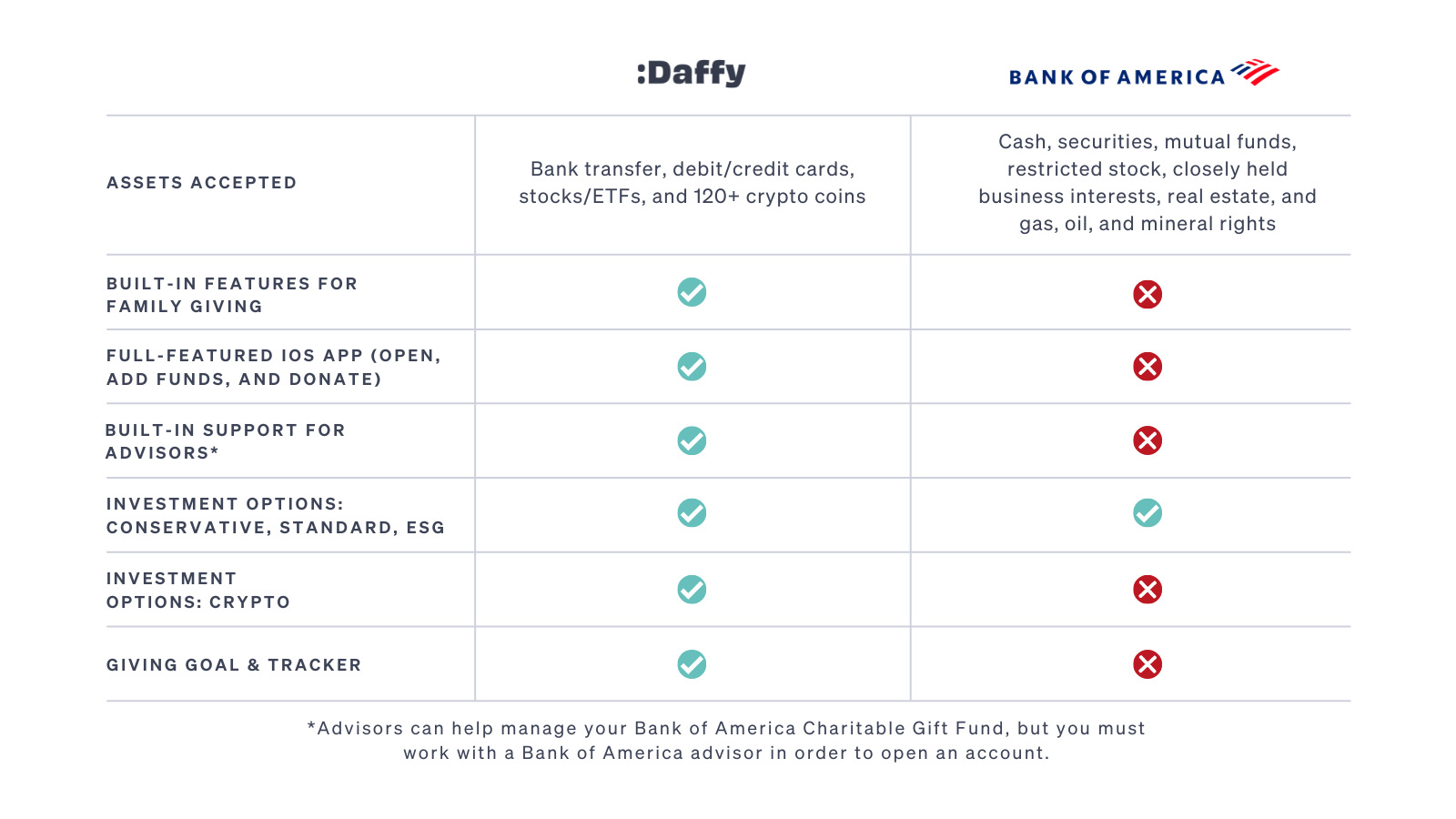 Now the TL/DR
Daffy is best if…
You want to lower fees and maximize both your tax savings and charitable contributions. Expensive administrative and investment fees cost you and the organizations you want to support. By keeping admin costs low, you can give back more without having to worry about your own bottom line.
You want to give on the go with an easy mobile and online platform. Whether you regularly support a specific charity or like to donate funds in response to a time-sensitive crisis, Daffy makes it easy to make a donation recommendation no matter where you are.
You want to donate crypto. Daffy allows you to donate crypto directly through the platform, which means you can avoid costly capital gains tax while potentially qualifying for an attractive tax deduction all at the same time.
You want to invest a smaller amount. Not everyone has $25,000 to contribute to a donor-advised fund. But that doesn't mean you shouldn't have access to the same technology and tax benefits. Daffy makes this advantageous financial account accessible to anyone.
Bank of America is best if…
You already have a Bank of America account in place and don't mind paying extra fees.
You want to donate complex assets like closely held business interests.
Even if you already have a DAF with Bank of America, it's easy to transfer and start taking advantage of all the perks that come with Daffy. Here's how to do it.
Download Daffy or get started at Daffy.org
Select transfer an existing donor-advised fund, tell us the provider, and how much you'd like to transfer
Log in to your existing provider
Make a grant of any amount to the Daffy Charitable Fund (EIN: 86-3177440)
We'll notify you when your funds are in your Daffy account