There are a lot of reasons that people choose to give. For some, it is to support a cause or organization that they believe in. For others, it is compassion for others that drives them. There are people who give to help burnish their reputation in their community, and others who give to save a bit of money on taxes.
But according to researchers, the number one reason that people give is very consistent.
They give because they were asked by someone else.
We all have causes and organizations that we support and believe in, but rarely do we know the charities that our family, friends, and colleagues support. We may get an email from time to time from a friend, or see a fundraiser on social media, but those are sporadic and too often get lost in the endless competition for attention with news, shopping, photos, and memes.
At Daffy, we have heard from our members how little they know about other people's giving, and we believe that this lack of visibility inevitably results in less giving overall.
When we see our family, friends, and colleagues give, it inspires us to give.
Our mission at Daffy is to help people be more generous, more often. We want to build a community that not only puts money aside regularly for charity, but that helps each other discover new organizations, inspires us to give, and supports each other.
This holiday season, we're hoping you'll join us in our efforts to #BeMoreGenerous.
Let's Inspire Each Other to #BeMoreGenerous
When we first launched Daffy, one of the simple but innovative features we added to the platform was the ability for members to leave a public note when they make a donation. Over the past year, we've seen these notes come through every day, and it is hard to overstate how meaningful and inspiring they can be.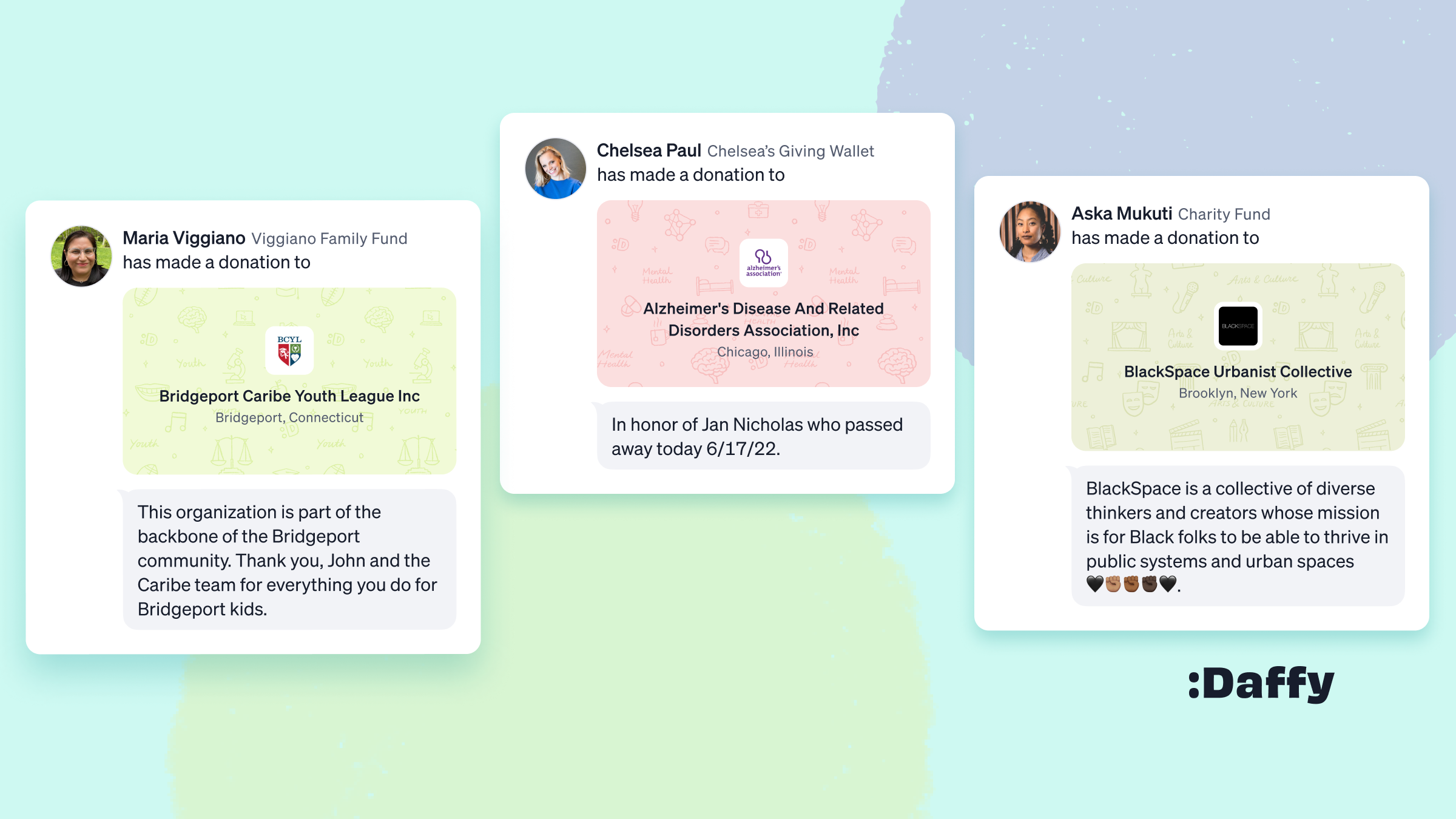 30% of all giving in the US happens in November and December. This year, we're asking everyone to take a simple action that could make a big difference for the organizations you support: Be more public about your giving.
When we share the causes and organizations we support, we inspire others to give. For many people, the endorsement of a friend or colleague can be the most influential recommendation to learn more about a new organization and its mission.
There are very good reasons why some people choose to keep their giving private, and there is a long and worthy tradition around anonymous giving. However, it is estimated that between 60 to 70 million American households donate to charity every year, and it's unfortunate that you wouldn't know it from the trillions of social media posts we create.
This year, let's make an effort to inspire each other to be more generous.
Win Up to $25,000 for the Charities You Love
At Daffy, we're launching three major efforts in November to help inspire more people to give more often: daily donation sweepstakes, our generous leadership series, and our new charity spotlight feature.
Starting today, November 1st, we are going to run daily donation sweepstakes to inspire everyone to #BeMoreGenerous this giving season. We will be giving away a total of $25,000 to charity this month, with a winner announced every day through Giving Tuesday (November 29th).
The rules are simple:
Donate to your favorite charity on Daffy.
Share why you support that charity by leaving a public note on your donation. (You can also pin that donation to your Daffy profile if you'd like.)
Follow @DaffyGiving for updates on our daily prize amounts and winners! We'll announce the winner the following day.
More information and the Official Rules.
Every Daffy member who makes a donation through our mobile app or website will be automatically entered to win. All you have to do is make your donation public, and include a public note about why the charity you support means so much to you. The prize amount will vary daily, anywhere from $100 to $2000, and prize money will be donated to the charity of your winning donation.
In addition to the daily prize, every donation will be entered to win our grand prize of $10,000 in your Daffy fund, to give to any supported organization(s) of your choice. The more donations you make, the more chances you'll have to win money for your favorite charity.
We're hoping that this simple contest will not only inspire more people to give, but will also result in more awareness and donations for the organizations you support.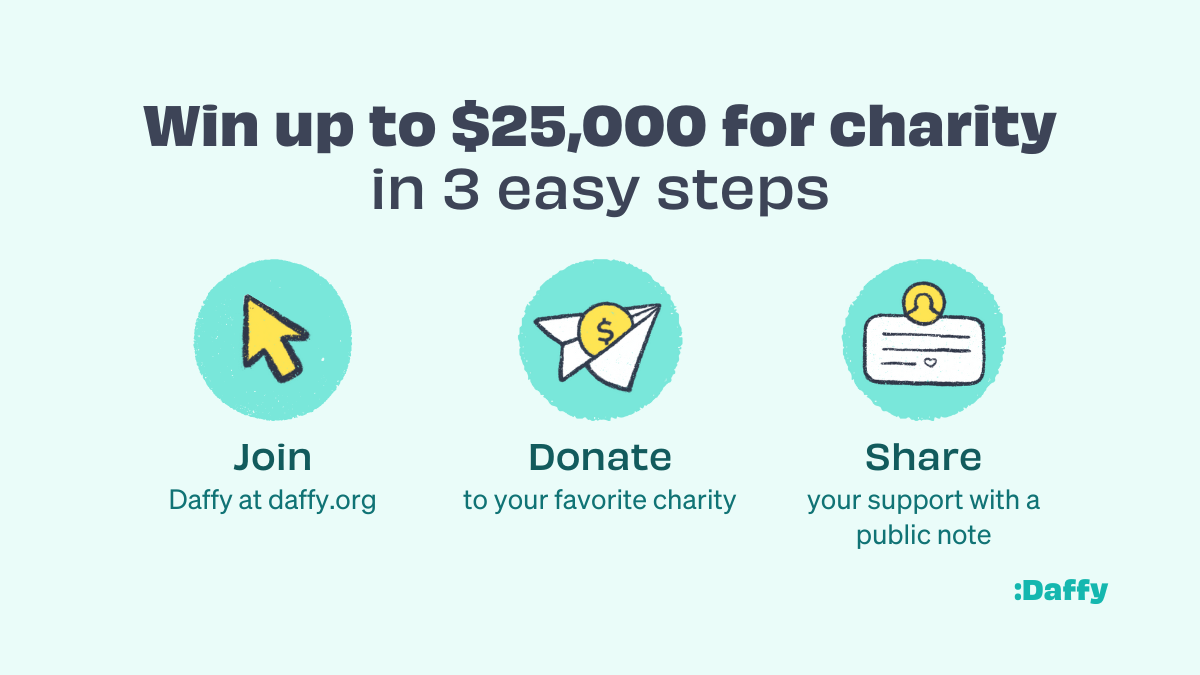 Discover. Inspire. Support.
There are few leadership techniques as powerful as leading by example, and that is why we are grateful to have 30 notable leaders who have volunteered to help share the charities they support this holiday season.
Today, I will be kicking off the month by spotlighting Code.org, an organization that is working tirelessly to bring computer science education to every student across the country.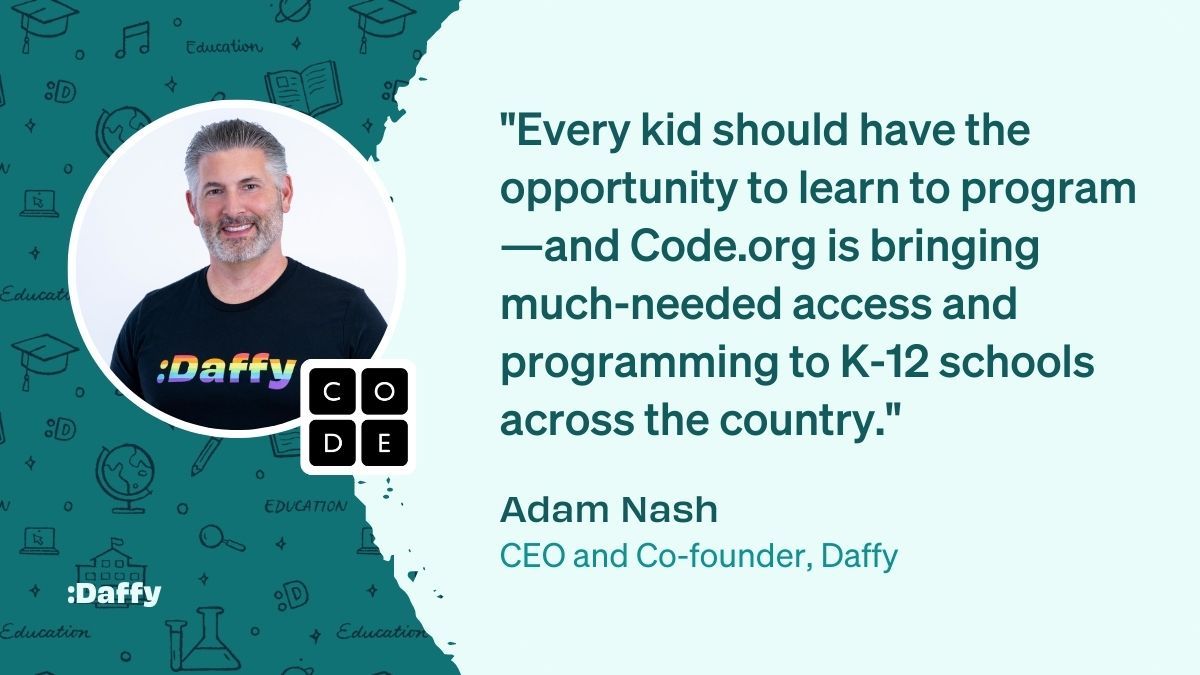 Best of all, if you are inspired to spotlight your own favorite charity on Daffy, this feature is now open to all Daffy members. Every member can now choose any of their donations to pin to their profile. We can all do more to help our friends and colleagues discover new organizations, and inspire them to be more generous.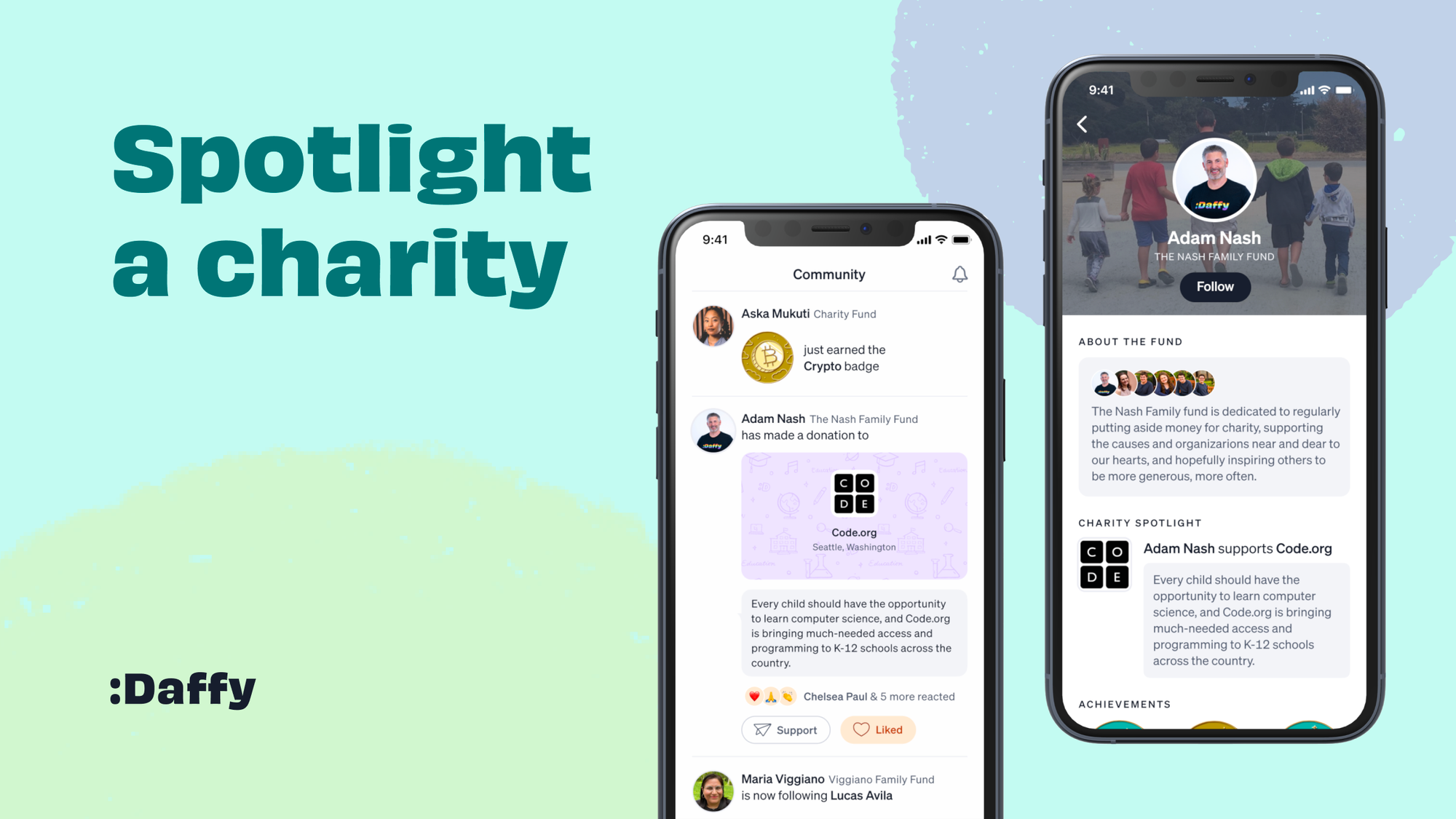 If you are inspired to #BeMoreGenerous this holiday season, make a donation today, either to Code.org or any of the over 1.5 million charities supported by the Daffy platform. Each donation will give you a chance to win more money for your chosen organization, and enter you possibly win a grand prize of $10,000.
Most importantly, spend a few moments sharing the reasons why you give.
Giving is better together. Start Giving on Daffy today.