At Daffy, our goal is to constantly update and improve our service. In the donor-advised fund industry, feature updates are rare. New versions of our web application are published multiple times a day, and our iPhone app is updated every two weeks.
We're excited to share what's new for Daffy as of February 9, 2022  (v1.8 in the app store). We've added new ways for you to be more intentional about your giving, more ways to fund your Daffy account, an update on our investment strategy, and much much more.
Set A Giving Goal
While talking to people about their giving, we've identified there is a significant "Generosity Gap" between what people say they want to give and what they actually end up giving.
But what if we could close this gap? By our calculations, it could increase the money given to charity by more than 1.2 trillion dollars over the next ten years. Think about all the charities and causes that could be better supported with those funds.
At Daffy, we've added a simple but key feature to solve this problem. We ask you upfront: How much do you want to give to charity this year?
We often set goals for ourselves around the things we care about most and want to improve. Whether it be financial goals or fitness goals, we often set goals to help us do something more regularly. So just like committing to putting money aside in your Savings account more regularly or working out more regularly, why not set a goal for your giving? Now you can with Daffy.
Plus, once you set your giving goal, you can easily select whether you want to set money aside each week, month, or in a one-time contribution—and we'll automate the rest for you.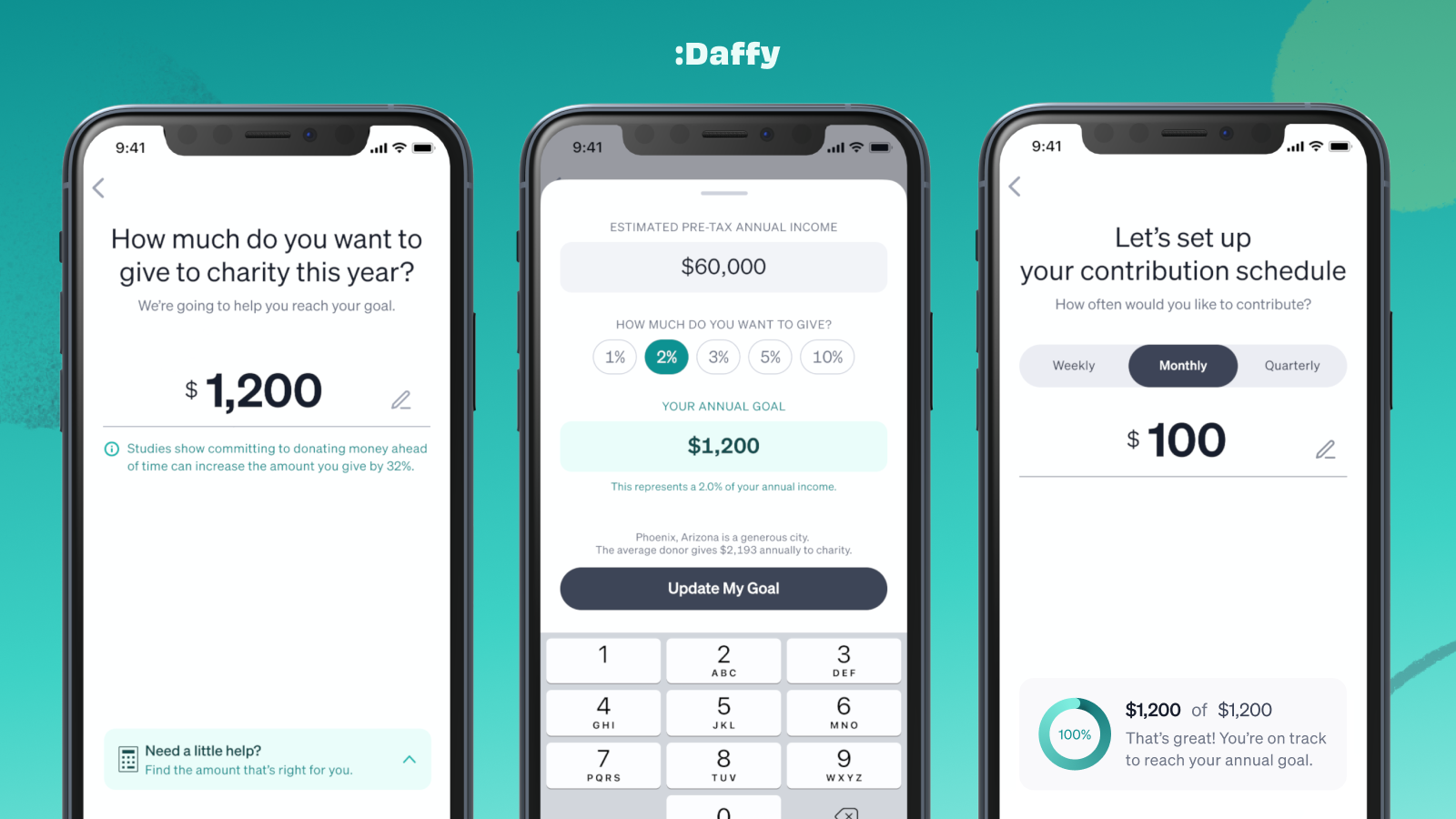 Easily Fund Your Daffy Account
In December we announced the ability to contribute over 100 different types of cryptocurrencies to your Daffy account, we're now proud to share that we've also made it easier to fund your account with any major debit or credit card as well as transfer an existing donor-advised fund to Daffy.
This way, it's even easier to fund your account, and give to causes and charities you care about.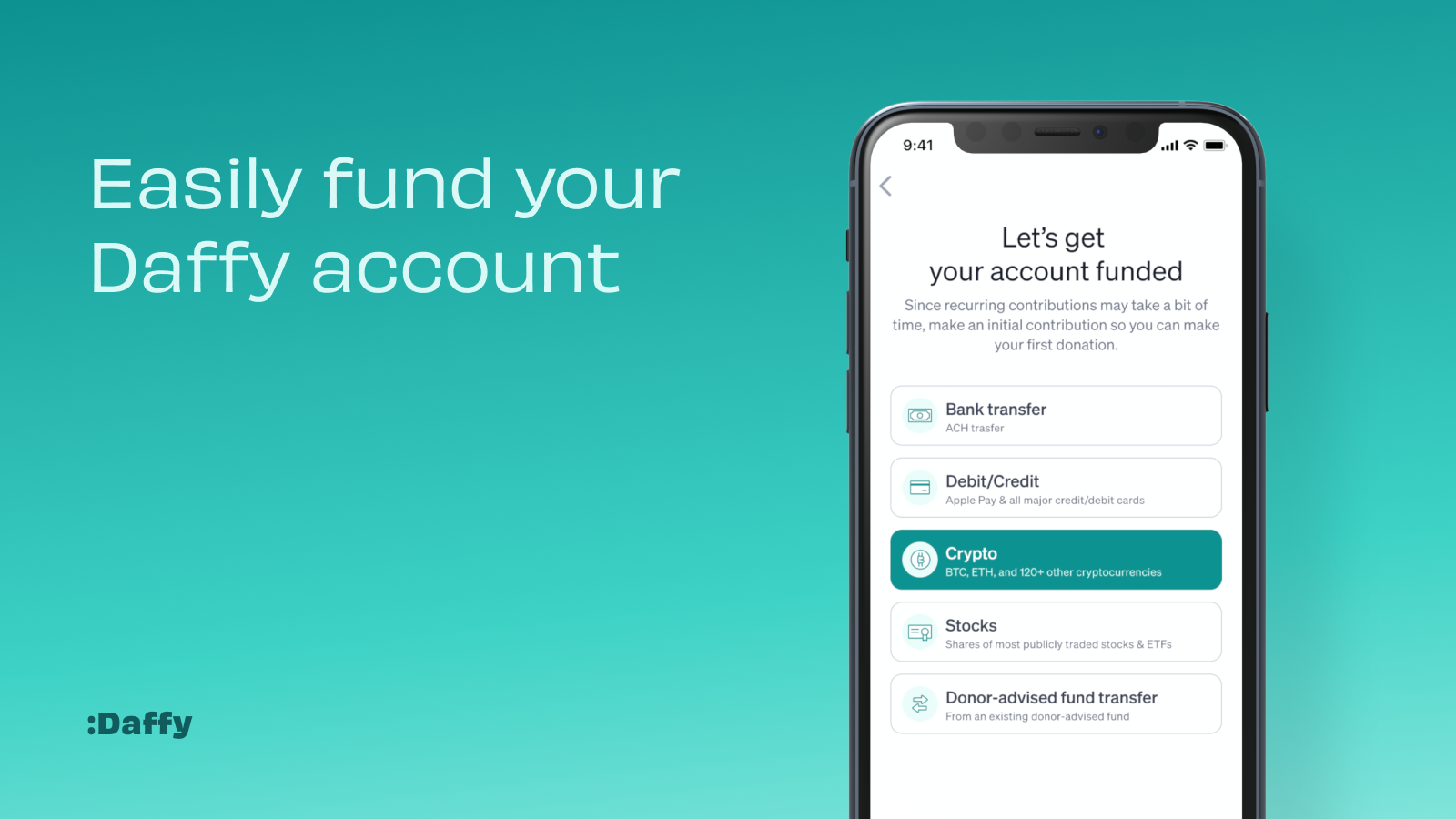 More Efficient Portfolios
All Daffy members select one of nine portfolios to invest their contributions with the intention of seeing their charitable impact grow over time as they consider which charities to support.
When we launched Daffy, we set aside 10% of each portfolio in cash, as we expect every member to donate at least 10% of their account balance every year. However, many of our members requested that their portfolios be fully funded to maximize their giving impact.
Based on direct feedback from the Daffy community, we're proud to share today that as of February 2022, all Daffy portfolios are now fully invested.
Implementing this change across multiple custodians for both our ETF and crypto portfolios represented a new challenge, as most donor-advised funds do not support crypto. However, now when you make a charitable donation, our system liquidates the appropriate amount of securities and crypto in real-time while still keeping your portfolio balanced.
Now you can rest assured that whichever of our nine portfolios you select for your charitable fund, all of your contributions will be hard at work.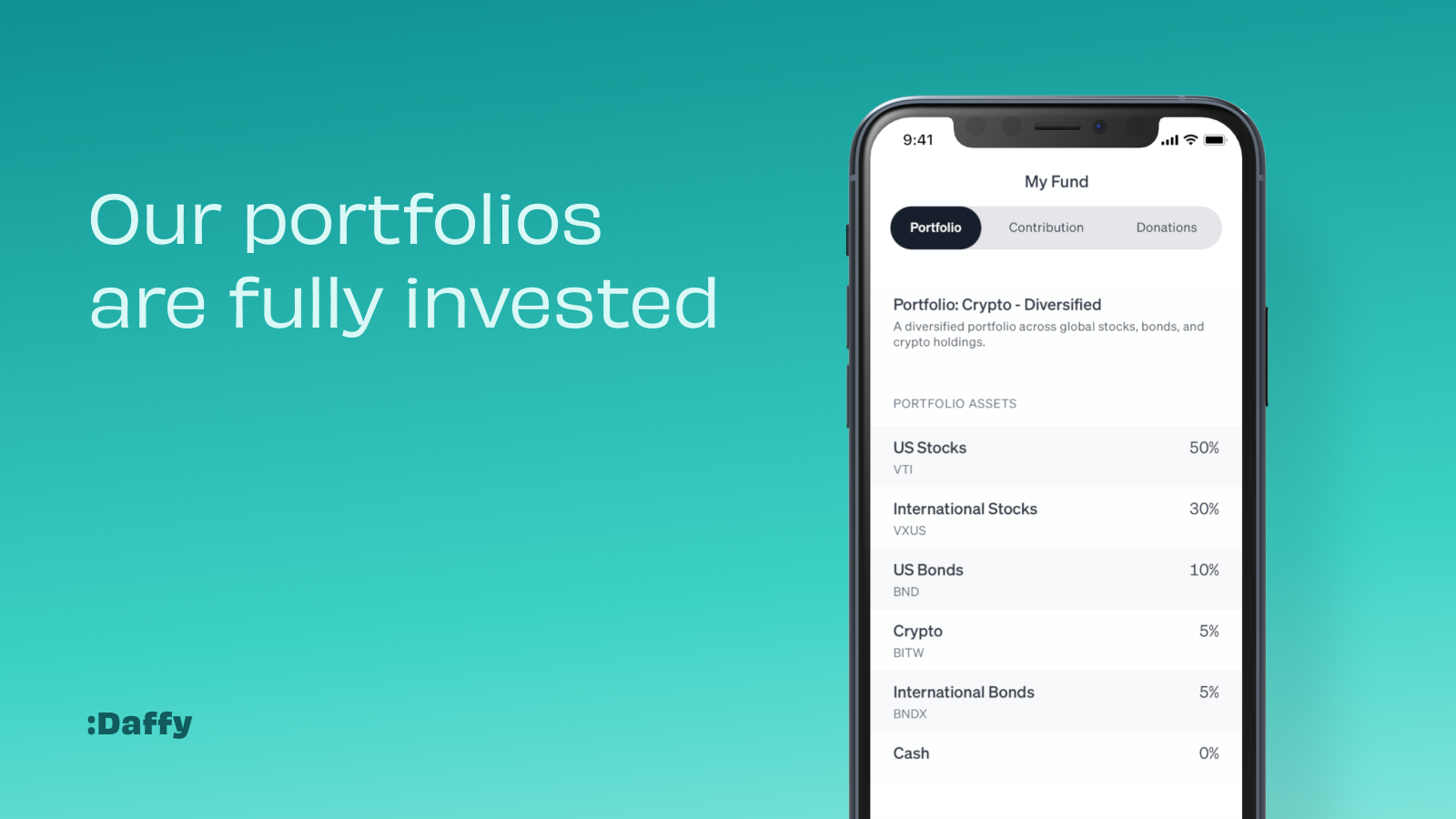 Give With Friends & Get $100 For Charity
Since we know giving is more fun and impactful when you do it with friends and family, we've made it easy to invite people to join you on Daffy.
Right now, for every 4 friends who join Daffy, you'll receive $100 in your Daffy account to give to a charity of your choice. Plus, each of your friends will receive $25 to give to a charity of their choice.
To invite friends, use your invite link < daffy.org/user-name/invite >. You can find your invite link in the app by tapping "Get $100" from the Homescreen.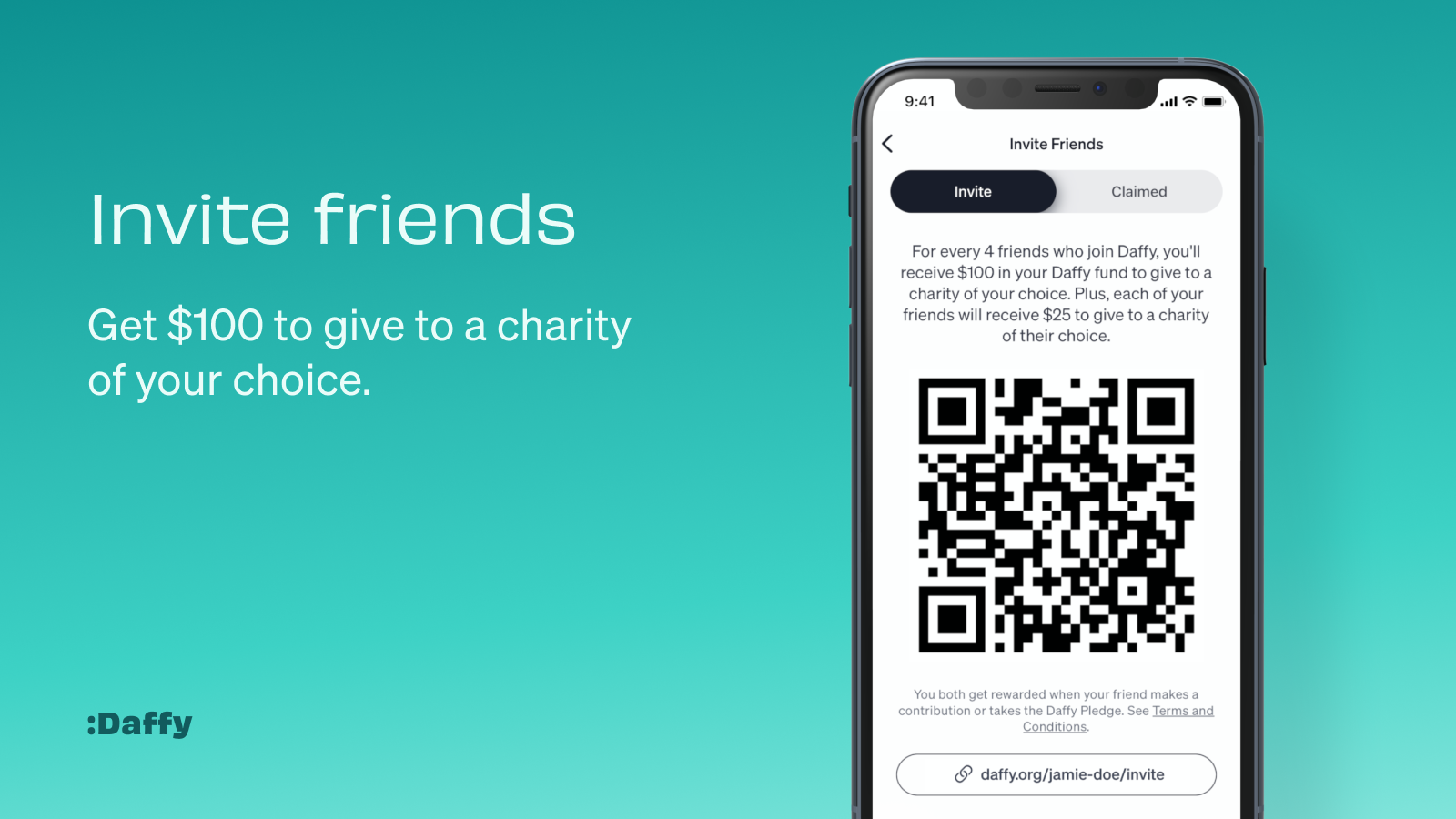 That's all for now, we're going to get back to building more features to help you give to the causes and charities you care about, but you'll hear from us again soon.
:D
PS. Interested in joining us to build a better way to give? We're hiring!