It's hard to believe that it was just two years ago, on September 30, 2021, Daffy went live. Time flies when you are having fun.
Daffy has a simple mission: help people be more generous, more often. It's founded on a core belief that millions of people already believe that giving is an essential part of living a healthy and moral life, and that with a combination of technology and community, we can help them be the generous people that they already want to be.
Philanthropy is already a huge part of the US economy. Americans give close to $500 billion to charity every year — that's 2% of GDP. Our audacious idea was to ask whether that number can be even bigger by closing the trillion-dollar generosity gap between what people want to give and what they actually do give.
One of the reasons that Alejandro & I founded Daffy is that we believe in the power of technology to help people and shape behavior. Despite the immense size of the charitable sector and massive growth in the software industry, there has been a relatively small investment in modern technology around giving. Daffy is purposely built to not only help people, but to also push the sector forward through innovation.
Today, nearly two years since we launched Daffy, I'm incredibly proud of the progress we have made, and even more energized about our potential of our growing platform and community.
Impact Through Innovation
Looking back at the past year, it's hard not to be excited about all of the features and capabilities we have added to Daffy in 2023 alone. Instead of rattling off a list of features here, however, I'd like to share a few of our innovations that have deep meaning to me and get to the heart of why we work hard every day on this platform.
Business models have a way of shaping the destiny of companies and products, and two years later, I'm still extremely proud of the biggest disruption that we have introduced into this industry: a business model that is based on people, not assets. While the incumbents focus on warehousing assets for an annual percentage, our membership model not only aligns us better with our mission to support giving, it also opens up the donor-advised fund to the roughly 60 million households who give to charity every year.
Look at how our pricing compares to other providers. 👇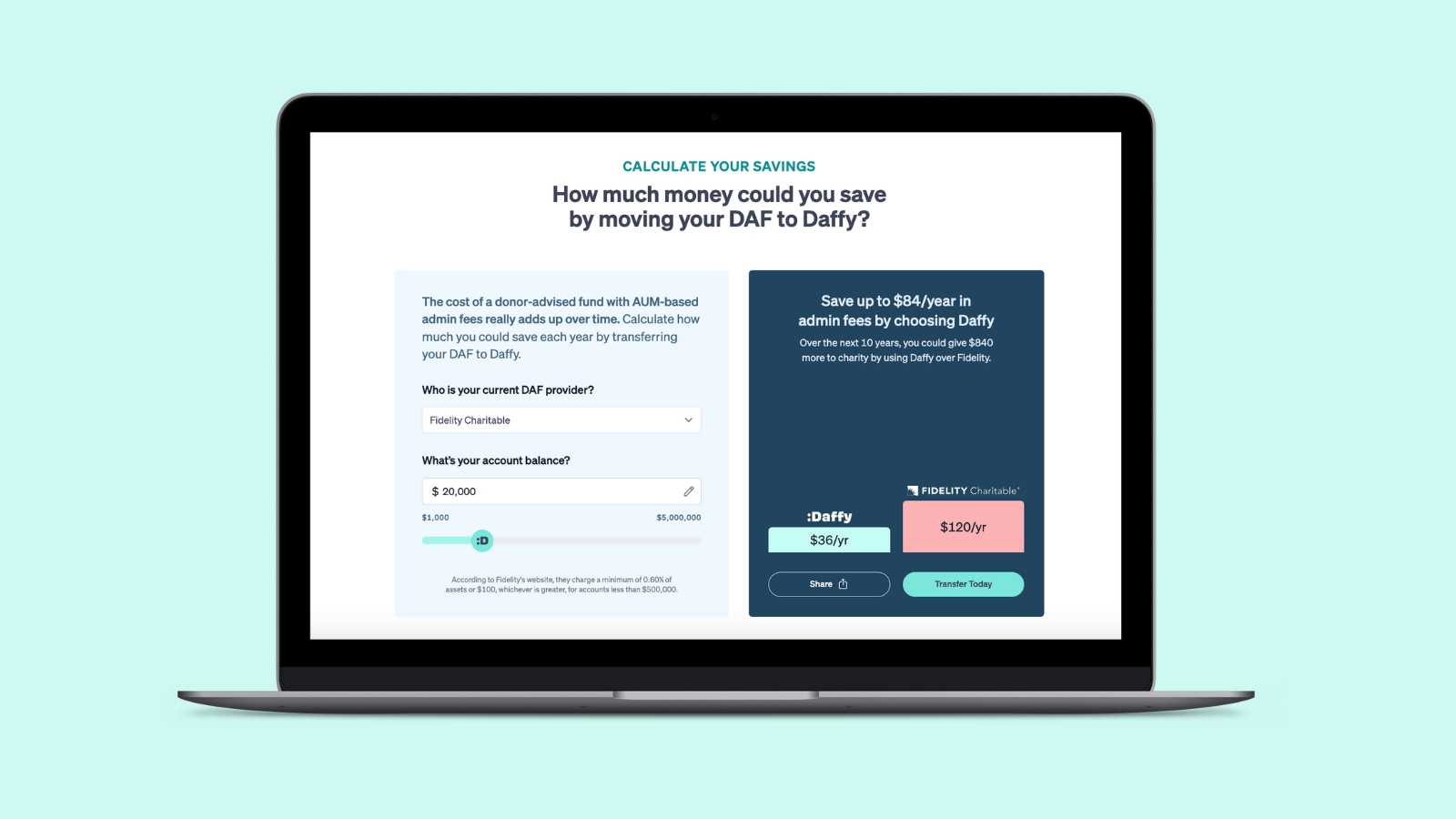 This is money that is currently going to large financial institutions in fees that we think would be better served going to the organizations and causes delivering charitable impact.
Focusing on people has also opened up new features and innovations that, while common on large technology platforms, are missing from traditional donor-advised funds. Daffy for Families is a great example of this type of innovation. On Daffy, you can include your children, grandchildren, nieces & nephews, siblings, and parents on your account, not only helping to teach the next generation about the causes and organizations you support, but also allowing everyone to contribute their ideas and recommendations about which organizations to support.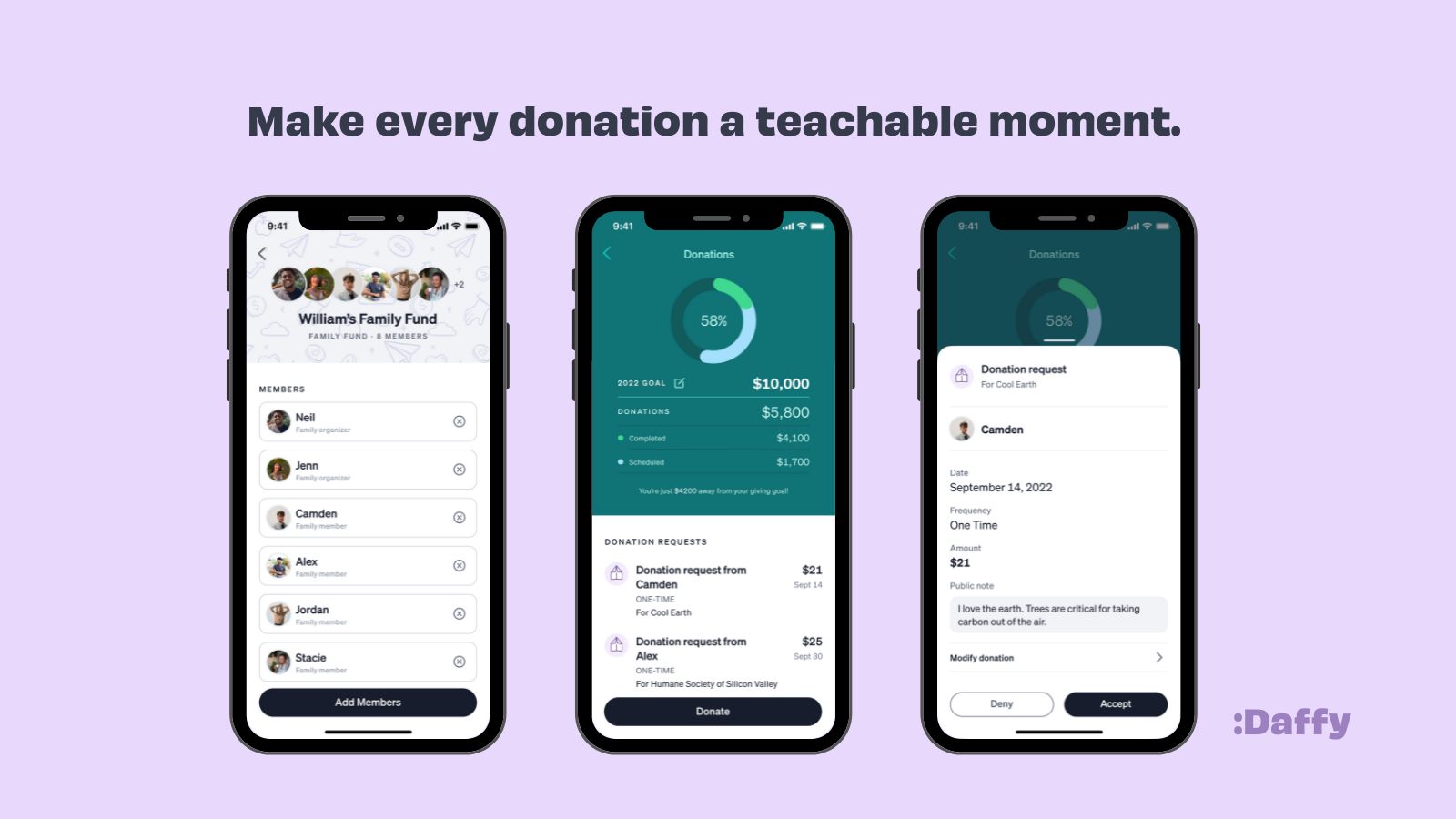 Even small innovative features can make a big difference. Almost every culture and community has traditions around giving, and last year, we rolled out a small feature for the Jewish community to help educate donors about the tradition of giving in multiples of $18, with a fun user experience that rewards those donations. One year later, imagine our delight to see the New York Times spotlight how that feature raised median donations on our platform by 80%.
Giving is a very human act, not just a financial one. Every day we see our members share their traditions around giving, not just in words but in their actions. And while the traditional industry treats the donor-advised fund as just another type of account, we see it as an opportunity to embrace these different traditions and share them to help inspire people to be more generous.
Celebrating with Daffy Gifts
In the spirit of celebrating our second birthday, today we're releasing a brand new version of Daffy Gifts. 🎁
Daffy Gifts has a fun origin story. My co-founder Alejandro was doing some holiday shopping last year, and thought about how great it would be to give people the opportunity to make a donation to the charity of their choice. When you are as talented as Alejandro and you have a modern technology platform, it turns out you can make that happen. Just a few days later, we were testing the first version of Daffy Gifts, which allows any Daffy member to pick a dollar amount and send a link with a message to anyone to give that money to the charity of their choice!
Daffy Gifts has turned out to be a real treat for our members, so today we're unveiling new, improved user experience including:
A full-featured "gift builder" to customize the card & gift
iMessage integration in iOS
A new site to let anyone create a Daffy Gift
All this and more can be found at daffy.org/gifts
To celebrate our birthday with our community, we want to do a little something extra to help nudge everyone to be a little more generous this year:
From today through October 6th. Simply send a Daffy Gift to 3 loved ones, and we'll send you an exclusive Daffy birthday t-shirt as a token of our appreciation 👕
But that's not all! As a gesture of our gratitude, if you're one of the generous individuals who send 3 Daffy Gifts, you'll also be automatically entered to win the all-new iPhone 15 📲 (And yes, we'll let you pick the color!)
If you're new to sending Daffy Gifts or have any questions about this giveaway, you can learn more with this helpful guide. 🥰
I'm really proud of what the Daffy team has accomplished in just two short years, and couldn't be more excited about the decades to come. We are just getting started.
Join us! 🙏