We've recently welcomed Ed Park as the Chief Financial Officer of Aside, the cloud-based technology platform which supports Daffy. Ed joins us after two decades of corporate finance, treasury, business development, and strategy experience with some of Silicon Valley's top technology companies such as Facebook, Asana, and ENJOY.
Ed has a passion for helping teams solve new challenges, build impactful products, and scale, but he's not just a finance and strategy wiz, Ed's passionate about philanthropy and currently serves on the Board of City Hope, a non-profit community center in the Tenderloin neighborhood of San Francisco and volunteers as a mentor for BUILD, a non-profit organization that teaches entrepreneurship and business skills to underserved high school students in the Bay Area.
We sat down with Ed for a short Q&A, so you can get to know him and learn why we're thrilled that have him join us to build a one-of-a-kind platform and community to help millions of people be more generous, more often.
You tend to join early-stage tech companies, what draws you to them?
I'm happiest when I can build and help. To me, these qualities are the most rewarding and especially unique in earlier-stage companies when things are not yet quite figured out and the team is smaller. Building strong relationships and getting to work collaboratively with people helps make finance more fun and strategic. I also think there's a certain excitement and energy when the opportunity feels large and unrealized and yet the road to get there is uncertain.
Why did you join Daffy?
The mission to help people be more generous more often is one that fits perfectly with my personal life and principles. Through my board and volunteer involvement with other nonprofits, I've seen firsthand that organizations need better ways to be discovered and supported more regularly. That said, I know many people are passionate about their local communities and issues facing the world at large. This is a matching problem that Daffy is uniquely positioned to solve. Plus, increasing membership and revenue takes on so much more meaning than it has before in my career when it means making the world a little more generous!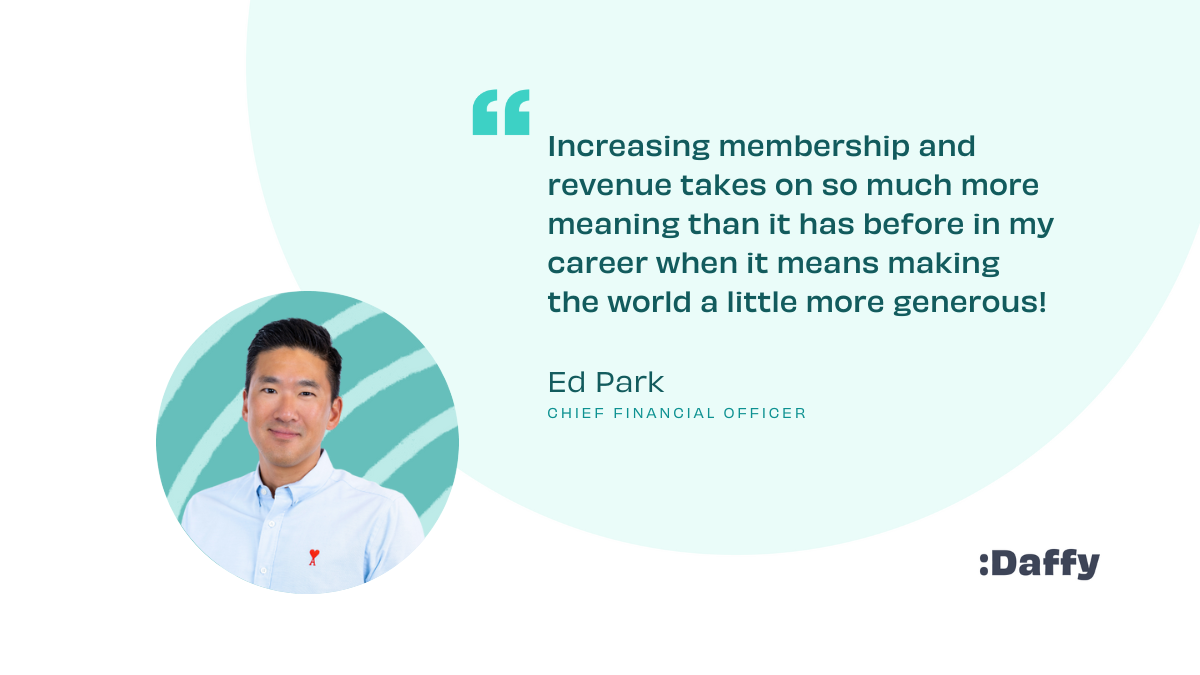 What do you hope to accomplish in your first year at Daffy?
Get up to speed! The fintech world is relatively new to me. To be effective as CFO you have to develop strong relationships with the team, understand our members, see what is working well, and what are potential large opportunities to work on. My job as CFO is to ensure we can scale Daffy successfully. For us, this means we can deliver a seamless and high-quality experience for our growing members from contributing assets to us whether that be cash, stock, or bitcoin all the way through their making donations to charities on our platform. Behind the scenes, this involves coordination between product, operations, and also finance to ensure we have the proper processes and controls in place.
Why is giving important to you?
It's a matter of priority and fulfillment. Personally, I've been gradually shifting my focus from internal like my career to external, e.g. how can I help people and organizations around me? And the need especially in the last couple of years seems greater than ever. For example, I recently joined the Board of City Hope San Francisco which is a community center for the Tenderloin neighborhood which is greatly underserved. Choosing to give my time and money to City Hope is not only rewarding but feels like a responsibility I have to my community. Investing time and money to help organizations make a positive difference through their mission feels a lot like how I've spent my time leading finance at startups but in this case, the ROI is measured differently.
How are you teaching your kids to give?
Just like I love to hear about my kids' day, I also like to share details of my day and how I choose to spend my time. So I take care to talk about my volunteering experiences in detail and the challenges facing the organization and the people they're trying to help. The contrast to our family's privileged life is stark and obvious to my children. When they get older, I plan to make the volunteering experiences a family activity just like going for a hike or playing some tennis. I hope through these experiences, a foundation builds over time for my kids to develop a mindset of service and responsibility toward helping others. I don't think that perspective develops overnight (it took me a long time!) but I hope that they'll be quicker to learn than me.