Wondering how to get off charity mailing lists without having to give up making generous donations? There are a few different ways to limit communications from nonprofits while still supporting their missions.
Find out how to stop charity mail, whether you're already on the mailing list or you're ready to donate but don't want to get added to their contacts.
How to stop junk mail to your home
It's perfectly natural to want to support a cause without getting added to a charity mailing list that fills up your mailbox with solicitation requests that go straight to the recycling bin. Here are a few steps you can take to reduce the amount of mail you're receiving from charities.
Contact the charity via email. If you no longer want to receive mail from the charity, don't hesitate to reach out to the charity via email and simply let them you would love to support them, but do not want mail sent to you.
Send your own letter to the charity's return address. Here's what to do with unsolicited charity mail. Write or print out a letter requesting that you want to be removed from the mailing list. Include the initial letter you received so they have your correct contact information as it is entered into their database.
Return mail to the sender. Another option is to simply return the letter in full back to the sender. You can write "return to sender" and "delete my name" on the front of the letter. However, you do need to add enough postage since nonprofit postage rates do not account for returned mail.
Instruct them to eliminate duplicate appeals. In some cases, you may have multiple entries in the nonprofit's database. One may have a slightly misspelled last name, a middle initial, or an old mailing address. Collect every version you have from the mail and include that in the removal request you send.
Contact the Data & Marketing Association (DMA). This is one of the largest do-not-solicit lists in the U.S. and can help reduce unsolicited mail from all types of marketers.
How to stop junk email in your inbox
It's easy to get overwhelmed by tons of promotional emails, even from nonprofit organizations. There are two ways to reduce the amount of solicitations arriving in your inbox.
First, consider making an anonymous donation. This gets ahead of the problem by not providing the charity with any of your personal contact information.
If you're already on an email list, you can either unsubscribe or ask the nonprofit to remove you from future marketing communications. Legally, there should be an "unsubscribe" link at the bottom of every marketing email. There should also be contact information, including an email address and phone number in case you want to reach out personally and request that your email be removed from their list.
How to stop ongoing phone calls
In addition to unwanted mail, it's also possible to get phone calls soliciting donations. Not only is it distracting, but it's also unwise to give your financial information over the phone. Here's how you can limit this issue.
Enter your name on the national Do Not Call Registry. The Do Not Call Registry is a resource from the federal government that allows you to register a landline or mobile phone number to opt out of unwanted calls. You may still receive some because charities are not obligated to follow this list. But you should notice a reduction after 31 days after joining the registry. Charities do, however, have to honor your wishes if you tell them directly not to call you.
Avoid telemarketers and donate directly. Some charities hire telemarketing companies to conduct phone call campaigns on their behalf. While this can help the charity expand its reach, donating over the phone limits the impact of your contribution. The telemarketing company typically earns money on each call or hour spent on gathering donations. It's smarter and more secure to donate online so that you can ensure you receive a receipt.
Consolidate All Your Donations with Daffy
If you'd like to avoid unwanted charity communications in the future, consider making all charitable contributions through Daffy, the Donor-Advised Fund for You™.
Daffy allows you to give to all your favorite charities and nonprofits from one place and also gives you total control over how much or how little of your contact information is available to the receiving organization.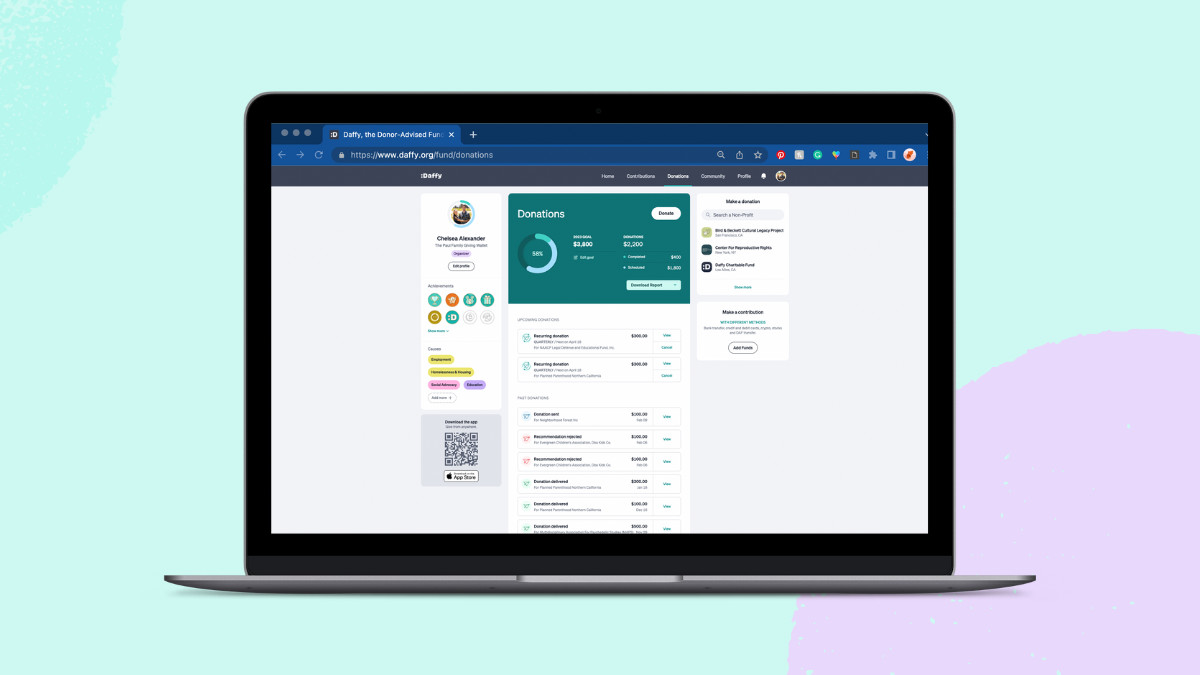 Some of our members love giving their email or mailing address, and some of our members hate it. We want to support whatever your preferences are, which is why we make it easy to set the information-sharing that you prefer on Daffy. Our default setting is that your contact information is not shared with the organizations you support. If you want to share it, you can easily adjust your default in Settings or adjust on any particular donation. You can see how these simple Settings work here.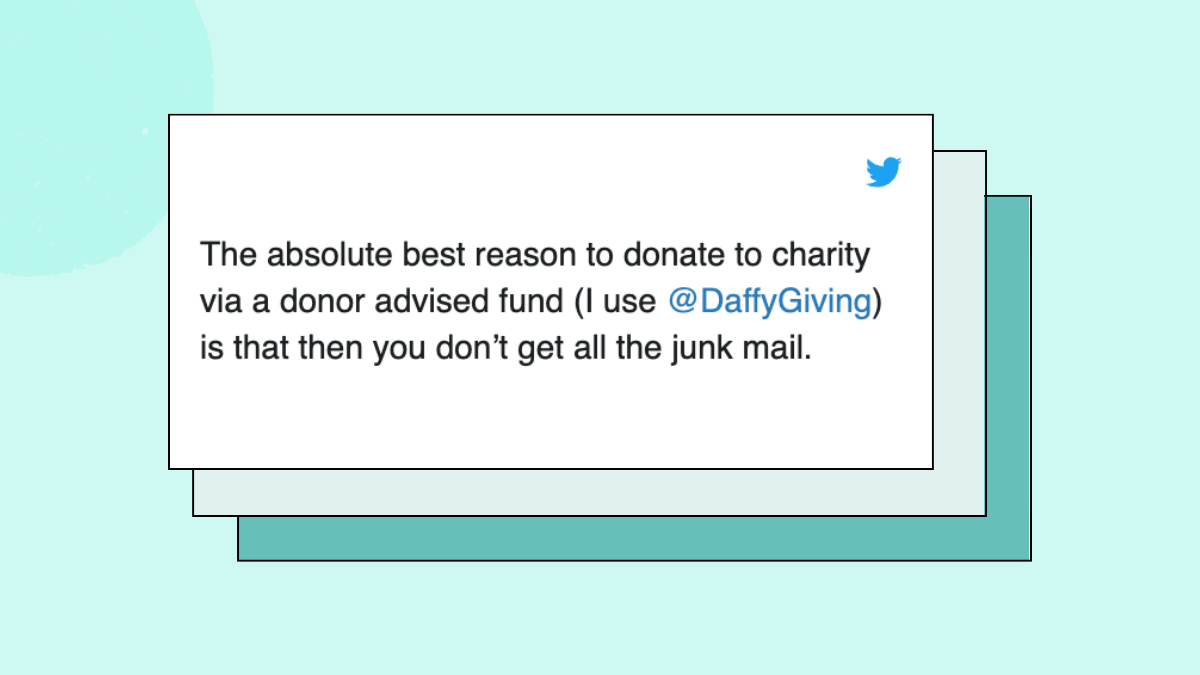 FAQs
Can you block charity calls?
Adding your name to the Do Not Call Registry can provide a major decrease in spam phone calls. However, charities are not required to participate in the Registry. The best way to stop charity calls is to ask to be removed from their list. Whether you're receiving calls directly from the nonprofit or a call center on their behalf, this strategy should work over time.
Can I stop the post office from delivering junk mail?
Removing your information from marketing lists can help reduce the amount of junk mail you receive. You can also return unopened mail by writing "Refused" on the front of the envelope. According to the USPS, you must put postage on if the package is opened.
Why do charities sell your information?
Some charities sell their donor lists to private companies or other nonprofits as a way to generate extra revenue. However, many charities have a privacy policy that states it doesn't share donor information. You can look online or contact the charity before giving if you don't want your contact information shared outside of that specific organization. For example, Daffy's privacy policy is available here.
Overwhelming mail and phone calls can take away the joy of donating to causes you care about. If your mailbox is already full of unsolicited letters asking for support, reach out to the nonprofit to get your name removed from future mailings. And future donations, you can prevent unwanted mail by going through Daffy. You can choose your sharing preferences for all donations or customize them based on the specific donation or organization you support.
Ready to support your favorite causes without getting bogged down in the mail? Join Daffy now.