At Daffy, our mission is to help people be more generous, more often. This is why we've built a not-for-profit community around a modern platform for charitable giving featuring a best-in-class donor-advised fund (DAF).
Whether you already have a donor-advised fund, or you are thinking about opening one for the first time, we want to help you to choose the right one. To help with your decision, we've pulled together data about several existing providers (Daffy Charitable, Fidelity Charitable, Schwab Charitable, and Vanguard Charitable) across four crucial dimensions: fees, types of contributions, investment options, and giving features.
How do fees compare?
Traditionally, donor-advised fund providers make money by charging based on a percentage of assets on accounts, leading them to have an unfortunate conflict of interest. Every time you donate money to charity, they lose revenue. This also leads them to primarily focus on high, net-worth individuals.
Daffy is committed to changing this. As a membership-based community focused on the commitment to give, we charge a simple flat monthly fee. This was a conscious decision that we made in building a platform dedicated to helping people give, rather than getting more dollars into our accounts.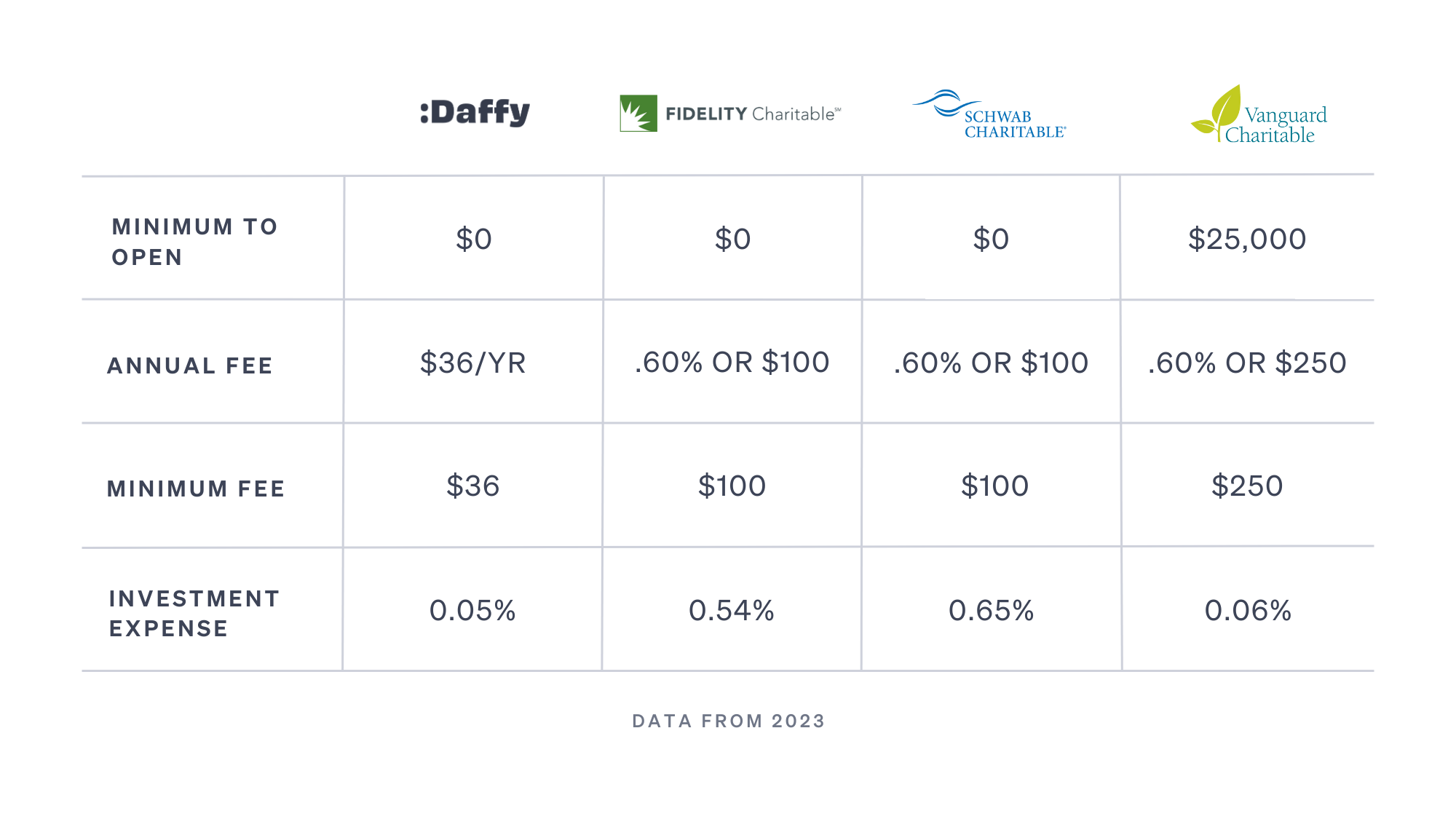 Now, let's run some real numbers...
So with administrative and investment expenses, how much will it cost? To give you a sense of what the annual cost for your DAF could be, we've outlined the costs for a typical Daffy Contributor with $500 and a Daffy Benefactor with $50,000.
As you'll see, we've kept membership and investment costs on Daffy low, so more of your money can go to the causes and organizations you care about.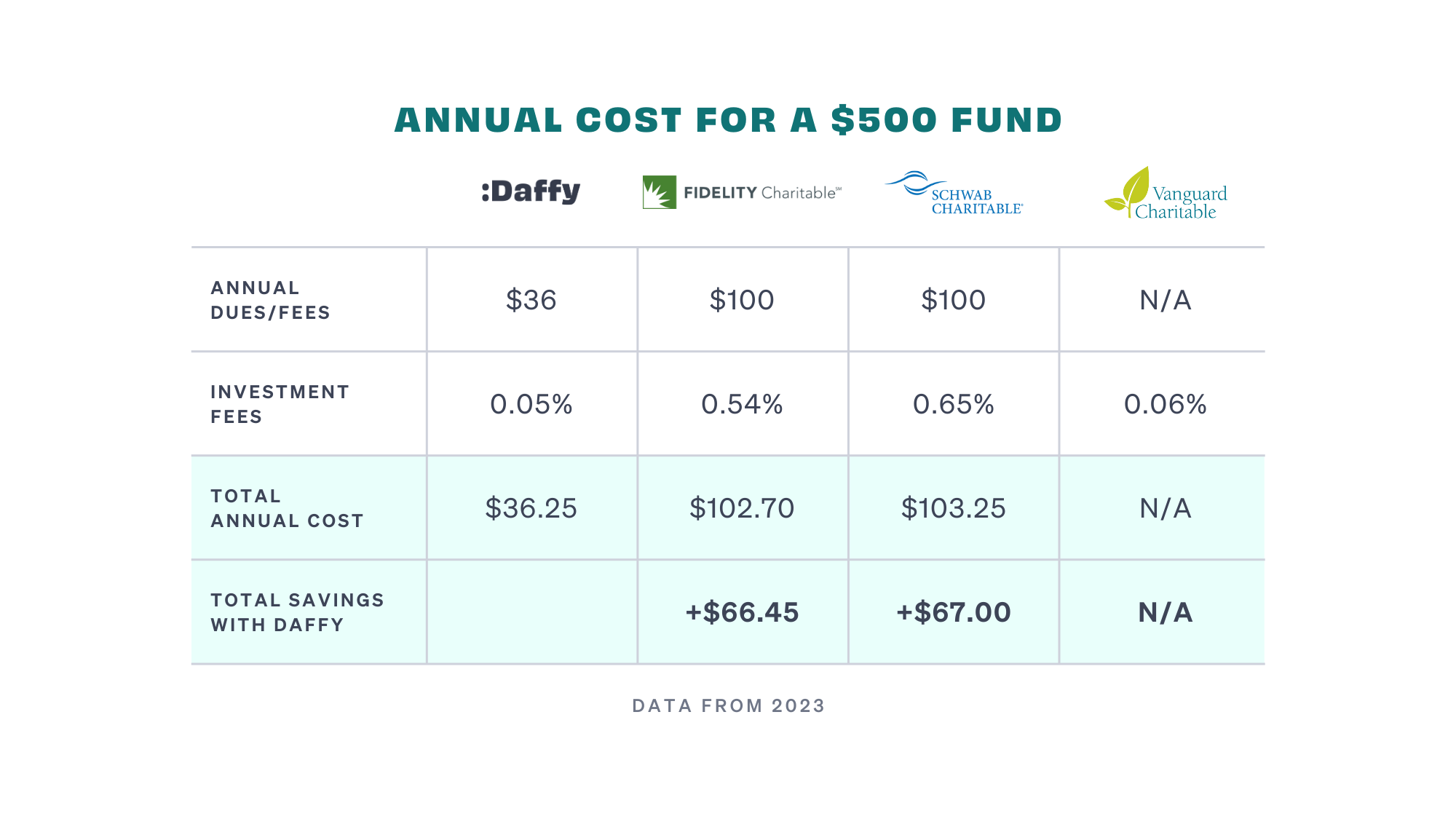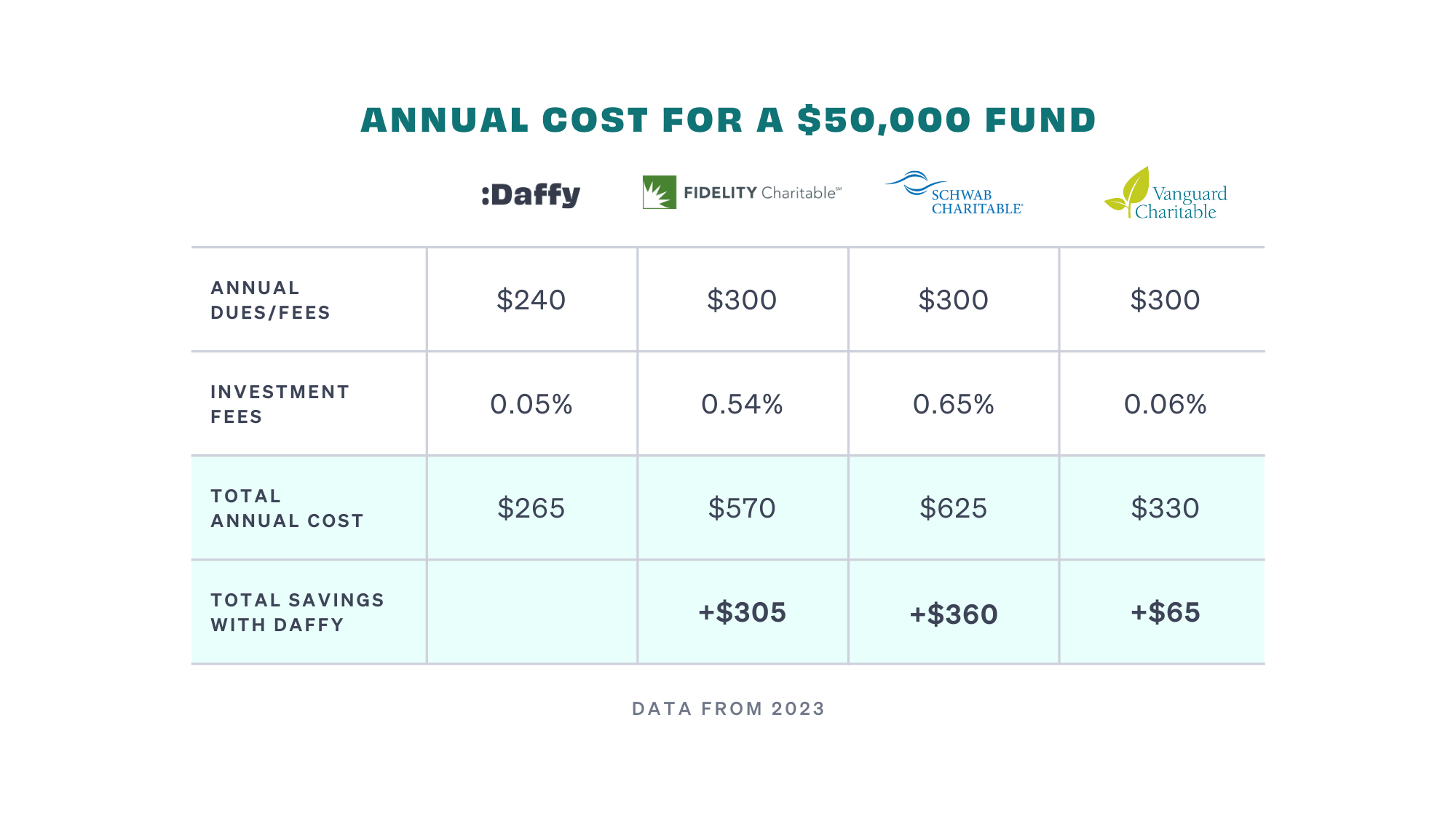 Join Daffy, the Donor-Advised Fund for You™ today.
What assets can you contribute to your donor-advised fund?
We know it's hard to believe, but we are the first to roll out a full-featured donor-advised fund as a native mobile app. You can open an account, contribute, invest, and donate. Just download and go.
Our platform makes it easy to make tax-deductible contributions: you can add funds from a linked bank account, use a debit or credit, donate stocks & ETFs, or even donate crypto.
How will your fund be invested?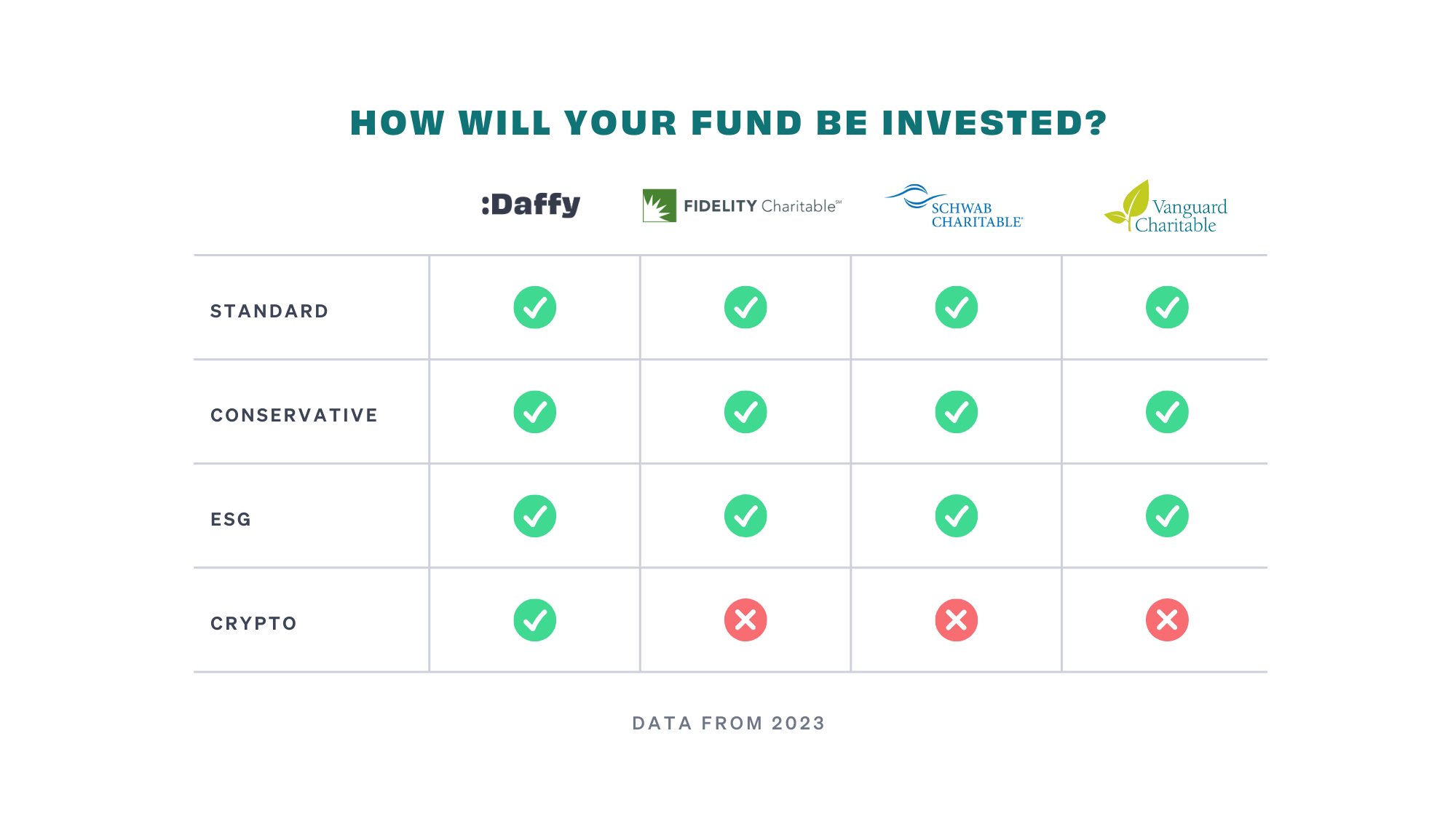 With Daffy, you have access to thirteen modern portfolios across four different categories: Conservative, Standard, ESG, and Crypto. For each type of portfolio, we provide several options that vary in terms of risk and volatility, so members can select the portfolio that best matches their own sensibilities. The average expense ratio for our Standard portfolio is just 0.05%, which is exceptionally low, so even more of your contribution can go to charity. Plus, for those looking for exposure to crypto in their investments, we offer both pure and diversified crypto portfolios.
How will you give to charities?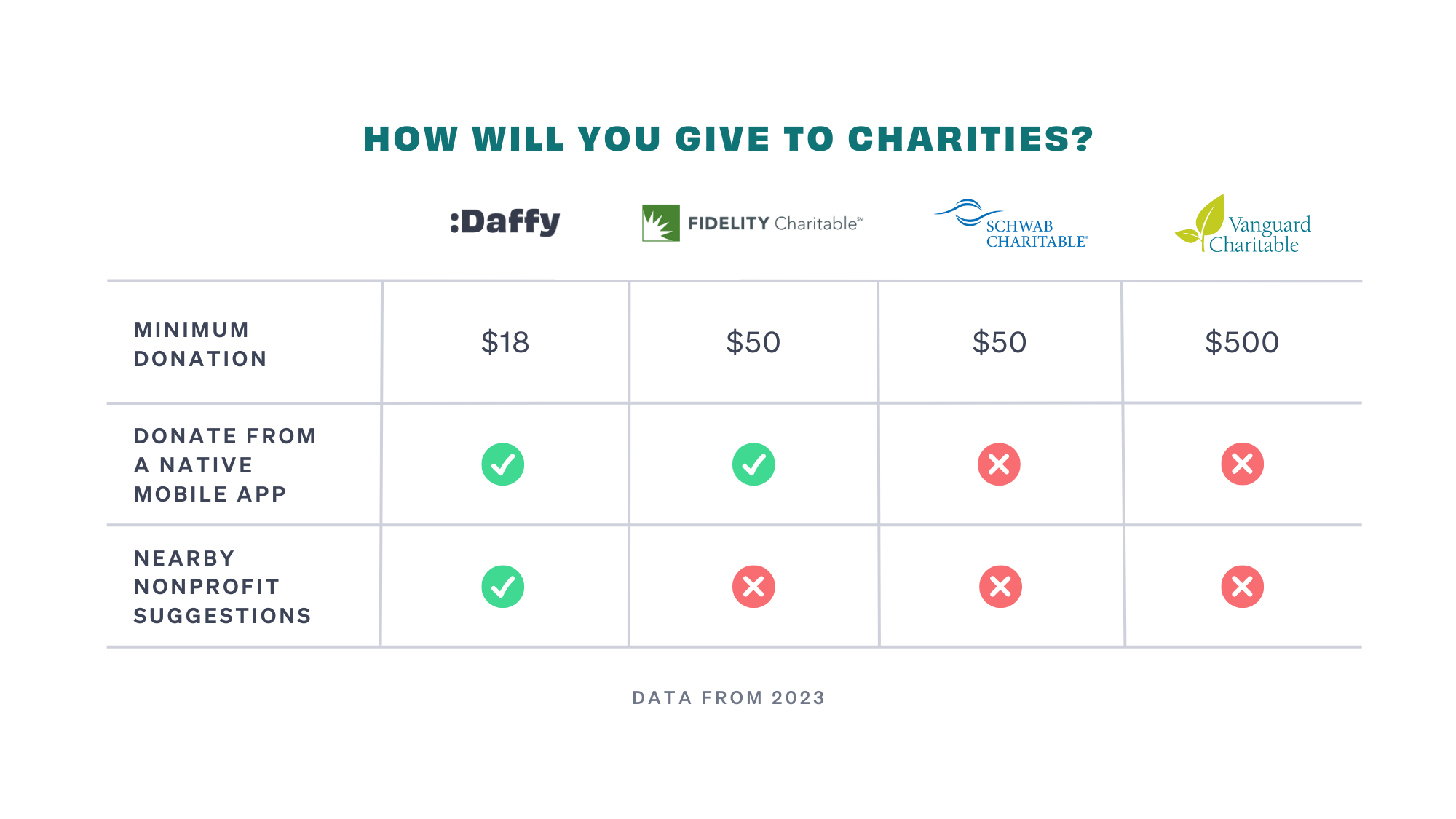 The first thing you will see when you open the Daffy app or sign-in on daffy.org are three simple things: the amount of money you have in your Daffy fund, and two large buttons to Add Funds or to Donate. This isn't an accident; the entire app was designed to make it simple to donate money anytime, anywhere. With just a couple of taps, you can donate to any of over 1.5 million charities on Daffy.
Join Daffy, the Donor-Advised Fund for You™ today.
So, which donor-advised fund is right for you?
Daffy is best if...
You want to pay the lowest dues and have more of your money go to charity.
You want the ability to access your account, contribute, and donate from a fully-featured native mobile app.
You want to join a community committed to setting money aside for those less fortunate.
You want to donate and/or invest in crypto.
Consider legacy providers if...
You have complex assets you'd like to contribute like private stock or real estate.
You like the convenience of walking into a physical branch office and you are willing to pay higher fees to do so...