The number of individuals who use donor-advised funds (DAFs) to power their charitable giving has skyrocketed over the last decade. Today, there are more than 1 million DAFs in the U.S., and they are also on the rise globally.
The reason why is simple: These accounts offer a slew of benefits for donors and charities alike. You're able to take a tax deduction on your contribution immediately after funding your DAF, then you can make decisions on where to give at your own pace. Plus, DAFs allow you to easily donate a variety of complex assets to help avoid long-term capital gains and really maximize the impact you have on the causes you care about.
But in order to optimize your charitable giving, you need a DAF provider that won't deplete your account with expensive fees, or make giving too difficult because of a clunky user experience.
Take a look at how Daffy compares to industry darling Vanguard, which holds a reputation for affordable prices. Axios offers a sneak peek at the winner in this match, running a sample scenario where using Vanguard Charitable is 13X more expensive than Daffy.
So what does Daffy do better?
Simple, low-cost membership structure
Daffy has a unique business model compared to traditional DAF providers like Vanguard Charitable. As a not-for-profit community, Daffy charges a simple monthly membership due, starting at $3.
With Daffy, you have access to nine modern portfolios across three different categories: Standard, ESG, and Crypto. For each type of portfolio, we provide several options that vary in terms of risk and volatility, so members can select the portfolio that best matches their own sensibilities. The average expense ratio for our Standard portfolio is exceptionally low at just 0.04%, so even more of your contribution can go to charity.
Vanguard Charitable, on the other hand, charges two fees that can quickly add up (and devalue your portfolio). Like Daffy, there's an investment fee charged for managing your assets, but the amount is wide-ranging depending on the portfolio you choose (anywhere from 0.03% to 3.03%).
There's also an annual administrative fee that starts at 0.60% — which then drops at tiered levels once your account surpasses $500,000.
Flexible giving with a full-featured app
The Daffy app and mobile-first web experience were designed for people who want to make charitable giving an ongoing habit. After all, you'll be much more likely to make contributions and donations when it just takes a few taps on your phone, rather than having to log onto your Vanguard account through a web browser or call someone to transfer funds. Once you download the Daffy app, you can open your account, fund it with cash, stock, or crypto, choose an investment portfolio, and support any of 1.5 million non-profits, including charities, schools, and faith-based organizations. Did we mention Vanguard Charitable doesn't even have an app? Allow us to pause a moment while we drop the mic.
Giving for all
There's a staggering difference between the number of people who qualify for Daffy compared to Vanguard Charitable. That's because the minimum account balance you need to open a Vanguard Charitable account is $25,000. For some people, that's totally doable. But others may need (or simply prefer) a much lower threshold for entry.
Daffy accommodates (and encourages!) account balances of any size. And as you're about to see, our membership dues structure financially benefits both members and nonprofits.
Fees: Daffy vs. Vanguard Charitable
Ready to see what your costs will look like in a real-life example? Let's take a look at two account sizes to see how Daffy beats out Vanguard Charitable in both scenarios.
Daffy commands a whopping 61% savings compared to a $100,000 portfolio in Vanguard Charitable. Plus, all Daffy Standard portfolios include Vanguard ETFs, giving you access to Vanguard's most popular ETFs at a mere fraction of the price.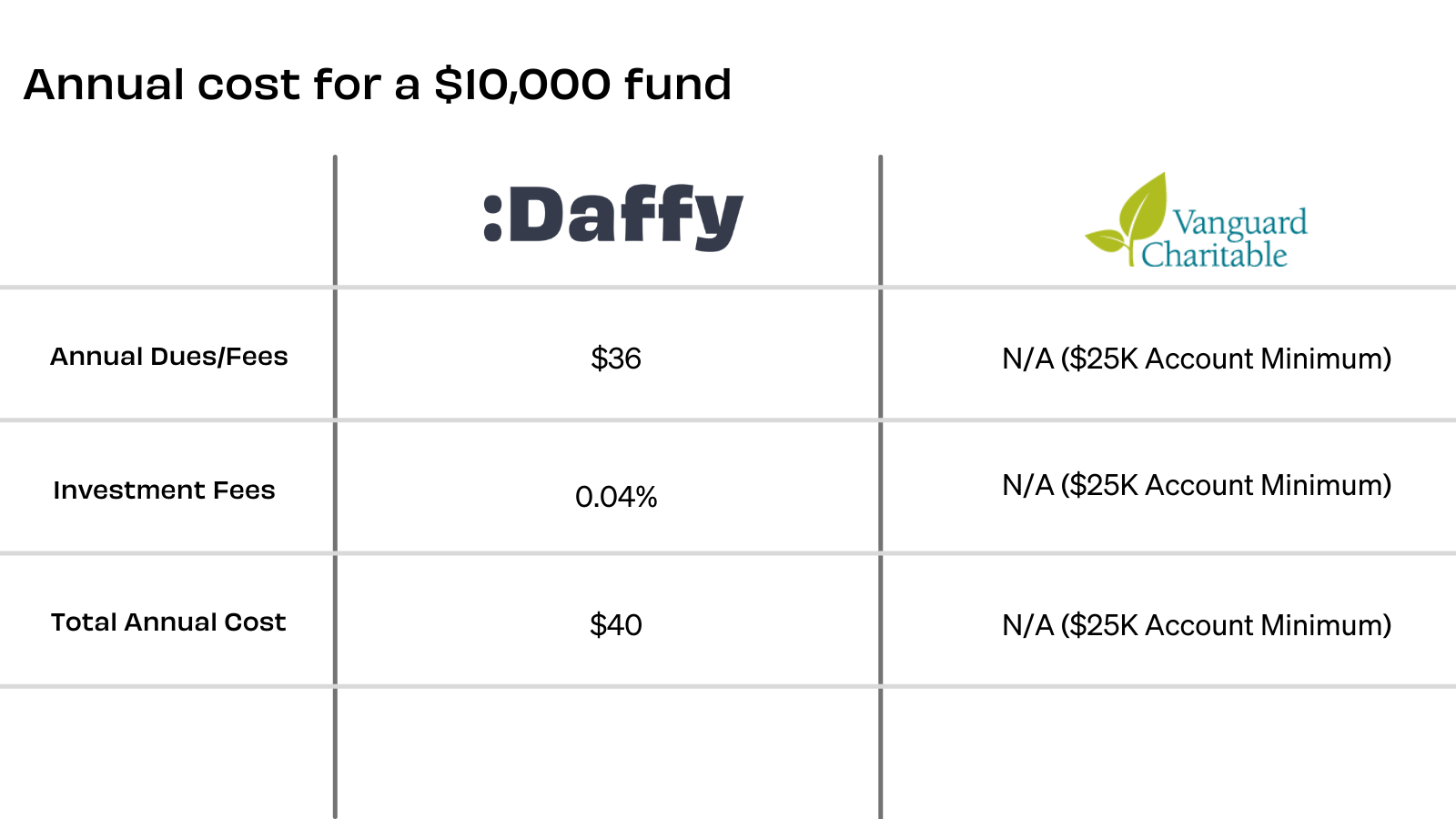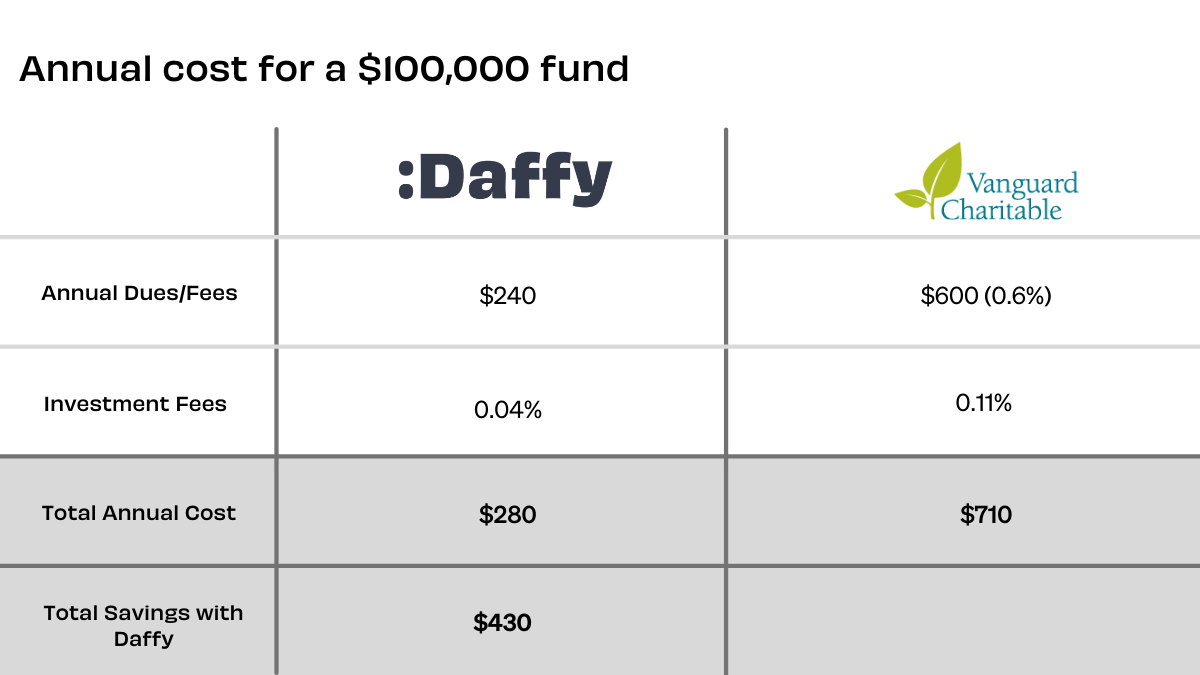 Now the TL/DR
Daffy is best if…
You want to lower fees and maximize your charitable contributions. If your goal is to make an impact by donating cash, stock, or crypto to your favorite charitable organization, it doesn't make sense to waste hundreds of dollars (or more) on expensive administrative fees each year. Daffy provides a quality-driven donor-advised fund platform that isn't overpriced.
You want to start giving without a huge opening balance. Anyone can put money aside for charity, invest it, and donate through Daffy — regardless of your account size. Vanguard Charitable's hefty $25,000 minimum automatically excludes a lot of potential donors.
You actively invest in crypto (or want to). Daffy allows you to both donate crypto and invest in a crypto ETF. Donating crypto that has been appreciated for over a year can result in major tax savings because any sales are now treated like stocks when it comes to capital gains tax. You can also invest in three different crypto portfolios through the Daffy.
Vanguard Charitable may be a better choice when...
You already have Vanguard accounts and don't mind paying extra fees in order to keep everything in one place.
You have complex assets you'd like to donate, such as private equity or real estate.
Does Daffy seem like the better choice for you?
It's easy to transfer holdings from your Vanguard Charitable account in order to start saving. Here's how:
Download Daffy or get started at Daffy.org
Select transfer an existing donor-advised fund, select Vanguard Charitable, and how much you'd like to transfer
Log into your existing provider
Make a grant of any amount to Daffy Charitable Fund (EIN: 86-3177440)
We'll notify you when your funds are in your Daffy account