At Daffy, we're always looking for ways to fulfill our mission to help people be more generous, more often. Today, we're excited to share that we've partnered with Chariot to make it easy for Daffy members to give money from their Daffy fund directly on participating nonprofits' websites.
Since we're all about getting money from our members' donor-advised fund accounts to the nonprofits they care about most, we want our members to have the ability to give easily to the charities they care about most either through our platform directly or through the nonprofit's site through this new partnership with Chariot.
Just like we've made it simple to donate with cash, stock, ETFs, or crypto in a few taps, we believe this partnership will make it even easier for members to give, and get even more donations from the Daffy community in the hands of worthy charities, nonprofits, universities, faith-based and other mission-driven organizations.
How It Works
Chariot has created a simple, "Pay with DAF" widget that any nonprofit can add to its website. Once added, donors can give from their donor-advised fund provider in just three clicks, without ever leaving the nonprofit's website.
A big benefit for Daffy members is that you'll be able to participate in the collective aspect of giving. So the next time you're inspired to give to a fundraiser like the Neighborhood Forest's 2023 Tree Drive, you can join family, friends, and others in your community while still using Daffy as your centralized giving wallet.
You can take a look below at how seamless the donation experience is by checking out our donation below.👇
We're proud that Daffy is one of the first donor-advised fund providers to be part of their network of participating nonprofits and donor-advised funds. You can find the list of nonprofits that are currently supported by Chariot here, including the B+ Foundation, Grameen Foundation, and KCNT1 Epilepsy Foundation, as well as many local community centers, churches, schools, synagogues, and YMCAs. As Chariot's database of participating nonprofits grows, so will your ability to give directly from your Daffy fund on participating nonprofits' websites.
Once you're on a participating nonprofit's website, all you'll have to do is:
Select "Donate with DAF" on the payment page
Select "Daffy" and login
Confirm your donation amount—and you're done!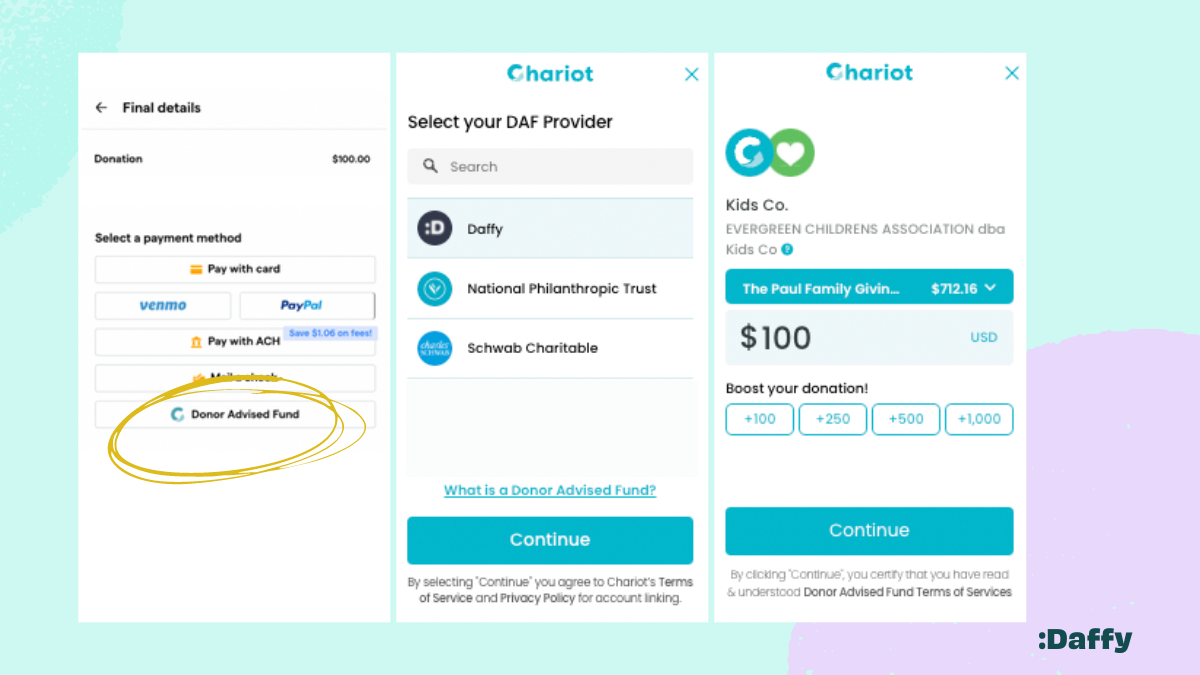 As the popularity of donor-advised fund accounts continues to rise to nearly 1.3 million individual accounts in the U.S., we're excited to work with like-minded organizations like Chariot, that are making it even easier to give from your DAF and most importantly, get funds to worthy organizations.
If you're a Daffy member, check out participating nonprofits here, make a donation, and let us know what you think! If you work at a nonprofit and want to add Chariot's "Pay with DAF" widget to your website, you can learn more and contact the Chariot team here.
Happy Giving!