We recently launched Daffy for Work, a modern workplace-giving solution designed to make it easier than ever for employers to empower their employees to give to the causes they care most about.
With Daffy for Work, every employee gains access to a free, personal donor-advised fund, a tax-advantaged account for charitable giving, and employers can automatically match contributions or gift a specific amount into employee DAFs.
Join the ranks of modern companies like Acorns, Lev, OpenAI, Titan, and XYZ, who have already embraced Daffy for Work. To make it easy to share within your organization, we have prepared this email template for you to introduce Daffy for Work to your HR team and help foster a culture of giving and philanthropy within your own workplace.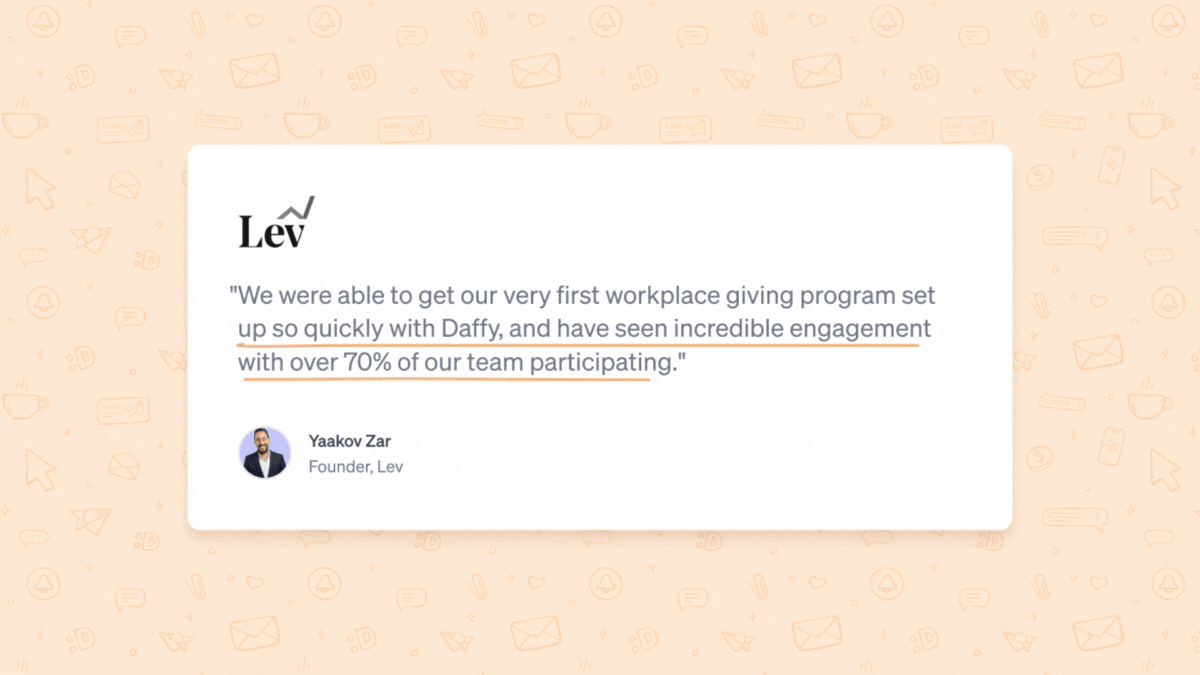 ---
Hi [insert name],
I hope this email finds you well. I wanted to reach out to see if we could consider [starting/implementing] a new workplace giving program.
I just heard about a simple-to-use solution called Daffy for Work that is designed specifically for companies like ours that prioritize employee involvement and want to facilitate meaningful charitable contributions without all the admin and extra costs. To highlight some key features:
Employees have their own Daffy account, where they can set aside funds for charitable giving. As a company, we have the option to match their contributions or gift a specific amount per month or year.
It's an easy setup. We select our match or gift amount and cadence (monthly or annually) and Daffy does the rest. No payroll or IT integration is required, and Daffy handles all the vetting of charities and compliance.
In addition to its modern tech, Daffy is also really affordable. With no setup costs, admin fees, or per-donation fees, Daffy starts at just $3/mo per participating employee. We can save almost $100 per employee per year by choosing Daffy over existing solutions like Benevity.
The feedback from companies like OpenAI and Acorns that are currently using Daffy for Work has been overwhelmingly positive. They appreciate the simplicity of setup and ongoing maintenance, as well as the high employee participation. In fact, one company saw an impressive participation rate of over 70%.
I truly believe that Daffy for Work has the potential to create a positive and lasting impact within our organization as it aligns perfectly with our mission and values.
Thank you for considering and to learn more about Daffy for Work, I encourage you to visit daffy.org/work.
Best wishes,
[insert your name]