We're excited you're interested in bringing Daffy for Work to your team or company. As more companies are looking for ways to foster a culture of giving back, we built Daffy for Work to help employers like you empower your employees without all the stress or admin.
Outlined below is a complete guide for customizing and launching your giving program with Daffy for Work.
Like any modern SaaS, we are hoping we've made it possible to do this in minutes instead of months.
What is Daffy for Work?
Daffy for Work solves all of the problems of traditional workplace giving programs by giving employers the flexibility to offer a charitable giving benefit at an affordable cost, and employees the freedom to easily support the causes they care about most.
Similar to providing a retirement 401(k) plan for employees, with Daffy for Work, you provide every employee access to a free, personal donor-advised fund, a tax-advantaged account for the sole purpose of charitable giving. Employees can choose how much to put aside for charity, receiving an immediate charitable deduction for every contribution. The money is invested in a selection of tax-free portfolios, compounding over time, and then available whenever they feel inspired to make a donation. You can encourage giving by either matching contributions to employee accounts, or by making direct contributions to their employee accounts.
Unlike traditional employer-giving providers that are loaded with hidden costs, Daffy has no setup costs, annual admin fees, or fees based on donations. You simply cover the monthly membership dues of participating employees starting at just $3/mo and any additional benefit you choose to offer.
Getting Started with Daffy for Work
Step 1: Determine your charitable giving benefit
To get started, you should first decide what type of benefit you'd like to provide to their employees. You can:
Gift a set amount every month to each employee's Daffy account (e.g. $50 per month per employee); Note, we tend to see higher employee participation with this approach.
Match employees' contributions to their Daffy accounts (e.g. set a $500 limit for the amount you will match per employee per year)
You could even do a combination of the two!
To decide which type of benefit to offer, reflect on your company's current charitable giving and the desired scale of your program and impact. Then customize your benefit to align with your company values and budget. Remember, you can always start with a lower monthly gift or annual match amount and increase it over time. Whatever you decide, you'll be on your way to inspiring generosity among your employees.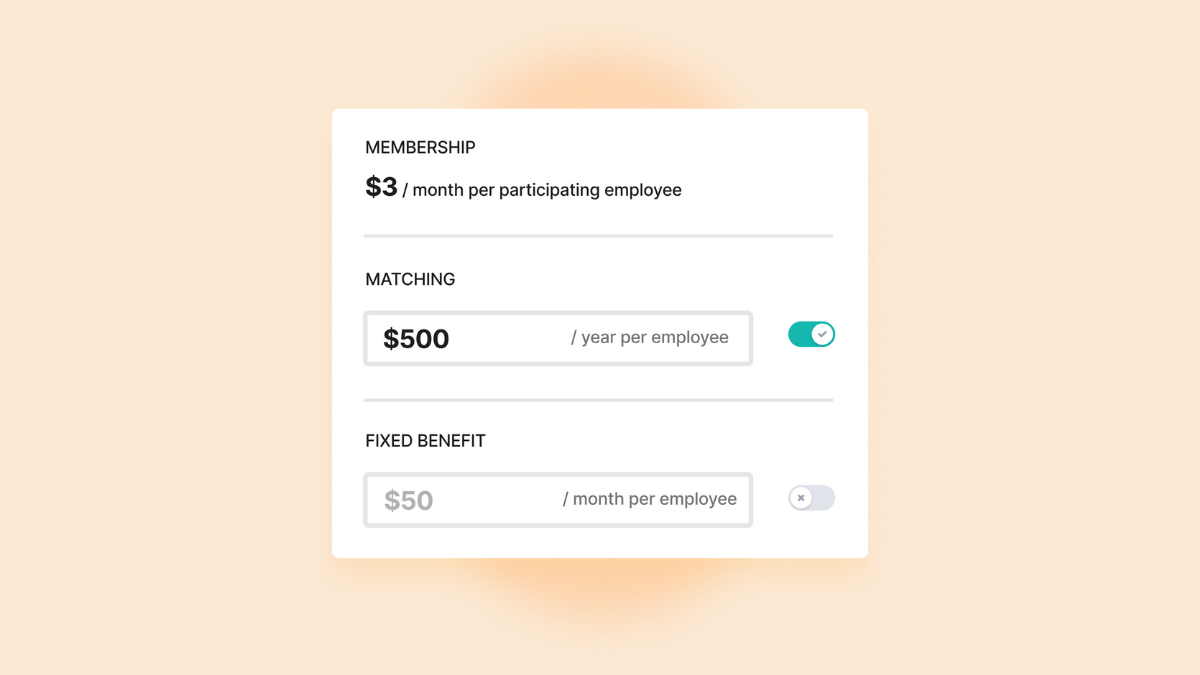 Step 2: Set up your program
Once your company has made a decision about the type of employee benefit they'd like to provide, signing up takes just a few short minutes.
Go to daffy.org/work
Set how much you'd like to gift or match per employee
Link your corporate card or bank account
Get a custom link to share with your employees
Step 3: Share your custom sign-up link with employees
Once you've set up your Daffy for Work program, celebrate by sharing the news with your employees. You can access your custom link for employees during sign-up and through the admin dashboard at any time.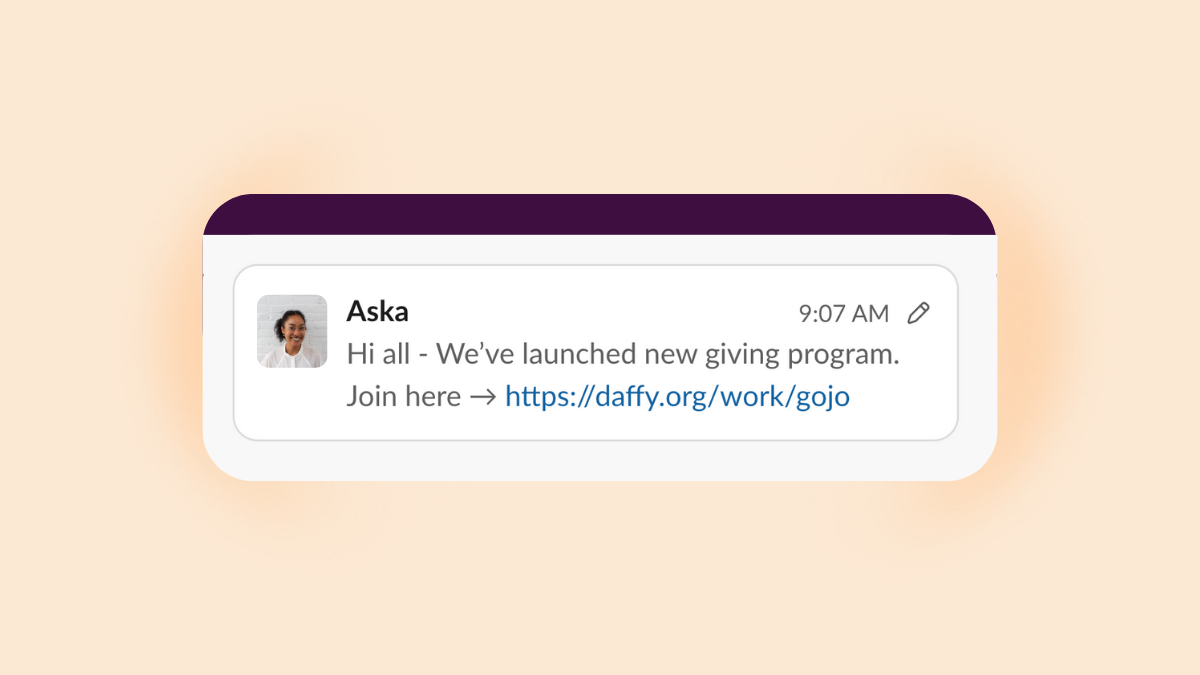 Step 4: Effortlessly manage your Daffy for Work program
Unlike traditional employer-giving providers, which can be complicated and time-consuming to manage, we've built Daffy for Work from the ground up to have the simplicity and low cost of a modern SaaS application.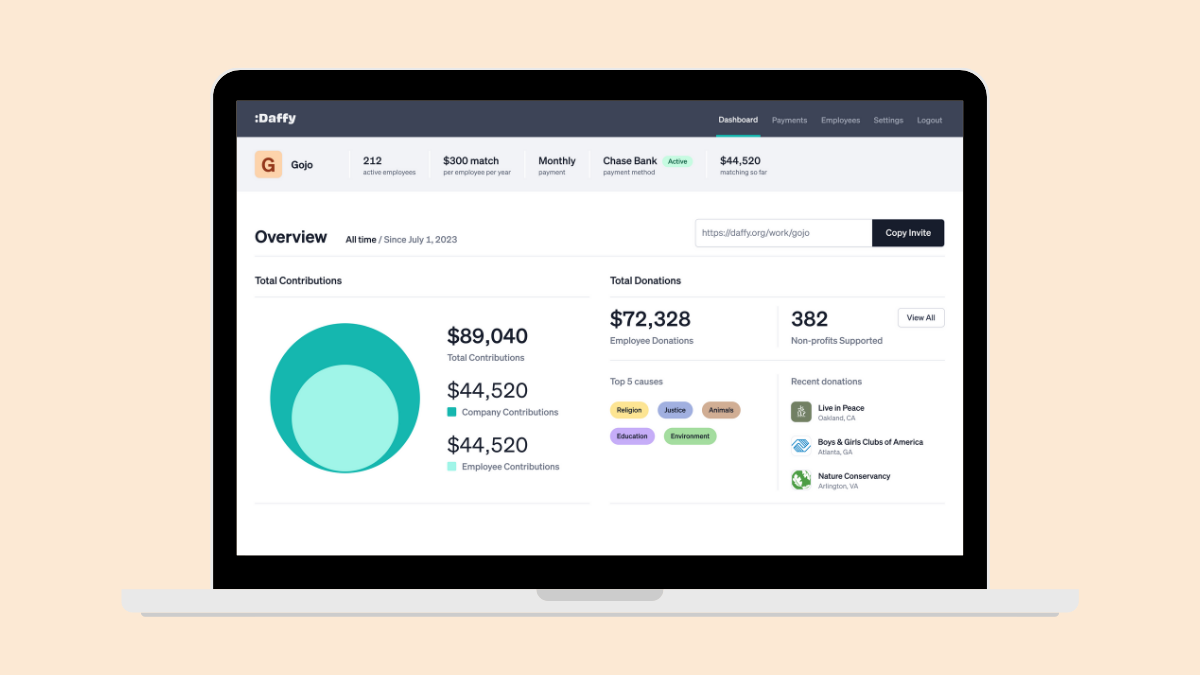 With Daffy for Work, you'll have:
Impact Overview Available in Real Time: Watch your impact grow through the updated summaries of contributions, donations, and supported causes on your admin dashboard.
Tax Summary Available Year-Round: Employer contributions are tax-deductible in the year that they are made, and you will be able to access a simple tax summary anytime.
Manage Employees with Ease: If an employee leaves your company, you can easily deactivate them from the admin dashboard at any time.
Simple Monthly Payments: Your monthly payment will be calculated based on the number of participating employees, the contribution amount, and cadence you've selected. Your payment will be processed on the 1st of each month and you'll receive an email with your estimated payment a week before.
Payment Details: Access your monthly payment history with a breakdown of costs on the admin dashboard at any time.
Encouraging Employee Participation
Step 1: Share your custom sign-up link with employees
Sending a company-wide announcement is the best way to introduce Daffy for Work to your employees and explain its benefits. Here's an email template you can use:
💝
We're excited to announce our new giving benefit through Daffy to make charitable giving easy for [Company] employees!
Daffy aims to help people be more generous, more often by making
donor-advised funds
more accessible. Daffy allows our employees free membership and access to their services.
In addition to covering your monthly Daffy membership dues, [Company] will contribute $X every month to the Daffy accounts of participating employees [OR will be matching up to $XXXX per year of contributions you make to your Daffy account]. This money is yours to donate to any legal U.S. charity at any time.
Here's how it works:
1. Employees who wish to participate can sign up <insert custom company link>
2. Use your personal email address to create the account. You'll link it to your workplace email address during onboarding.
3. After opening an account, you can contribute cash, public stock, ETFs, or crypto to your Daffy account over time. You can also move over an existing DAF account you have with another provider. Contributions are invested in your choice of
investment portfolio
and have the opportunity to grow over time.
4. You can make charitable donations at any time from your account. Daffy supports nearly every U.S. public charity (over 1.5 million to be exact, and more each day), including national and local nonprofits, schools, and religious institutions. If you can't find the charity you'd like to support, Daffy allows you to submit the charity to its growing database.
5. You retain control of your Daffy account, even after leaving [Company].
You can watch a simple video of how it works
here
.
Step 2: Share your impact on Slack periodically
In addition to email communication, you can also send a short Slack message to all your employees with a link to the Daffy for Work email message or employee video. Encourage your team to take advantage of this generous benefit by sharing giving stats and insights available on your admin dashboard.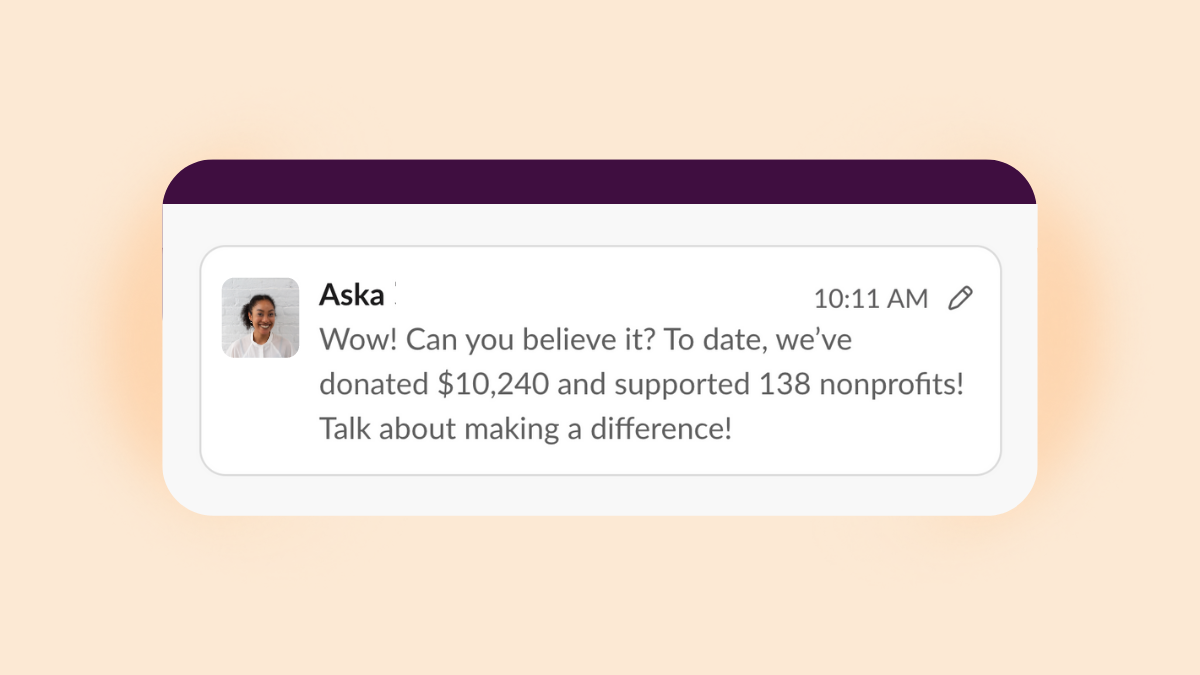 Don't miss the chance to celebrate important causes throughout the year by highlighting your company's Daffy for Work benefit. Remember to inspire your employees to give in honor of Black History Month, International Women's Day, Earth Day, and other worthy occasions.
Launch Your Giving Program Today
We hope this guide prepares you for launching Daffy for Work at your company. We're excited to have you join companies like Acorns, Lev, OpenAI, Titan, and XYZ who have already embraced Daffy for Work to empower their employees, attract top talent, and showcase their company's values with our modern and simple giving solution.
Get started at daffy.org/work, and don't hesitate to reach out to us here if you have any questions!