At Daffy, we have a very simple mission to help people be more generous, more often. Just over two months ago, we launched Daffy by shipping the first fully-functional Donor-Advised Fund (DAF) app in the App Store. Our focus was simple: make it as easy as possible for people to give.
However, our members deserve more. We know that having access to Daffy across devices is key to making a giving habit—and raising more money for the causes and charities we care about. People want to be able to easily open, fund, invest, and give from any device.
Today, we're proud to announce that Daffy for Web has arrived! 🥳
Give From Any Device
Built from the ground up with a responsive design, Daffy for Web has a simple but rich design language that helps bring giving to a wide range of devices. Rather than ship a scaled-up version of our existing app, our team chose to focus on a scalable design that feels at home on any device.
Just like the iOS app, you can now create a Daffy account, contribute cash, credit, crypto, or stock to your Daffy fund, invest your contributions in one of our nine modern investment portfolios, and donate to over 1.5 million charities, from any device.
Make Giving a Habit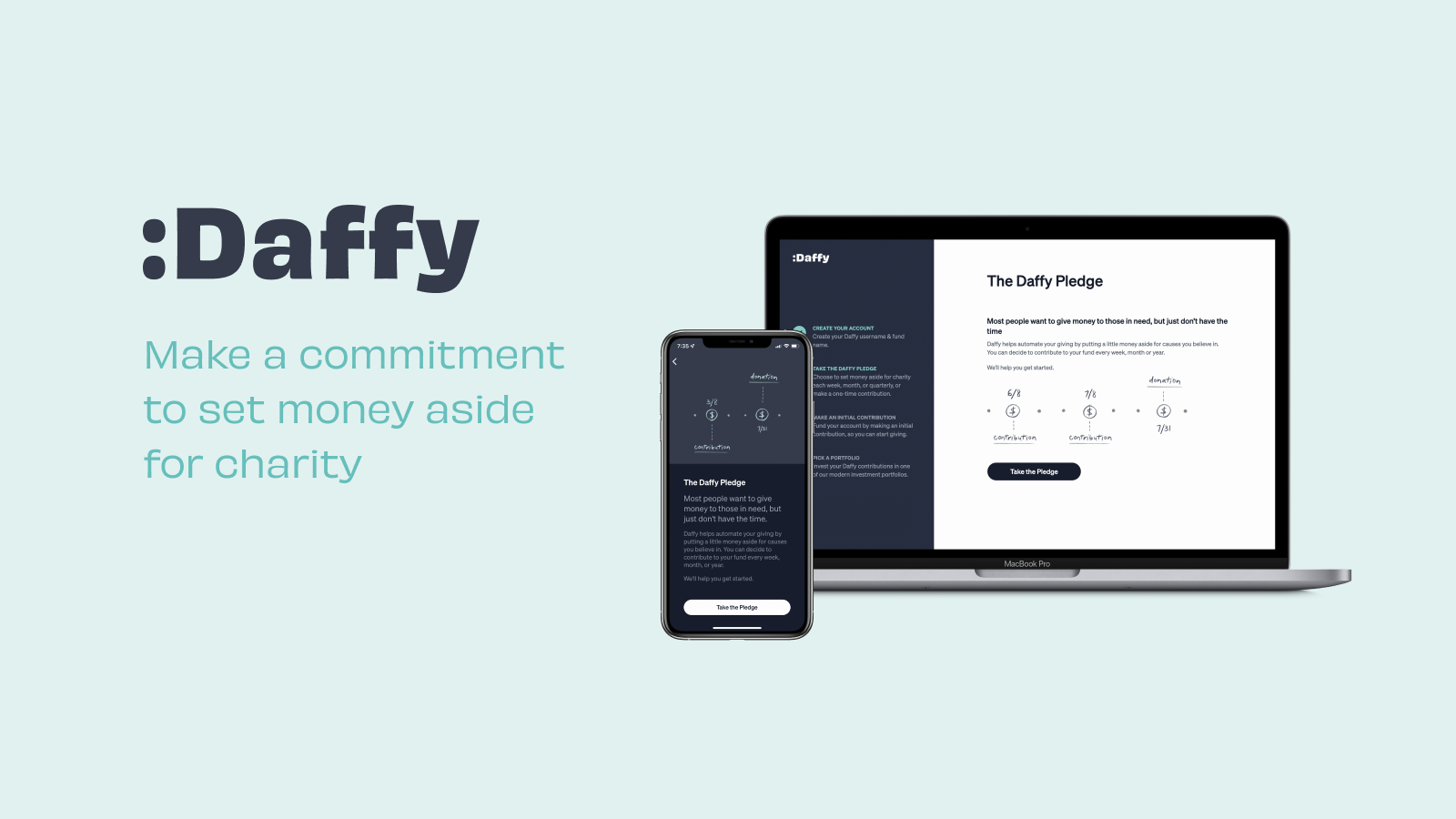 Most of us believe that it is important to set aside money for those less fortunate than themselves. Unfortunately, while the intention is there, most people do not meet their own goals for giving, and they feel guilty.
It doesn't have to be this way.
We built Daffy to solve this problem by simply selecting how much you want to set aside for charity every year and automating your contributions. We call this commitment to give, "The Daffy Pledge." Just tell Daffy how much you want to give, select weekly, monthly, or yearly, and link your bank account.
Our new Daffy for Web onboarding flow makes it easy to make this commitment from any device, which eliminates the need to jump from daffy.org to the App Store when you are setting up your account.
All your contributions to your fund are still tax-deductible in the year they are made because Daffy is a registered 501(c)(3) not-for-profit organization.
Easily Contribute Cash, Credit, Crypto, or Stock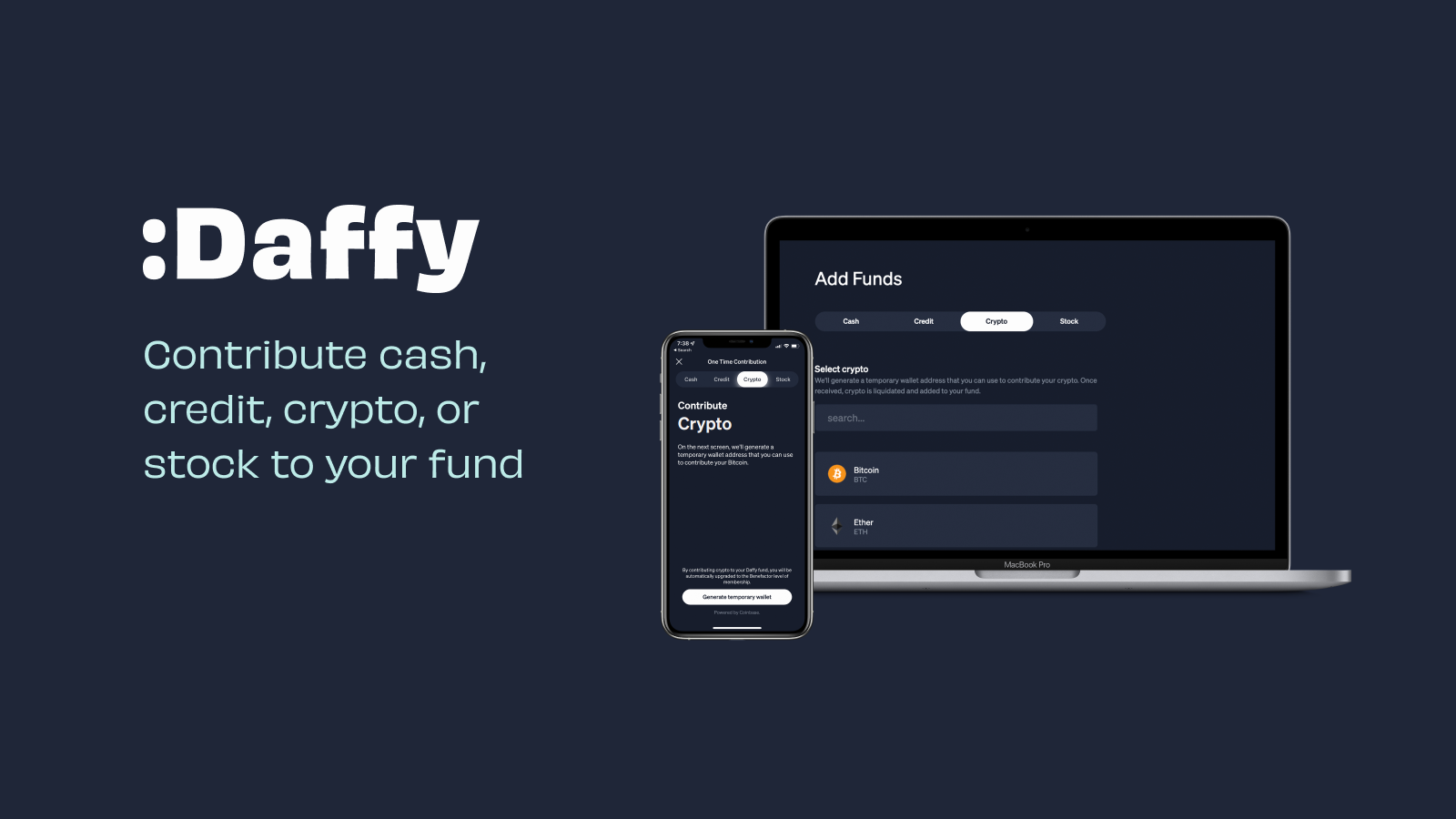 Since our launch, Daffy has supported a variety of ways to contribute to your fund and now besides linking your bank account or Apple Pay™, you contribute to your fund directly with any major credit card.
Daffy for Web gave us the opportunity to make it even easier to give. Now, for the first time, you can contribute to Daffy using any credit or debit card, regardless of whether it is in your Apple Pay wallet.
And if you've been fortunate enough to benefit from the incredible stock & crypto market gains in 2021, we've made it even easier to contribute publicly-traded stock and ETFs as well as Bitcoin and Ethereum, so you can save on taxes and increase your charitable impact.
Invest to Increase Your Impact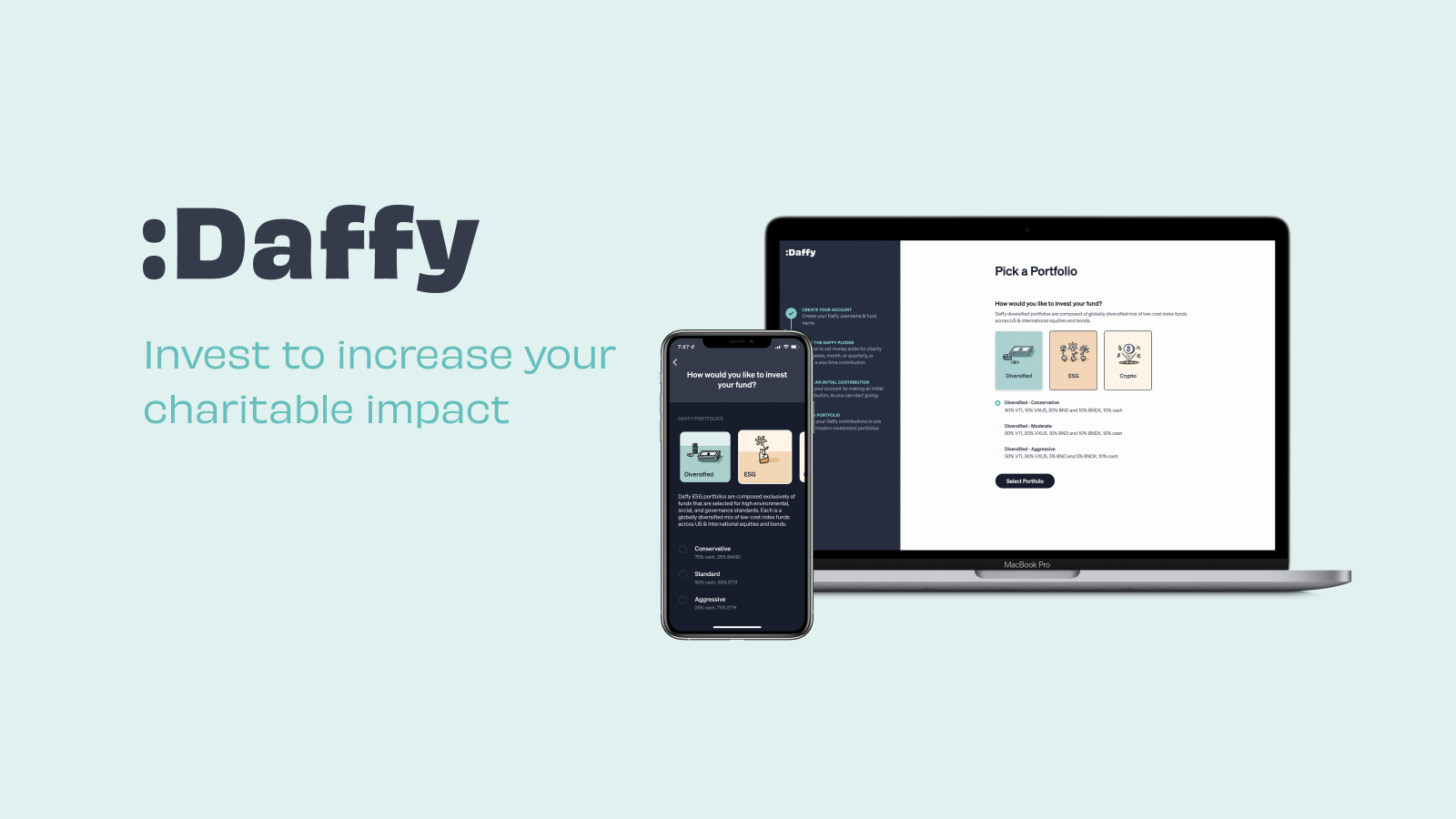 Once you contribute to your Daffy fund, your money doesn't sit idle. Daffy invests your money so that while you are busy, your potential impact grows with your portfolio. Over time, this means that in many cases you will be able to make more donations over time.
When you set up your Daffy fund, one of the first choices you make is where you want your contributions invested. Daffy provides nine different portfolios, separated into three categories: Standard, ESG, and Crypto. Each category features portfolios that range from conservative to aggressive so that you can pick the option that best suits their needs.
Daffy for Web now gives you the luxury of more real estate to easily review your investments and track their performance, as well as records of your contributions and donations.
Donate to Over 1.5 Million Charities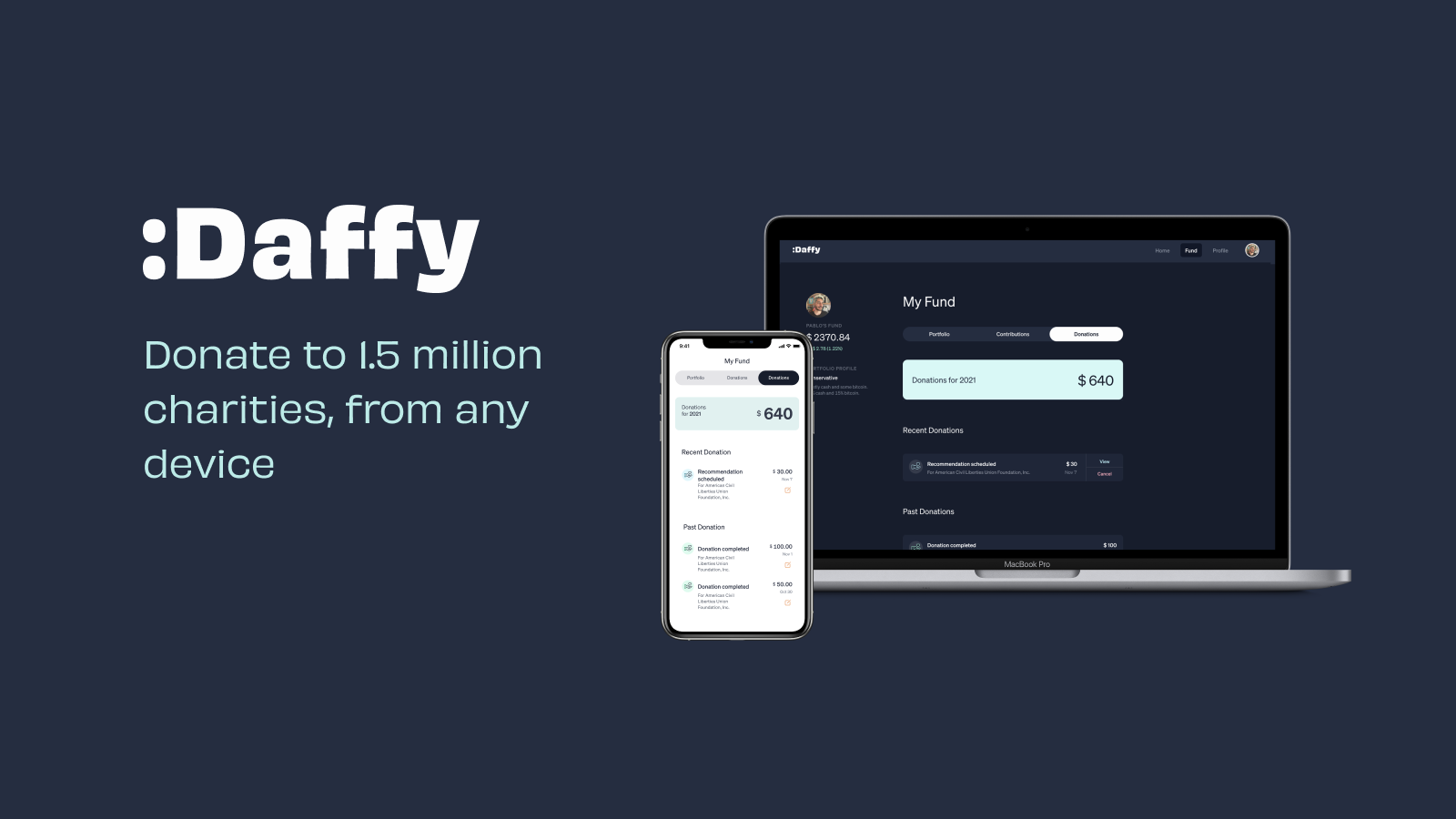 Once you've set up your account, the first thing you see when you log in to Daffy is the amount of money in your fund and two large buttons to "Add Funds" or "Donate." This is by design. People told us they wanted the ability to easily contribute and donate anytime, anywhere—and now, you'll have the ability to do so across any of your devices.
Many of our early Daffy members have found it incredibly valuable to have a place to discover new charities, so Daffy for Web supports the ability to not only search our complete database of registered charities in the US, but also to filter charities based on your location to find worthwhile causes in your neighborhood.
With Daffy, we've made it possible to donate to over 1.5 million charities in seconds. Select donate, pick an amount knowing that you have the funds available, and then select a charity of your choice. And if you are not sure who to give to, tap "Nearby" to see recommendations of charities near you. Plus, remember with Daffy, there are no hidden transaction fees. 100% of your donation recommendation goes to the charity of your choice.
2021 Is A Great Year to Give
Daffy decided to launch its service in the midst of the worst global pandemic in a century for a reason. Now, more than ever, people are looking for ways to help and easier ways to give. We believe that one of the best ways to do that is by making a simple commitment to give, and joining with others who have made a similar commitment.
We are incredibly excited to have Daffy for Web available in time for the holidays.
Thank you all for being early members of the Daffy community, and please don't hesitate to reach out to us with your ideas, suggestions, and feedback. Email us at support@daffy.org or chat with us here.
... and if you haven't joined, what are you waiting for? Right now we're giving new members $25 to give to their favorite charity when you join here.