Over the past 10 years, donor-advised funds have exploded in popularity. According to The National Public Trust, there are now more than one million donor-advised funds in the U.S. alone and saw a 16.3% increase from 2019 to 2020. Their growing popularity is for good reason. A donor-advised fund (DAF) is a smart way to be more intentional about your giving and maximize the tax advantages. A DAF is a designated giving account with a public charity that allows you to make a charitable contribution to the fund, receive an immediate tax deduction, and then recommend donations from the fund over time.
But choosing the right provider for your DAF impacts how you're able to manage your account and how much you'll pay in fees. That, in turn, plays a big part in the growth of your investment and your ability to make a difference in the charities you want to support.
Find out how Daffy stacks up to Fidelity Charitable, the largest provider of donor-advised funds in the U.S., in terms of convenience and cost. Spoiler alert: Daffy has the potential to save members over 64% at a range of account balance thresholds.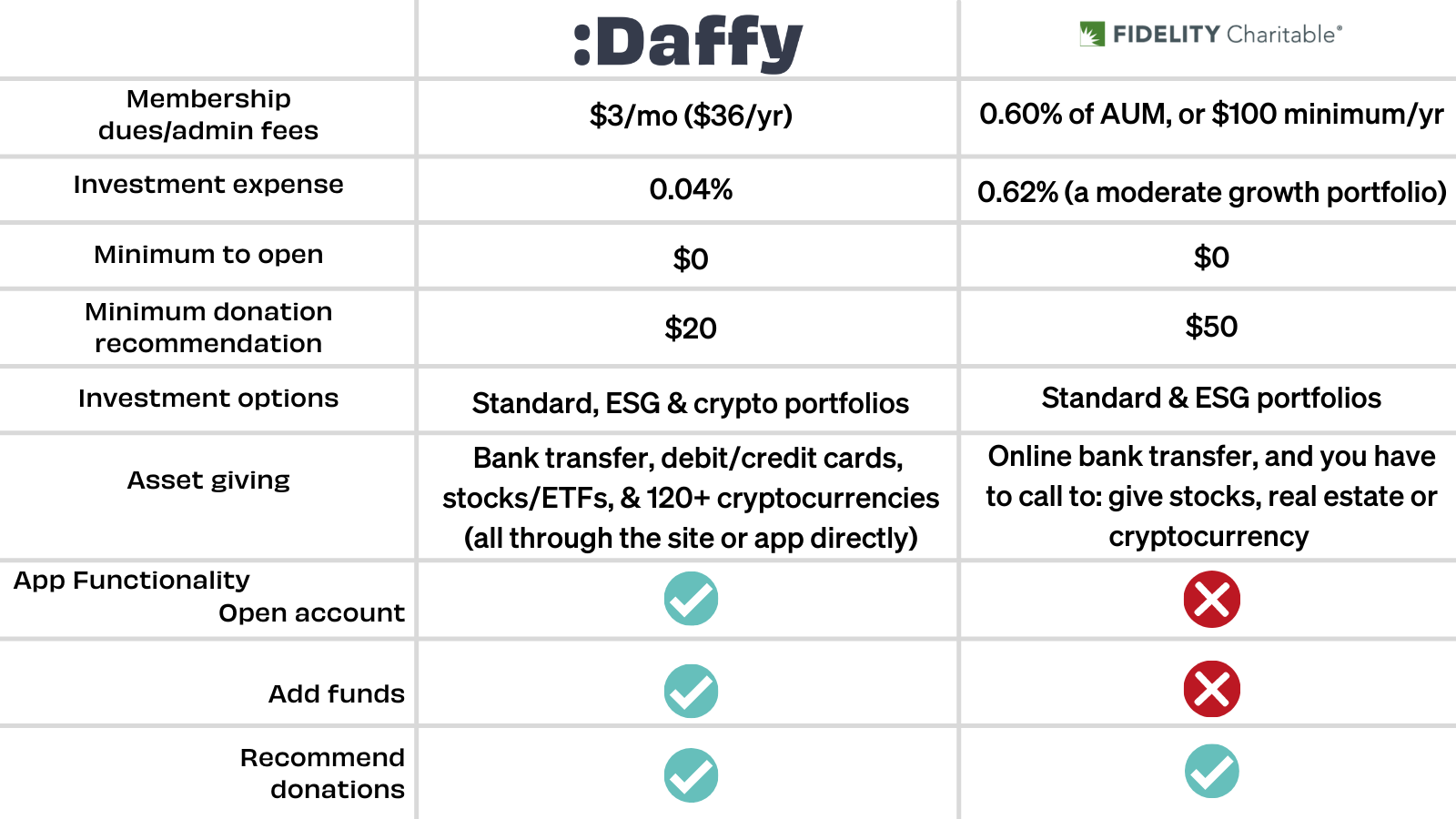 So what does Daffy do better?
Transparent and low dues
Daffy doesn't operate like a traditional donor-advised fund such as Fidelity Charitable. Like most other investment firms, Fidelity Charitable charges the greater of two annual fee structures: a $100 fee or 0.6% of your assets under management. Daffy, on the other hand, is a membership-based community focused on the commitment to give, and charges a simple flat monthly membership fee, starting at $3 per month.
That's more competitive regardless of your giving history: account holders with both large and small balances end up with substantial savings with Daffy. Plus, it means your investment goes further because hefty fees aren't eating into your earnings, and more money is going to the charities you care about.
A $10,000 Fidelity account would cost you $500 over five years, while a Daffy account would cost just $180 over the same time, saving you 65% over using Fidelity.
Mobile-first service with a fully functional app
Daffy was built as a native mobile app, so each step you take is meant to be quick and easy. Once you download the app, you have full control from your phone: you can open your account, fund it, and choose investments with just a few taps. Plus, there are several options for assets to use when funding the account:
Link your bank account to transfer cash
Use any major debit/credit card or link ApplePay™
Transfer stocks, ETFs, or an existing donor-advised fund
You also have more investment options with Daffy. In addition to standard and ESG portfolios, you can choose to invest in crypto both diversified crypto portfolios and pure crypto portfolios. When you're ready to recommend a charity for your donation, you'll find over 1.5 million giving options, including non-profits, schools, and faith-based organizations.
Fees: Daffy vs. Fidelity Charitable
Now let's run a real-life comparison of how Daffy and Fidelity Charitable stack up based on two different account sizes.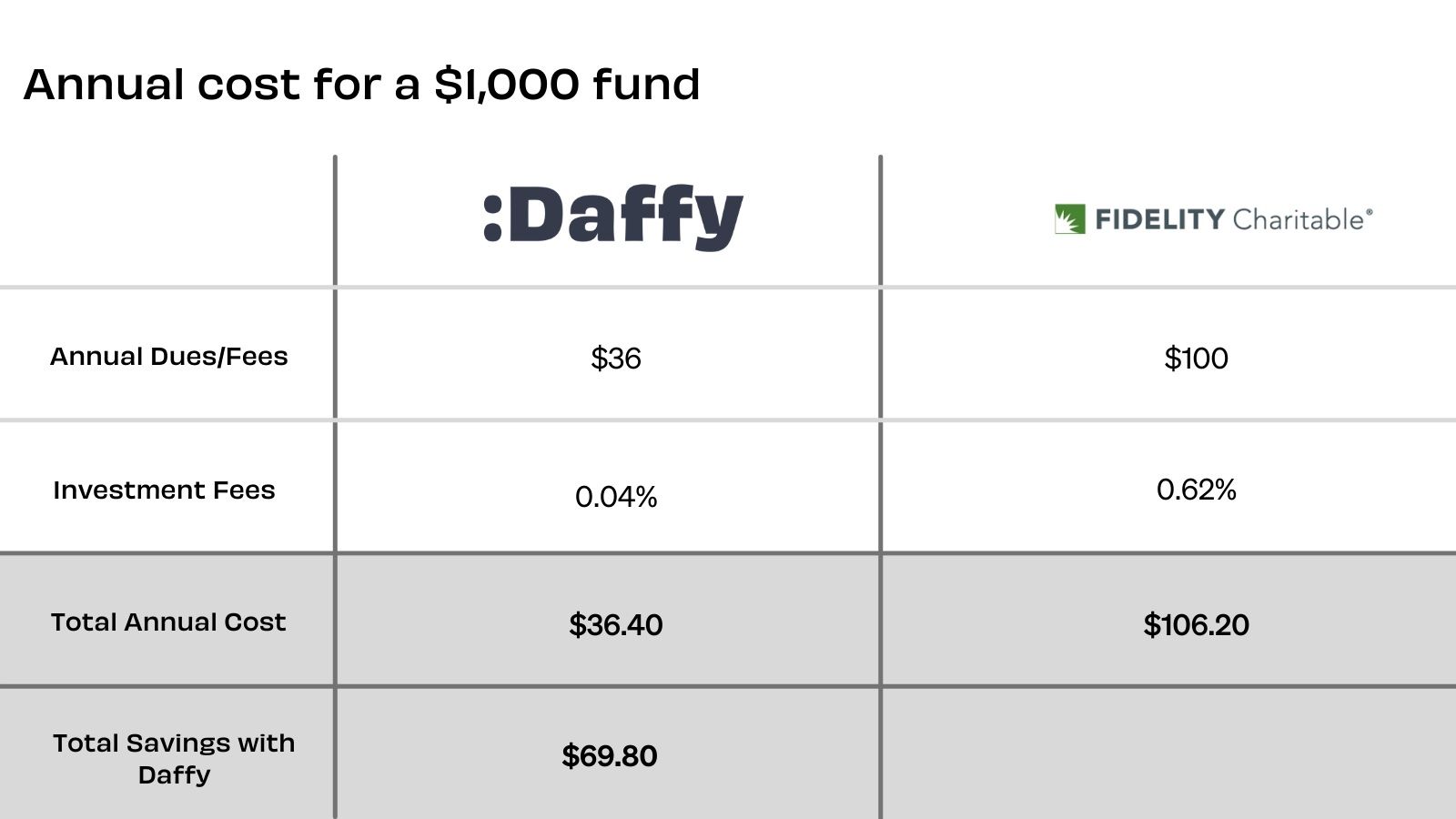 The total annual savings for a $1,000 account in a Daffy fund over Fidelity Charitable is nearly $70, a savings rate of more than 65%. In fact, at this size, a Fidelity account would be losing over 10% of its value each year, which is the same as the average annual return of the stock market. That means your investment growth could be severely limited for a $1,000 account with Fidelity Charitable.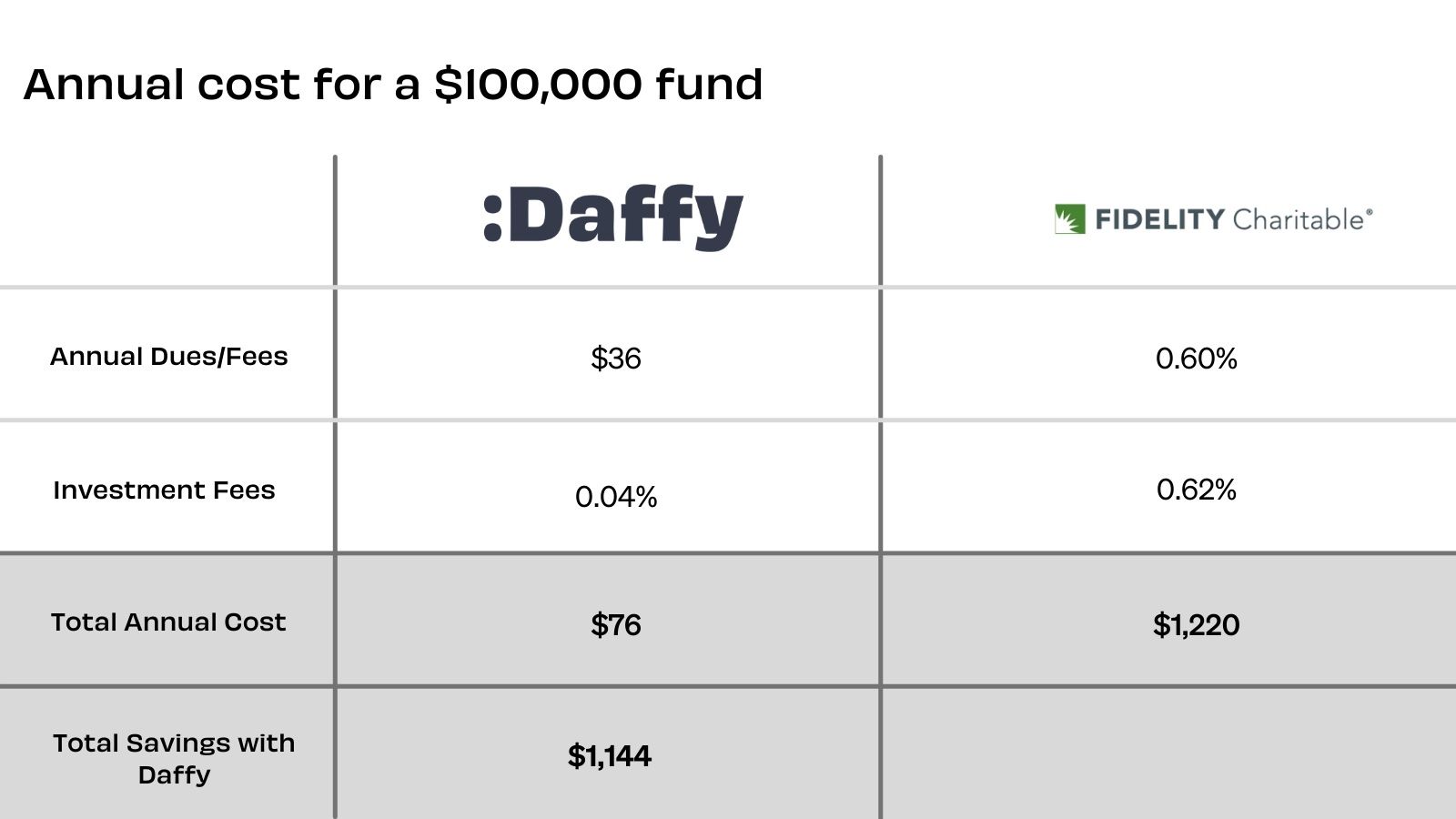 The pricing difference between Daffy and Fidelity Charitable becomes even more apparent at the $100,000 fund level. In this scenario, the amount of savings is a staggering $1,144, a savings rate of more than 93%. Part of the jump in fees is because, at this level, the $100 annual fee is swapped out for the 0.60% fee. Plus, Fidelity Charitable's expense ratios are much higher than Daffy. That's a lot of cash to miss out on, whether you're donating it right away or giving it time to grow in the market.
So, which donor-advised fund is right for you?
Daffy is best if…
You want the lowest dues and want more of your money to go to charity. DAFs are meant to be mutually beneficial for both you and your favorite non-profits. When fees get too high, you're doing a disservice to everyone involved (except the over-priced investing firm).
You want the ability to access your account, contribute, and donate from a full-featured native mobile app. Inconvenience is one of the biggest deterrents to charitable giving at a time when giving rates are lower than ever. Daffy makes it easy to step up and fill the giving gap.
You want to donate and/or invest in crypto. Cryptocurrencies are now subject to capital gains tax just like any other investment. If you've been holding onto a trove of Bitcoin for several years, for instance, that tax bill could be a hefty one should you decide to cash out. Instead, you could avoid tax on assets held for more than a year by using your crypto to fund your Daffy account.
You want to join a community committed to setting money aside for those less fortunate. Daffy wasn't created just to help people get a tax break. Our platform is designed to help you help others. Connect with friends, families, and other donors on the app to raise awareness and funds for the causes you care about — and learn about what issues other donors care about, too.
Fidelity Charitable may be a better choice when…
You have all of your other accounts at Fidelity, and you don't mind paying more money to have everything in one place.
You are interested in a selection of expensive active mutual funds.
You have complex assets you'd like to contribute like private stock or real estate.
Are you ready to save money and give more with Daffy? We make it easy to transfer some or all of your Fidelity Charitable account to Daffy.
Download Daffy or get started at Daffy.org
Select transfer an existing donor-advised fund, tell us the provider, and how much you'd like to transfer
Log in to your existing provider
Make a grant of any amount to Daffy Charitable Fund (EIN: 86-3177440)
We'll notify you when your funds are in your Daffy account