At Daffy, our mission is to help people be more generous, more often, and our team works tirelessly to build new features that help people inspire each other to give.
Daffy can inspire thousands of generous members to give, but what if we empowered every single one of our members to leverage their commitment to giving to inspire others? A platform that offered that capability could reach millions.
Today, we are taking a big step towards that vision by introducing Daffy Campaigns. Now every Daffy member can raise money for the organizations and causes they support, bringing the unique power of our modern donor-advised fund platform to the proven organizing power of online campaigns.
Actions speak louder than words, and as any product leader will tell you, there is a big difference between talking about a feature and using it. To celebrate the launch of Daffy Campaigns, we plan to leverage this platform for maximum impact this holiday season.
When thinking about our community across the country and what issue our inaugural campaigns could help, we quickly identified a common cause to support: helping to fight food insecurity by feeding families in need this holiday season.
The Alarming Reality of Food Insecurity
The US economy may be growing in 2023, but with high inflation, continued economic uncertainty, and diminishing safety net programs, the U.S. Department of Agriculture estimates that more than 34 million people, including 9 million children, are food insecure.
In the San Francisco Bay Area, where Daffy is headquartered, it is estimated that more than 870,000 people are food insecure. According to Feeding America the Bay Area is not unique in this regard: every community in the country is home to families who are hungry.
As people from all walks of life struggle to put food on their tables, they turn to food banks and community programs for help. That's why this holiday season, we are rallying all of our generous Daffy members to consider joining us in giving some of their charitable dollars to the amazing organizations helping feed America.
Your donations can go a long way to help those who need it most this holiday season.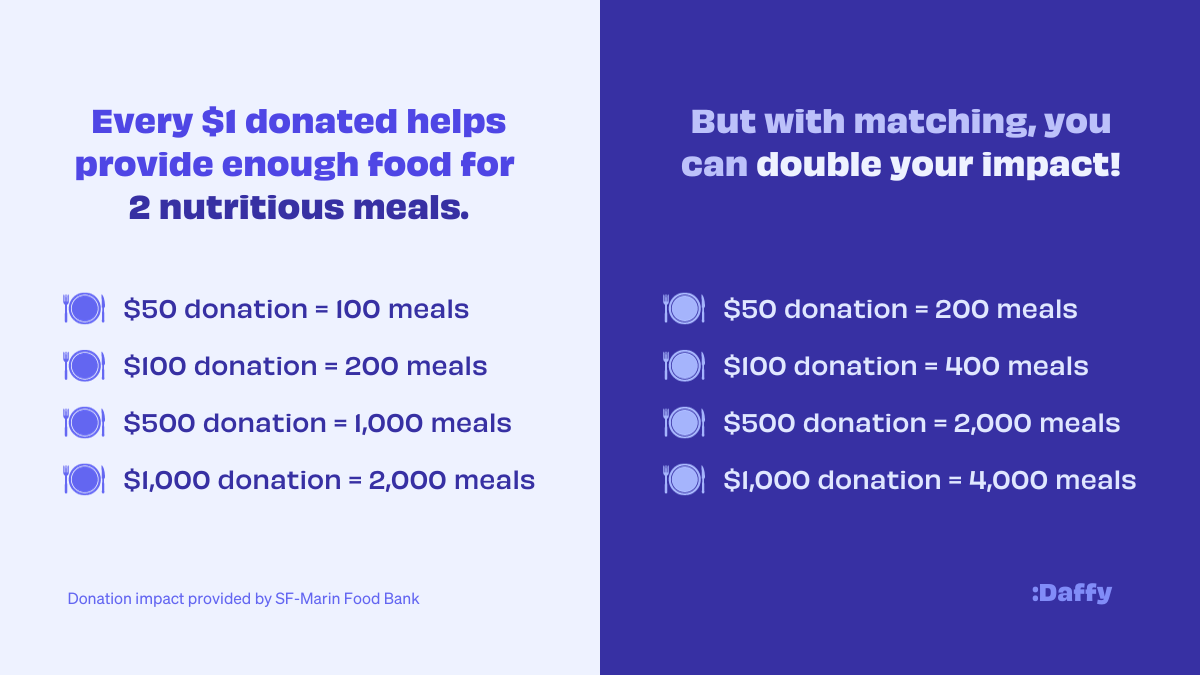 Donate. Share. Organize.
Starting today through Giving Tuesday (11/29), I will be launching a Daffy campaign matching up to $10,000 in donations to Feeding America, which partners with thousands of local food banks and community-based programs across the country.
For those of you in the San Francisco Bay Area, we are grateful to have generous leaders like Reid Hoffman, Mike Schroepfer, Gokul Rajaram, and Josh Hannah who have all volunteered to run campaigns to match donations made to local food banks across the entire Bay Area.
Together, we hope to raise enough donations to provide $200,000 to fund up to 400,000 healthy meals this holiday season.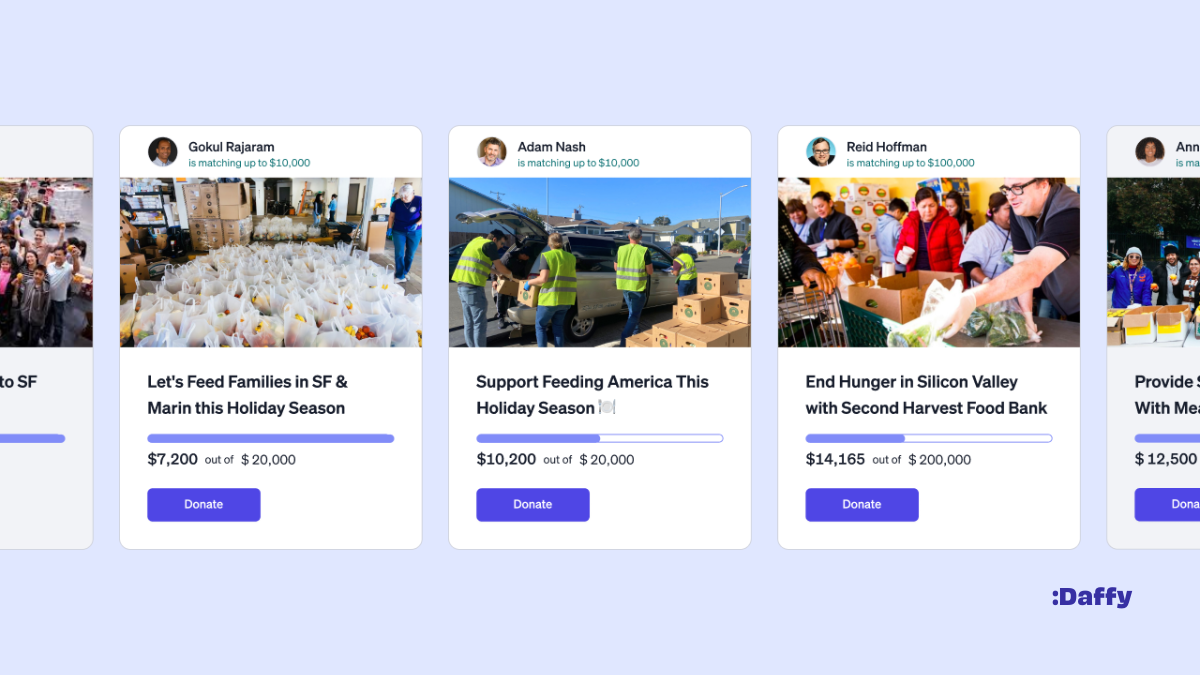 Best of all, if you are inspired to raise funds for a local food bank in your community, this feature is now open to all Daffy members so you can create a campaign for the food bank in your area and inspire your family, friends, and colleagues to give to it too. Daffy makes it easy for you to find the food banks in your area by searching our interactive map.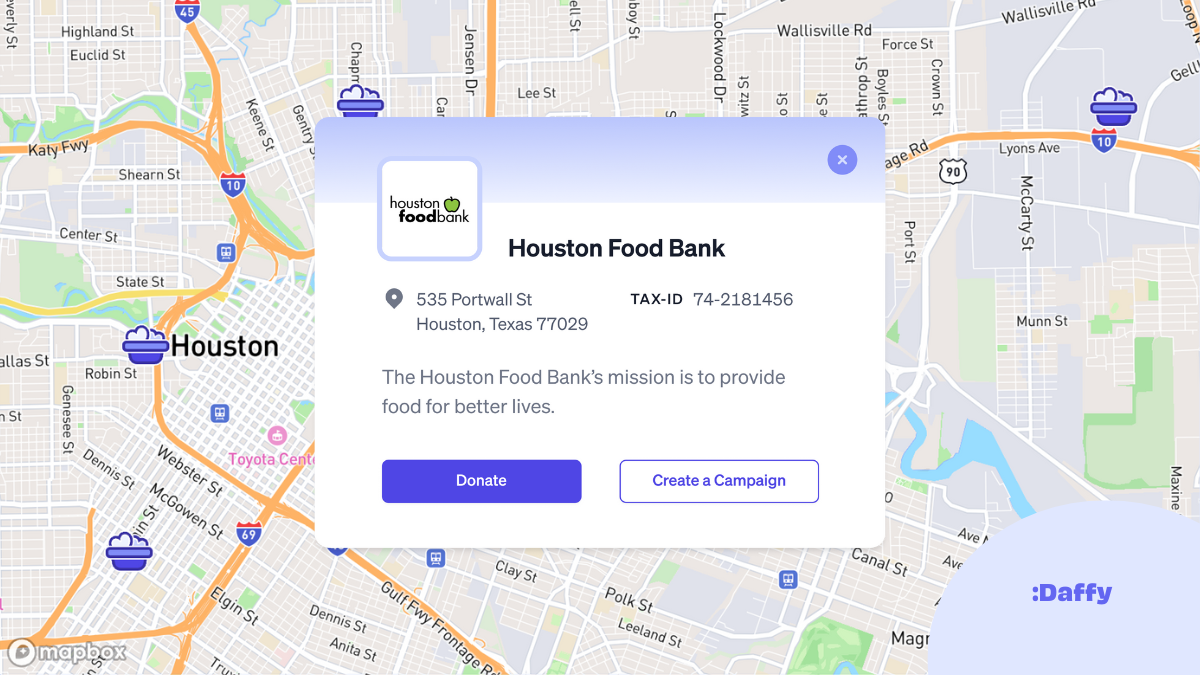 One of the reasons a platform like Daffy is so powerful is that it encourages people to make giving a goal and put money aside proactively so that it is available to give when they are inspired. We hope our initiative to help ensure that no one in our community goes to bed hungry this holiday season inspires you to take action, whether it be locally or nationally.
Whether you simply donate to one of our matching campaigns or start your own, we believe that together we can fight food insecurity and create a brighter, more hopeful future for thousands of people this holiday season.