As we enter 2023, many of us are reflecting on the past year and thinking about what positive changes we want to make this year. One of the most meaningful but hard-to-keep resolutions people make is: to give back more regularly.
While many people intend to make giving to organizations and causes they care about a priority, life often gets in the way. Prior to joining Daffy, many of our members shared that they weren't giving to charity as much as they wanted:
"To be honest, I want to do more. I am probably not giving as much or as often as I should. My giving hasn't caught up with my salary." - Catalina
"My giving isn't that intentional…I have recurring donations to a few charities and then the rest are just full of reactive one-off donations." - Amy
"I want to give more. For some reason, there's more friction with my giving vs. my spending. I think more about a $100 donation than I do a $100 t-shirt. Why is the bar higher? I don't know. I could definitely give more." - Preston
Some of you are probably thinking similar thoughts. You are not alone. Most of us were raised to believe that giving is a part of living a good life. At Daffy, we've identified that there is a significant "Generosity Gap" between what people say they want to give and what they actually end up giving.
Last year we introduced a simple feature to help solve this problem — a Giving Goal, the ability to set an annual goal for how much you'd like to give to charity.
It may sound like a small thing, but small things can sometimes have a big impact. Based on research at the Stockholm School of Economics setting a goal to give can increase the amount given to charity by 32%. This could translate to an additional $1.27 trillion dollars donated to charity over the next ten years. And based on thousands of Daffy members, the majority of those who set a giving goal in 2022 hit or exceeded it.
So if you're aiming to be more generous in 2023 and make more charitable donations, here's our guide to doing it.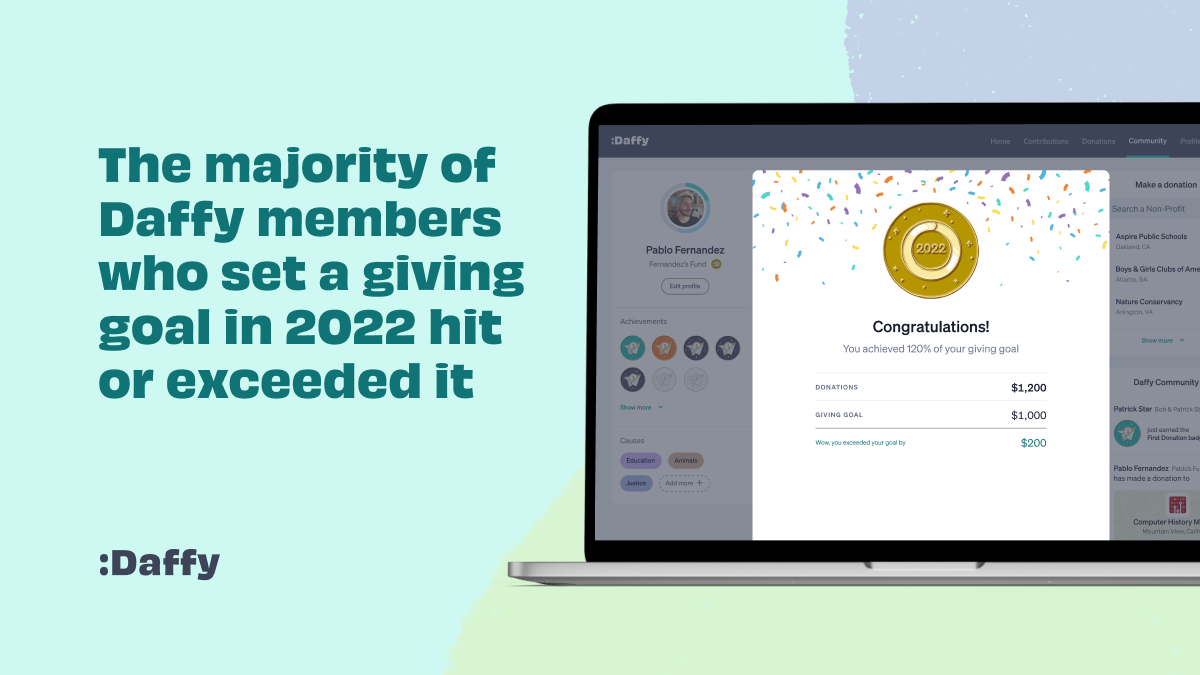 How to Give Back More Regularly
1. Set a giving goal: how much you want to give to charity 🎯
Like any new habit, starting with a simple and measurable goal always yields better results, so whether you're a new member setting up your Daffy account or an existing member of Daffy, we prompt you to answer this question: How much do you want to give charity this year?
Deciding how much to give to charity is a personal decision. There's no one-size-fits-all formula for setting your annual giving goal. For some of our members, this is a percentage of their income and for others, they simply start by setting a goal of a few hundred dollars.
If you don't have a goal in mind, Daffy can help you pick an amount that's right for you with our Giving Goal Calculator. You can choose a fixed amount or calculate a number based on a percentage of your income. Daffy even provides data to show you what the average household in your city gives to charity to help guide your choices.
Many people worry about picking the right number, but the truth is that any number is a great place to start. Just set a goal, and hopefully, you'll increase it in future years. Just get into the habit of giving. Remember, setting a giving goal of any amount is better than no goal.
2. Automate your tax-deductible contributions 🔄
Once you set your giving goal, Daffy makes setting money aside for charity as simple as saving money for retirement in an IRA or 401K.
You can easily select how often you want to make tax-deductible contributions to your Daffy fund. You can make contributions all at once in lump sums, or you can select a weekly, monthly, or quarterly frequency and amount—and we'll automate the rest for you.
Many of our members start by setting aside $20 a week or $100 a month. Other members decide they want to give a lump sum of cash, stock, ETFs, or crypto upfront to fund their account for the year.
3. Set up automatic donations to your favorite charities 💌
Now that you've funded your account, one of the easiest ways to stick to your goal of giving more regularly is to set up recurring donations to your favorite non-profits.
With Daffy, you can make donations monthly, quarterly, or yearly. Plus, you can even schedule a donation ahead for any date. Every time you make a donation, you'll get a little closer to hitting your giving goal.
Most charities will tell you that they value recurring donations more than one-time donations, and that makes sense given that most organizations need a consistent budget to operate every year.
Start today by asking yourself: What charity or cause do I want to support more regularly this year?
4. Celebrate your generosity 🎉
Once you make enough generous donations to hit your annual giving goal, we are not going to let your generosity go unnoticed.
You'll unlock a special Daffy member badge that is earned for hitting this generous achievement.
While it feels good to get recognition for your giving, the real value in sharing your giving is inspiring others to do the same. It is one of the easiest ways to amplify your impact on causes and charities you support.
At Daffy, we believe that we can make charitable giving even more fun. And by recognizing this moment, we may motivate you to be even more generous. 😉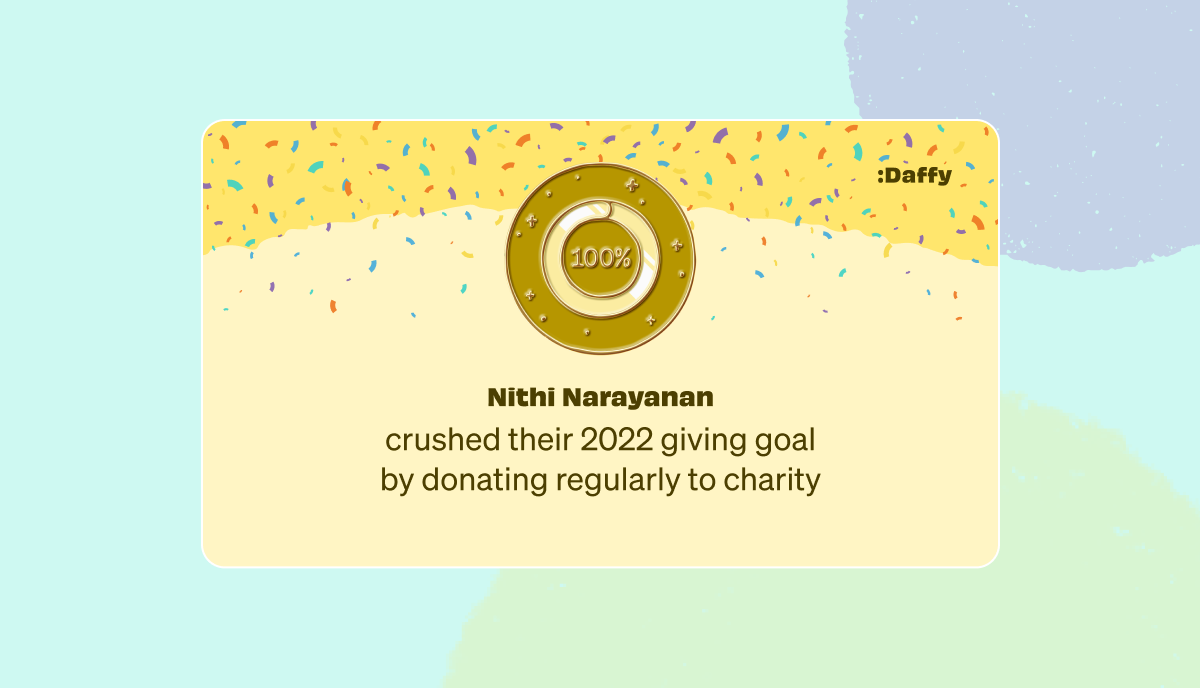 So if you looking to make charitable giving a more regular habit in your life and better support the causes, communities, and organizations you care about most, we're here to help you make it happen.
Join the Daffy community this year, and let's make 2023 the year to be more generous, more often.