Donor-advised funds (DAFs) are one of the hottest trends in charitable giving right now. While they are typically known as a way for ultra-wealthy people to better manage their donations, more donors are turning to DAFs as they have become more accessible in recent years. According to the National Philanthropic Trust, the number of donor-advised funds in the U.S. rose by 27.6% in 2021, totaling 1,285,801 accounts. These numbers make DAFs one of the fastest-growing giving vehicles in philanthropy today. So what are donor-advised funds?
Donor-advised funds are tax-deductible financial accounts for the sole purpose of charitable giving. Donors use this account to set aside money for charity, invest these funds, and then make donations. Think of it like a 401K for charity. DAFs provide significant tax incentives to donors, which makes them a popular way to organize their giving.
With DAF giving on the rise, charities should understand some of their key benefits.
1. Easily accept donations of stock and ETFs
DAFs give charities the ability to accept complex assets easily and at no cost to them. The majority of nonprofits in the U.S. are not set up to accept stock or ETFs directly. And if they are, they have to pay a service fee. This means less of the donation money goes to charity. Donating appreciated stock has major tax benefits for donors, which makes them an appealing way to give.
When our members want to send the value of their stocks or ETFs to charity, they donate it through Daffy. We liquidate the shares and send cash to the selected charity. Charities don't pay any fees to Daffy for receiving these types of donations. They also don't have to worry about the headache and expense of managing an organizational brokerage account in order to receive stock donations.
2. Easily accept crypto and reach the next generation of donors
Another giving trend gaining popularity in recent years, especially among younger donors, is cryptocurrency donations. As charities seek to engage the next generation of donors, accepting crypto donations will be important. A recent study found that three-quarters of all crypto is held by millennials or Generation Z. According to CNBC, most high, net-worth millennials hold the bulk of their wealth in crypto. In fact, 83% of millennial millionaires own cryptocurrencies. The next generation of donors (ages 18-40), will increasingly use giving platforms that support crypto donations to charity.
In addition to accepting complex assets like stock and ETFs, some DAFs allow donors to donate cryptocurrency to charity. Through our partnership with Coinbase, Daffy accepts donations of over 120 different cryptocurrencies. One of our earliest donations was from a member who wanted to give Bitcoin to his synagogue in New York. The synagogue couldn't accept Bitcoin, but we did. The donor sent the Bitcoin to Daffy, we liquidated it, and sent the cash to the synagogue.
3. Larger and more frequent donations from donors
The tax advantages of DAFs and their ability to accept complex assets like stock, ETFs, and crypto make DAF donors more likely to give larger gifts. The tax savings from a stock donation compared to a cash donation can be sizable. In 2022, the average stock contribution on Daffy was $17,600, and the average crypto contribution on Daffy was $26,800.
Daffy also makes it easy for donors to automate their giving by helping them set up recurring donations to their favorite charities with just a few quick clicks. This feature helps donors spread out a larger donation over the course of the year and ensures that donors don't forget to give to your organization regularly.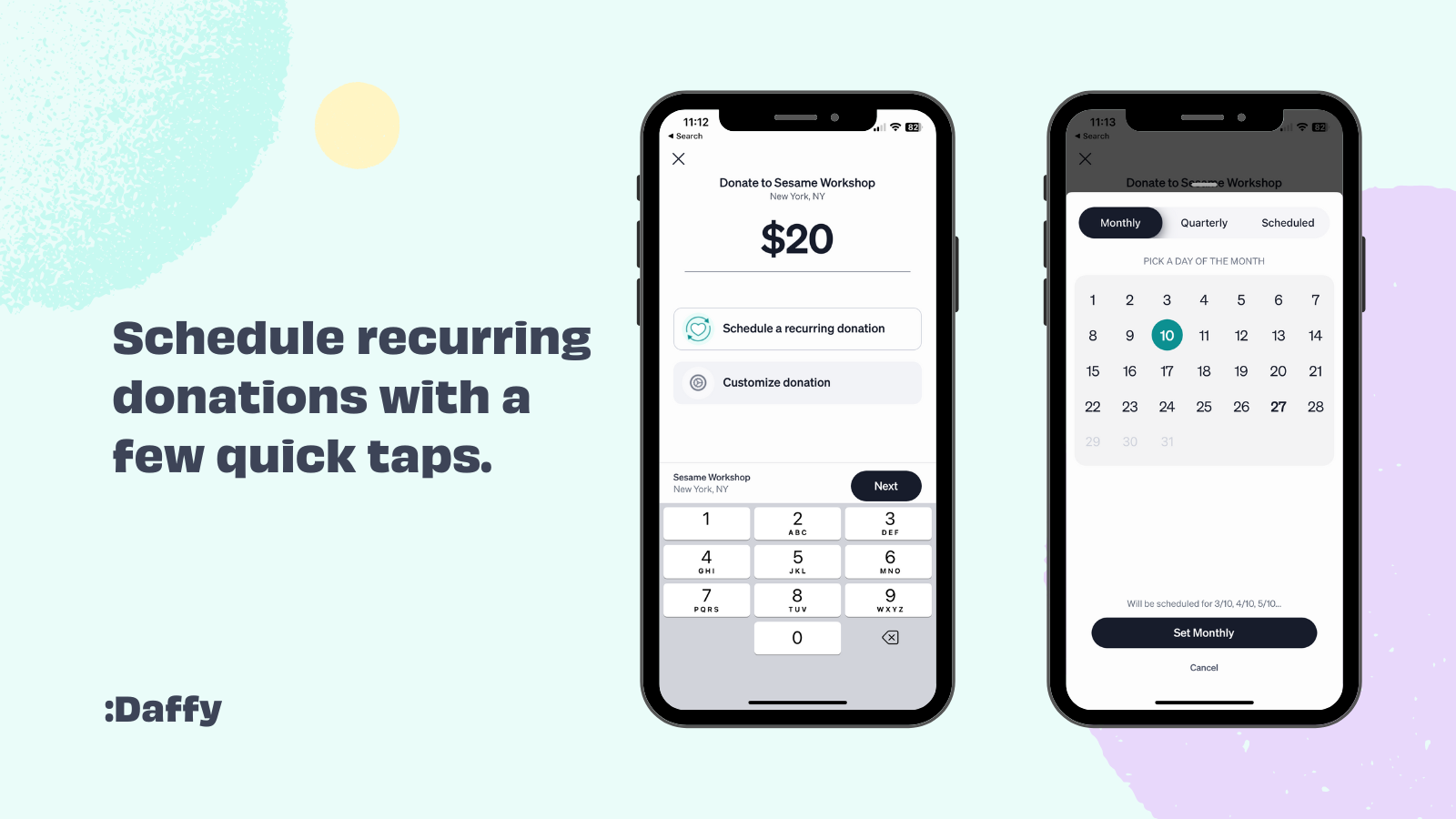 4. More unrestricted gifts
In addition to larger gifts, most DAF donations are unrestricted grants. This means that charities–not donors–get to decide how to best use the funds in service of their mission. At Daffy, our default message on donations is that the funds be used "where needed most." While donors can specify how they'd like their donations to be used, 94% of donations sent by Daffy members last year were unrestricted. The freedom and flexibility unrestricted donations offer charities can be transformative. When the Center for Effective Philanthropy examined the unrestricted giving of billionaires MacKenzie Scott and Steve Ballmer, they found the impact on the recipient charities to be "dramatically and profoundly positive." The effects of these donations lasted several years after receiving the gift.
5. Less administrative and reporting requirements
Unlike grants from private foundations, DAF donations do not require charities to submit applications or produce periodic grant reports. Since DAFs allow their members to donate to the over 1.5 million tax-exempt organizations registered with the IRS, most charities don't have to sign up with individual DAF providers to receive donations from them. They are automatically eligible. There are no formal reporting requirements for DAF gifts so the charity can share updates as they happen instead of on a predefined timeline. Simply put, DAFs make it easy for donors to give and easy for charities to receive important funds.
Giving with Daffy, the Donor-Advised Fund for You™
Our mission at Daffy is to help people be more generous, more often. We created the first full-featured mobile DAF app to make it easy to give so that people give more. Daffy is a community of thousands of donors who are intentional about their giving. We encourage our members to set annual giving goals and automate their donations. A few other things that make Daffy unique:
We don't charge nonprofits a single cent. We don't take transaction fees on donations. 100% of all donations made on Daffy go directly to charities. Our members pay a monthly membership due to support the development and operation of our unique and modern donor-advised fund.
Unlike traditional DAF providers, we aren't incentivized to keep contributions in our members' accounts. Most donor-advised funds make money by charging based on a percentage of assets on accounts. Every time you donate money to charity, they lose revenue. This leads them to primarily focus on high, net-worth individuals. Daffy is committed to changing this. As a community focused on the commitment to give, we charge a flat monthly membership due that starts at $3/month.
We believe that giving is better together. With every Daffy donation, members of our giving community are given the option to add a public note about why they give. Many use their donations to raise awareness about the charities they support and some share personal and heartfelt reasons for their gifts. These reasons inspire others in our community to give.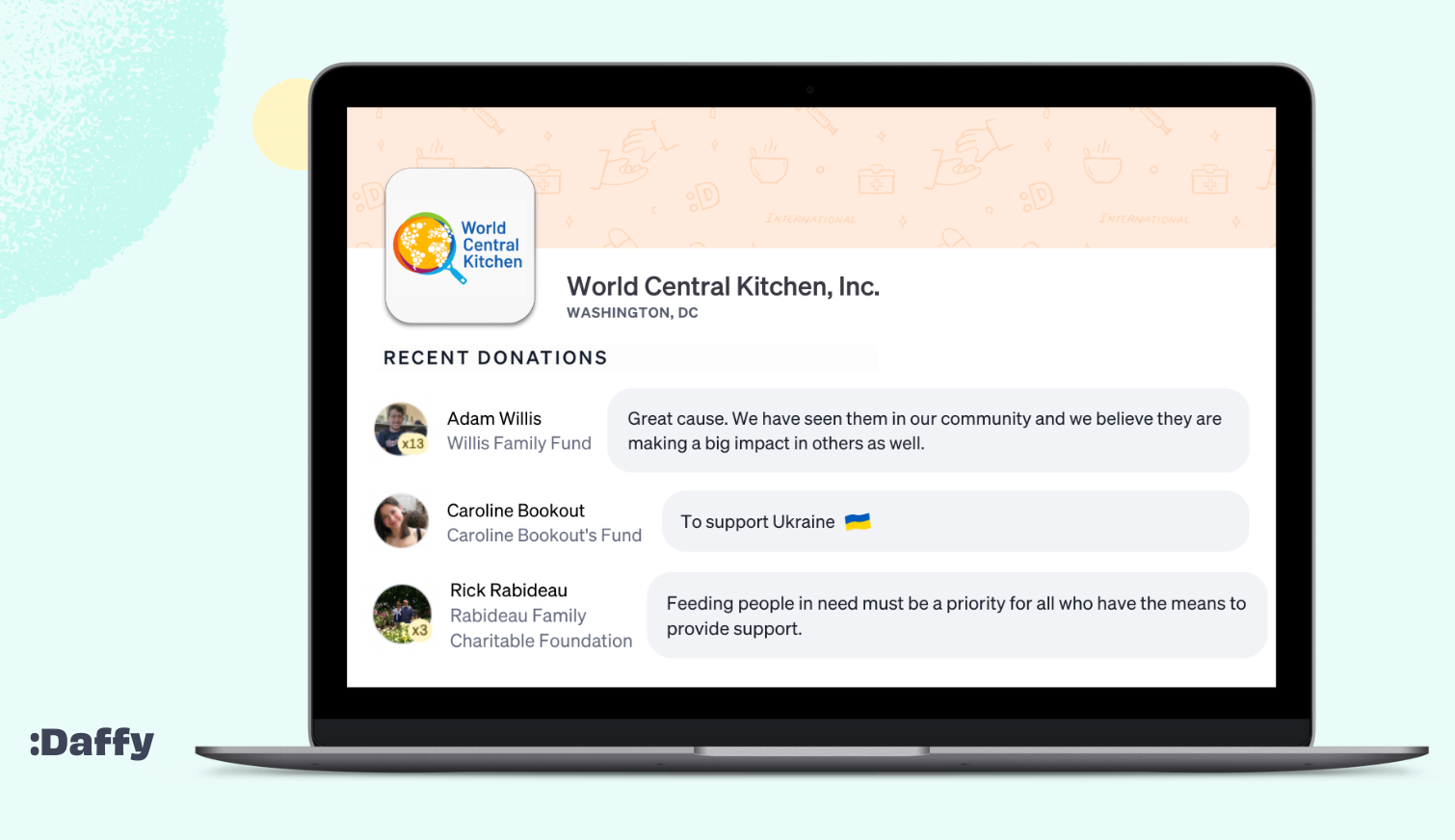 To date, Daffy members have supported over 4,000 local and national charities, schools, and religious institutions. Now that you're an expert in DAF giving, are you interested in joining this list?
Interested in learning more about how Daffy works for charities? Visit our Help Center.