At Daffy, we're on a mission to help people be more generous, more often, and believe a critical component of making that happen is helping people incorporate charitable giving into their financial plans.
This is one of the reasons we've recently partnered with Secfi Wealth, an equity planning advisory firm, to be its preferred donor-advised fund provider for their clients. However, we didn't want to stop there, since we know that for many of our members, financial advisors and wealth managers serve as incredible resources and support for their charitable giving. Financial advisors help their clients determine how much they can afford to give today, plan for how they can increase their philanthropic efforts over time, and of course, leverage the many tax benefits of giving through a modern donor-advised fund like Daffy.
That's why starting today, we're proud to share that Daffy members can add a financial advisor to their funds.
3 Benefits of Adding Your Financial Advisor to Your Fund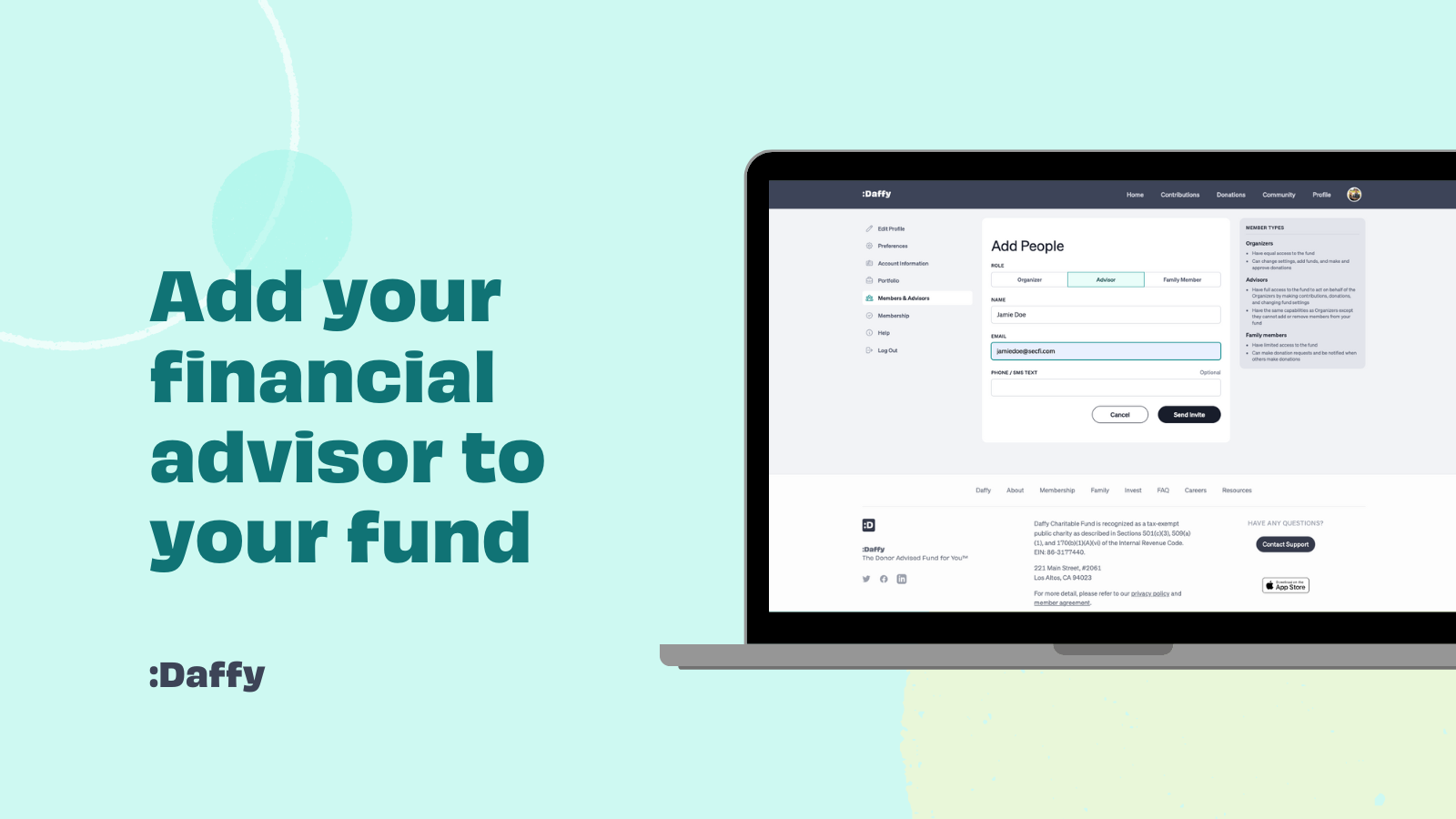 As an additional benefit for our Family membership, we have designed a new role that allows financial advisors to help you strategically manage your fund as well as tactically take action on your behalf. And since we know financial advisors often work in teams to support their clients, you can add up to three advisors to your Daffy fund.
Once added to your fund, an Advisor will have access through their own secure login and credentials, so they can take actions on your behalf such as:
Make charitable contributions on your behalf, including stock and crypto.
Request a change in your fund's investment portfolio.
Make one-time or recurring donation recommendations.
Access tax receipts for your deductible contributions.
By adding your financial advisor to your Daffy fund, they can help you:
Save time by delegating tasks on your fund. Once added, your financial advisor will be able to easily take action on your behalf, such as helping you select or change an investment portfolio based on your timeline for giving and risk preferences.
Contribute appreciated assets and avoid capital gains taxes. Since your financial advisor has a full view of investments and financial goals, they'll be able to help you make strategic decisions about which assets to donate, like appreciated stock, ETFs, or crypto. For example, your financial advisor can help you select which stock in your portfolio would be most tax-efficient to donate and then can initiate the stock transfer from your brokerage to Daffy.
Maximize the tax benefits of charitable giving. By having access to your fund, your financial advisor can help you build charitable giving into your financial plan and better leverage one of the most generous income tax deductions.
How to Add Your Advisor on Daffy
If you're already a generous Daffy member, you can add your financial advisor by navigating to "Settings" on daffy.org or our app, clicking "Family & Members" and selecting "Add Members." From there, simply enter your advisor's contact information and we'll send an email and/or text to your advisor to get started.
If you're not yet a Daffy member, you can sign up here and add your advisor during the account creation process by clicking the "Family" membership, which along with advisor support allows you to invite your partner, children, grandchildren, siblings, and anyone else you consider family to give with you on your fund.
If you're a financial advisor representing a firm, you can contact us to learn more about partnering with Daffy to help your clients better manage and maximize their charitable giving.