Veteran's Day honors both our fallen and living veterans for the sacrifices they've endured to protect our country. And while the federal government offers services to support veterans and their families, there is a lot of room to provide even more help to make their lives easier. This Veteran's Day, consider donating to one or more of these charities devoted to veterans, active duty service members, and their families.
Disabled American Veterans Charity
Mission: Disabled American Veterans (DAV) is committed to ensuring veterans can achieve a high-quality life that includes both respect and dignity. The organization provides support in obtaining benefits as well as advocacy work on Capitol Hill.
Key programming your funds will support:
Free assistance for veterans and their families to receive federal benefits.
Outreach to promote these assistance programs so veterans can take advantage of them.
Advocating on behalf of veterans (and families, widowed spouses, and orphans) in front of Congress, the White House, the judicial branch, plus state and local governments.
Developing state and local DAV chapters to improve support.
Volunteer programs for disabled veterans to support other veterans.
Donate to Disabled American Veterans Charity.
Fisher House Foundation
Mission: Fisher House Foundation provides free temporary housing for military and veteran families while a loved one is in the hospital. This international organization has homes throughout military bases and VA centers worldwide. They also work to lower transportation costs when seeking medical care.
Key programming your funds will support:
Fisher Houses: Families have their own private suite with a communal kitchen area to connect with other military families. All Fisher Houses are either within walking distance of the hospital or include transportation.
Hero Miles: Fisher House Foundation uses donated frequent flyer miles to offer free flights for families traveling to and from military or VA medical centers.
Hotels for Heroes: When Fisher Houses are full, the organization uses donated hotel points to provide families with lodging assistance.
Donate to Fisher House Foundation.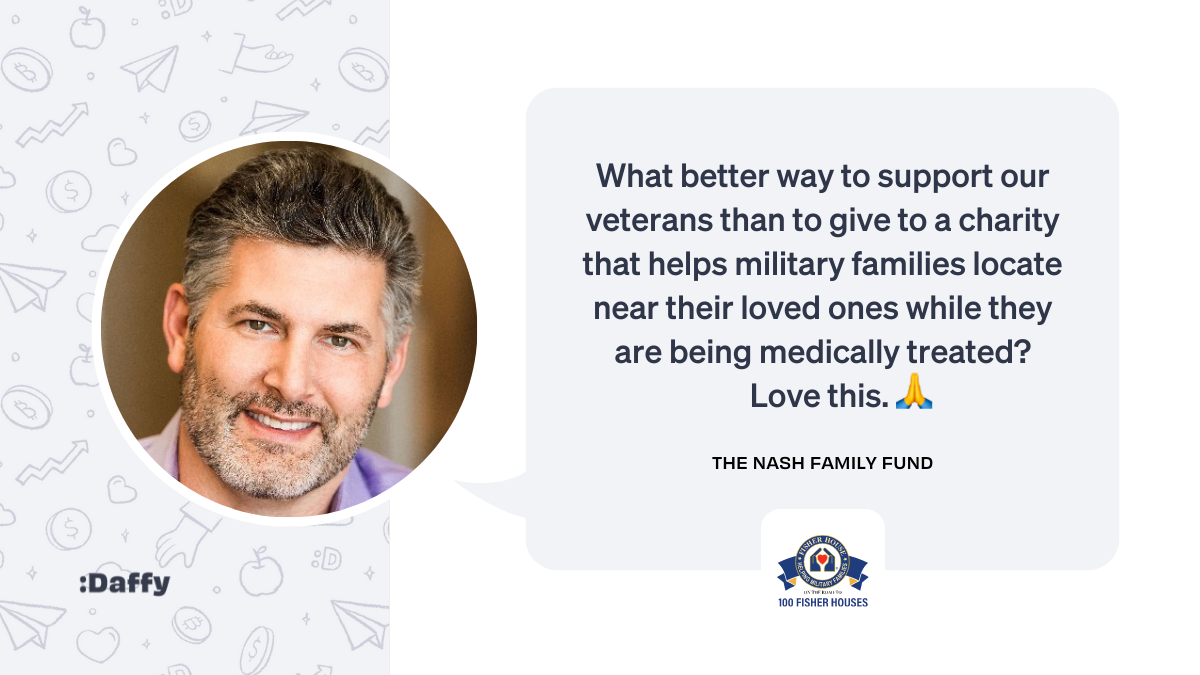 Homes for Our Troops
Mission: Homes for Our Troops builds and donates custom homes for veterans who have been severely injured in post-9/11 duty. These specially adapted homes are designed for veterans who have experienced traumas such as multiple limb amputations, partial or full paralysis, and severe traumatic brain injury.
Key programming your funds will support:
Homes for Our Troops has been building homes for veterans since 2004. The organization always meets or exceeds ADA compliance standards to make sure veterans have full accessibility in their new homes.
To date, Home for Our Troops has completed 346 homes across the nation and has 67 projects in progress.
Donate to Homes for Our Troops.
National Veterans Foundation
Mission: The National Veterans Foundation (NVF) helps veterans and their families through crisis management, information, and referrals. They do this through direct services and public outreach programs.
Key programming your funds will support:
Lifeline for Vets: A vet-to-vet helpline (888-777-4443) that assists veterans with getting medical treatment, PTSD counseling, VA benefits, food, shelter, suicide prevention help, and much more.
Public awareness: NVF continually spotlights the needs of American veterans.
Veteran outreach:  The Foundation also provides direct assistance to veterans who need help with food, clothing, transportation, employment, and more.
Donate to National Veterans Foundation.
Patriots and Paws
Mission: This Southern California-based organization helps veterans, active military members, reservists, and their families get basic home furnishings when moving into a new home. Patriots and Paws also connects those who are interested with a rescued companionship animal.
Key programming your funds will support:
Provisions for Patriots: This program primarily helps vets who are transitioning out of homelessness and need most of their basic home items. The organization works to donate things like couches, dining room tables, beds, and linens.
Paws Partners: A companion animal can be a therapeutic way for veterans to process their experiences. A recently passed state law allows veterans to adopt from county shelters with no fee. The organization is also in the process of developing its own kennel to care for veterans' pets when they need to travel for medical care.
Soldiers' Angels
Mission: The goal of Soldiers' Angels is to offer aid and resources to active military members, veterans, and their families. The organization mobilizes volunteers to provide outreach in VA hospitals. To date, Soldiers' Angels have supported over 980,000 service members, veterans, and family members.
Key programming your funds will support:
Deployed support: Soldiers' Angels provides monthly letters, cards, and care packages. Additionally, the same Angel is assigned to a single service member throughout their entire deployment.
Veteran support: This program provides support at VA hospitals nationwide. There are also initiatives to help homeless and low-income veterans.
Family support: There are a number of programs that support military families, such as family "adoptions" during the holidays, a baby brigade for expectant spouses, celebration cards, and crafts.
Wounded support: This program provides basic items to injured soldiers being treated at Landstuhl Regional Medical Center in Germany. Additionally, the Valor-IT programs provide severely wounded and injured vets with laptops.
No Greater Sacrifice
Mission: No Greater Sacrifice is dedicated to the children of our nation's fallen and wounded Service members by delivering scholarships and resources to improve their quality of life through the pursuit of higher education.
Key programming your funds will support:
Events for scholars of all ages to support the families of fallen and wounded Service members
Customized mentorship and funding to help scholars achieve their full educational potential.
Scholarships so that scholars can earn their undergraduate degrees debt-free. These scholarships cover the cost of in-state tuition, room and board, special equipment, books, or other expenses deemed necessary.
Donate to No Greater Sacrifice.
Wounded Warrior Project
Mission: The Wounded Warrior Project helps post-9/11 veterans transition out of their military careers and into civilian life. The Project focuses on vets with physical or mental injury, illness, or wounds from their military service.
Key programming your funds will support:
Mental health services: WWP offers programs, rehabilitative retreats, and professional services. In just the last year, the organization has provided over 40,000 hours of intensive outpatient care and therapy.
Physical wellness programs: Provides adaptive sports, Soldier Ride, and goal-based wellness training.
Career and VA benefits counseling: The Project gives resources on getting benefits and figuring out a career path.
Independent Living Program: This program supports catastrophically wounded veterans living with long-term injuries such as brain trauma, spinal cord injuries, and neurological conditions. Participants receive high-touch services to manage living independently, like home health care, stress management, and alternative therapies.
Donate to the Wounded Warrior Project.
Veteran Tickets Foundation
Mission: Veteran Tickets Foundation provides veterans tickets to events that reduce stress, strengthen family bonds, build life-long memories and encourage service members to stay engaged with local communities and American life. As of 2022, they have distributed 14 million event tickets in all 50 States and Washington, DC.
Key programming your funds will support:
Event tickets: Vet Tix secures tickets to sporting events, concerts, performing arts, educational and family activities across the nation to all branches of currently-serving Military and Veterans,
Donate to the Veteran Tickets Foundation.