PRIDE Month is here and it's a wonderful celebration of LGBTQ+ culture, and it's one we should all participate in not just by wearing fabulous rainbow paraphernalia (which we totally support) but by financially supporting the organizations that help further LGBTQ+ rights and resources.
GLAAD, the world's largest LGBTQ media advocacy organization, has a comprehensive list of incredible nonprofits for a number of categories, like military, transgender, and aging support groups. You can explore their entire list here, and we're also rounding up their top general and youth organizations to get you inspired to give below.
PRIDE may take place in June, but ongoing support helps these nonprofits fulfill their missions every day of the year, so consider setting up a recurring donation or making a one-time gift to these organizations on Daffy today. 🏳️‍🌈
1. Glaad
What it does: GLAAD – the world's largest Lesbian, Gay, Bisexual, Transgender, and Queer (LGBTQ) media advocacy organization – increases media accountability and community engagement that ensures authentic LGBTQ stories are seen, heard, and actualized.
Key programming your funds will support: GLAAD works through entertainment, news, and digital media to share stories from the LGBTQ community that accelerate acceptance. Key initiatives include:
Entertainment Media: GLAAD works to ensure fair, accurate, inclusive, and diverse portrayals of LGBTQ people in television, film, music, streaming content, comics, and video games.
Spanish Language & Latinx Media: GLAAD serves as a resource to Spanish and English-language Latinx media outlets to ensure fair, accurate, and inclusive representations of LGBTQ people.
GLAAD Transgender Media Program: GLAAD works with national news outlets, TV networks, film studios, and Spanish-language media to include real stories about transgender people. GLAAD also works closely with transgender people and transgender advocacy groups to raise awareness about transgender issues. GLAAD provides free trainings to empower transgender people to share their stories in the media.
Why you should donate: As a dynamic media force, GLAAD tackles tough issues to shape the narrative and provoke dialogue that leads to cultural change.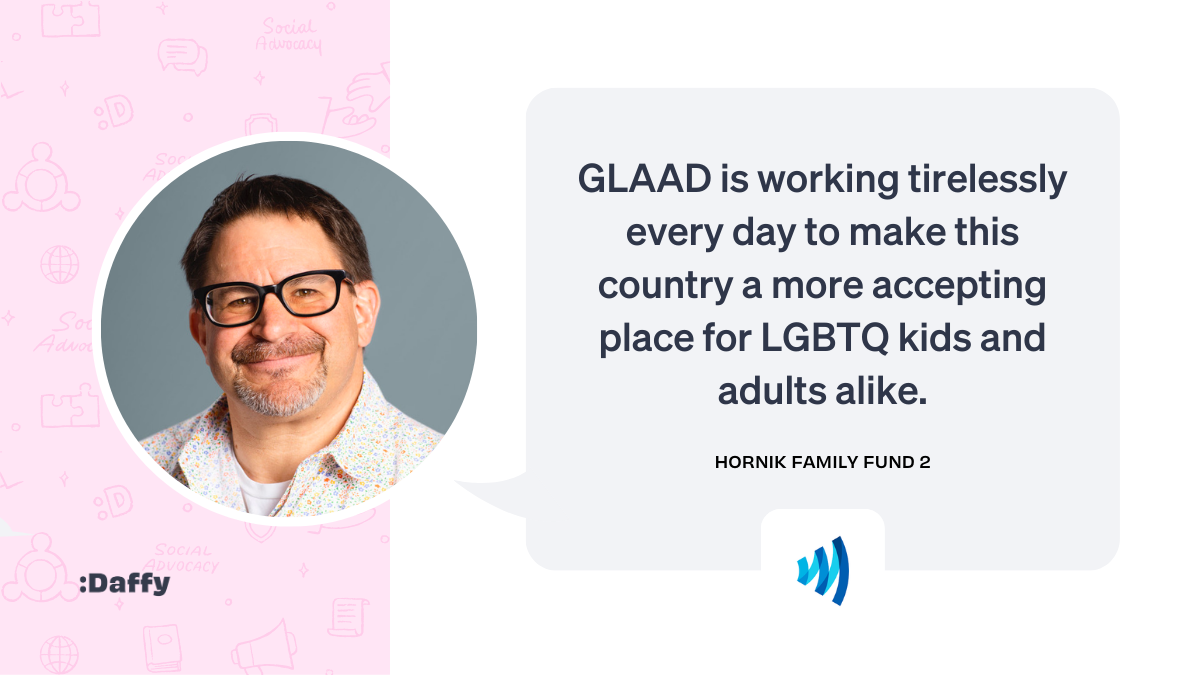 Donate to GLAAD on Daffy today.
General LGBTQ+ Nonprofits
2. Anti-Violence Project
What it does: The Anti-Violence Project (AVP) is committed to ending violence against lesbian, gay, bisexual, transgender, queer, and HIV-affected communities. In addition to education and advocacy programs, the charity also provides survivor counseling services.
Key programming your funds will support: One area of programming is AVP's advocacy work to change public policies. The Economic Empowerment  Program provides financial and workforce development training. Survivors of violence can also access counseling and intervention services, as well as legal services in New York City.
Why you should donate: AVP is the country's largest LGBTQ anti-violence organization and their work is needed more than ever. A recent report revealed that three out of five LGBTQ businesses and organizations experience hate-related violence.
3. CenterLink
What it does: Looking to make a global difference? CenterLink is a partnership organization that supports LGBT organizations and community centers across the world. Their goal is to create thriving communities where local organizations are the primary change agents in making a true difference.
Key programming your funds will support: CenterLink supports local community centers by providing leadership training, technical assistance, and networking opportunities. LGBT HealthLink is a national professional network that works to decrease health disparities in communities. The Center Action Network provides resources to help members engage in public debate around important policy issues, while the YouthLink program works with leaders of youth centers and programs.
Why you should donate: CenterLink believes that change happens in local communities. By empowering community leaders and organizations, they can impact the lives of LGBTQ individuals in their specific regions.
4. COLAGE
What it does: Over the last 30 years, COLAGE has worked to empower youth with one or more LGBTQ+ parents. Their goal is to promote positive change and create a supportive environment in school systems, social services, health and legal systems, and more.
Key programming your funds will support: COLAGE provides leadership programs for youth with LGBTQ+ parents or caregivers. Kids of all ages can participate in online and in-person programs, then evolve into greater leadership committees in their teen years and beyond.
Why you should donate: COLAGE helps normalize families with LGBTQ+ parents and create stronger relationships while empowering kids to be leaders in their communities.
5. GMHC
What it does: GMHC is the world's first HIV/AIDS service organization. Serving the New York City community, GMHC addresses the social determinants of health that contribute to the HIV/AIDS crisis.
Key programming your funds will support: GMHC provides an important range of services, including: testing, food and nutrition, housing support, workforce development, and legal assistance. The organization also advocates for benefits, health insurance, mental health support, and counseling for substance abuse.
Why you should donate: HIV is still a very real health threat. On top of that, there is a social stigma and ongoing discrimination among people who are diagnosed. GMHC provides comprehensive support to improve lives and outcomes for people living with HIV or AIDS.
6. Matthew Shepard Foundation
What it does: The Matthew Shepard Foundation was founded by parents Judy and Dennis Shepard after their son Matthew was murdered in a brutal hate crime in 1998. Today, the nonprofit works to challenge communities to embrace the dignity and equality of all people. They focus on local, regional, and national efforts.
Key programming your funds will support: The Matthew Shepherd Foundation has three key program areas. Legacy Works includes a number of artistic works inspired by Matthew's story, including the play (and film of the same name), The Laramie Project. Matthew's parents continue to promote the message of inclusivity through speaking engagements. The Foundation also launched Matthew's Place, an online forum with stories and resources for LGBTQ youth.
Why you should donate: The Matthew Shepard Foundation is committed to creating safer communities for LGBTQ+ youth while providing artistic and online resources to raise awareness against hate crimes.
7. Movement Advancement Project (MAP)
What it does: MAP is a nonprofit think tank that works to build inclusive, thriving communities across the U.S. The goal is to create transformative conversation, policy change, and collaboration through research and partnership. Here's how they do it.
Key programming your funds will support: Democracy Maps is a ratings system that tracks each state's elections and voting policies. Equality Maps tracks LGBTQ-related laws in each state and assigns a rating along with detailed profiles. MAP also performs policy research to uncover the impact of inequitable laws and policies on LGBTQ lives.
Why you should donate: MAP provides the research and analysis that helps identify problems as well as solutions to create a more equitable country. Support MAP to promote data-backed analysis of LGBTQ rights.
8. Out & Equal
What it does: Out & Equal promotes workplace equality through partnerships with Fortune 500 companies, government agencies, and industry organizations. The nonprofit provides LGBTQ+ executive leadership training as well as DEI consultation. The mission is to support LGBTQ+ employees and leaders in the workforce to help them thrive and create a bigger impact in their careers.
Key programming your funds will support: Out & Equal has several ongoing programs. The Global Hub is a resource for companies to achieve their diversity and inclusion goals. There are also programs for leadership development, community engagement groups, and DEI education. The Southern States Global Impact program helps the growing workforce of the South navigate fewer legal protections while working in the cultural context of the region.
Why you should donate: Inclusion and equality are a must in order for the LGBTQ+ to thrive in the workplace and enjoy the same opportunity to excel as others.
9. PFLAG
What it does: Parents, Families, and Friends of Lesbians and Gays (PFLAG) provides support and advocacy for the LGBTQ+ community and their families. They provide support both in-person and online, while also advocating for equality and inclusion.
Key programming your funds will support: PFLAG has local chapters across the country for parents of LGBTQ+ youth to connect with each other. Moderated online groups are also available. Additionally, PFLAG provides advocacy tools and resources for parents and youth to promote equality in their local communities.
Why you should donate: Creating a strong family structure is important for LGBTQ+ youth. PFLAG also offers personalized support and programming for specific communities, including military, AAPI, Black, and Latinx families.
10. Straight for Equality
What it does: Straight for Equality is a specific program of PFLAG that provides lessons and resources for LGBTQ+ allies to help create more inclusive communities and workplaces. It was created in 2007 by PFLAG National.
Key programming your funds will support: There are several program areas, including those surrounding workplace, issues, trans and non-binary inclusion, faith communities, and healthcare providers.
Why you should donate: Straight for Equality provides workplace trainings to increase inclusion in the workplace. Programs teach people how to become allies from any starting point.
Donate to LGBTQ+ nonprofits on Daffy today.
Youth LGBTQ+ Nonprofits
11. Gay, Lesbian & Straight Education Network (GLSEN)
What it does: GLSEN works to create a better school environment for LGBTQ+ youth in grades K through 12. In addition to national advocacy work, GLSEN also coordinates 43 local chapters across 30 states.
Key programming your funds will support: GLSEN's programs include many events such as Solidarity Week, No-Name Calling Week, and a Day of Silence. They also provide student and educator resources, as well as research reports and briefs.
Why you should donate: GLSEN focuses on evidence-based solutions for LGBTQ+ youth in K-12 education. Over 25 years, the organization has grown a network of 1.5 million community members. And every year, 500,000 resources are downloaded to help students and educators create more inclusive communities.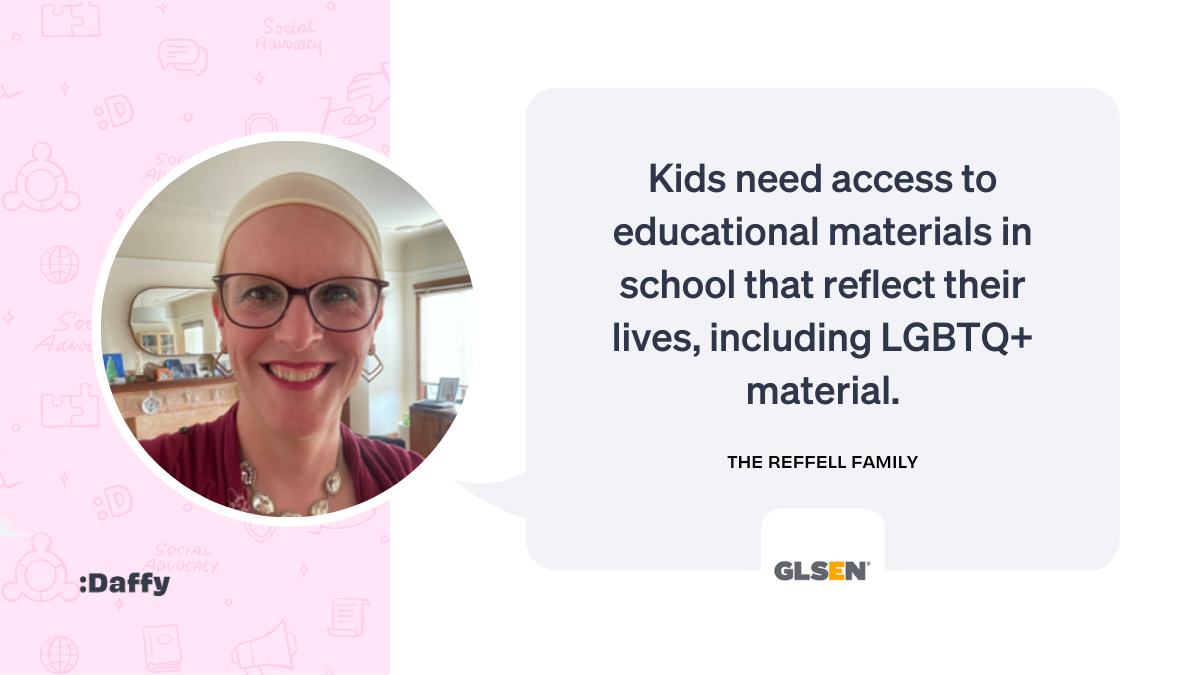 12. GSA Network
What it does: Genders & Sexualities Alliances (GSAs) are student-led groups for LGBTQ+ and allies. The GSA Network provides youth leader training for both in-person and online meetings.
Key programming your funds will support: In addition to providing resources for school GSAs, the GSA Network also hosts leadership trainings and camps, activist camps, and conferences.
Why you should donate: The GSA Network helps local GSAs create inclusive environments that work to stop harassment and violence against LGTBQ+ youth. Plus, their programs help build future leaders.
13. Point Foundation
What it does: The Point Foundation grants college scholarships to LGBTQ students in the U.S. In 2023, the nonprofit is supporting 552 students. It is the nation's largest merit-based scholarship program for LGBTQ students of merit.
Key programming your funds will support: There are three distinct scholarship programs. The Flagship Scholarship is for students planning to attend an undergraduate, graduate, or doctoral program. There is also a Community College Scholarship and a BIPOC Scholarship.
Why you should donate: The Point Foundation makes higher education a reality for LGBTQ+ students. Plus, each year's cohorts are diverse. 55% of scholarship recipients are first-generation college students, 24% identify as transgender or non-binary, and 84% of recipients identify as people of color or bi/multiracial.
14. The Trevor Project
What it does: The Trevor Project's mission is to end suicide among LGBTQ+ youth. In addition to a 24/7 support hotline, there's also a wealth of online resources covering topics like sexual orientation, mental health, gender identity, and more.
Key programming your funds will support: First and foremost, The Trevor Project's 24/7 support line connects LGBTQ+ youth with crisis counselors any time of day or night. Counselors are available via phone, text, or online chat and the service is completely free and confidential. The online Resource Center also has tons of guides for youth and they can join TrevorSpace, an online community for ages 13 through 24.
Why you should donate: The Trevor Project creates an online safe space for young LGTBQ+ people. They also advocate against anti-LGBTQ+ laws.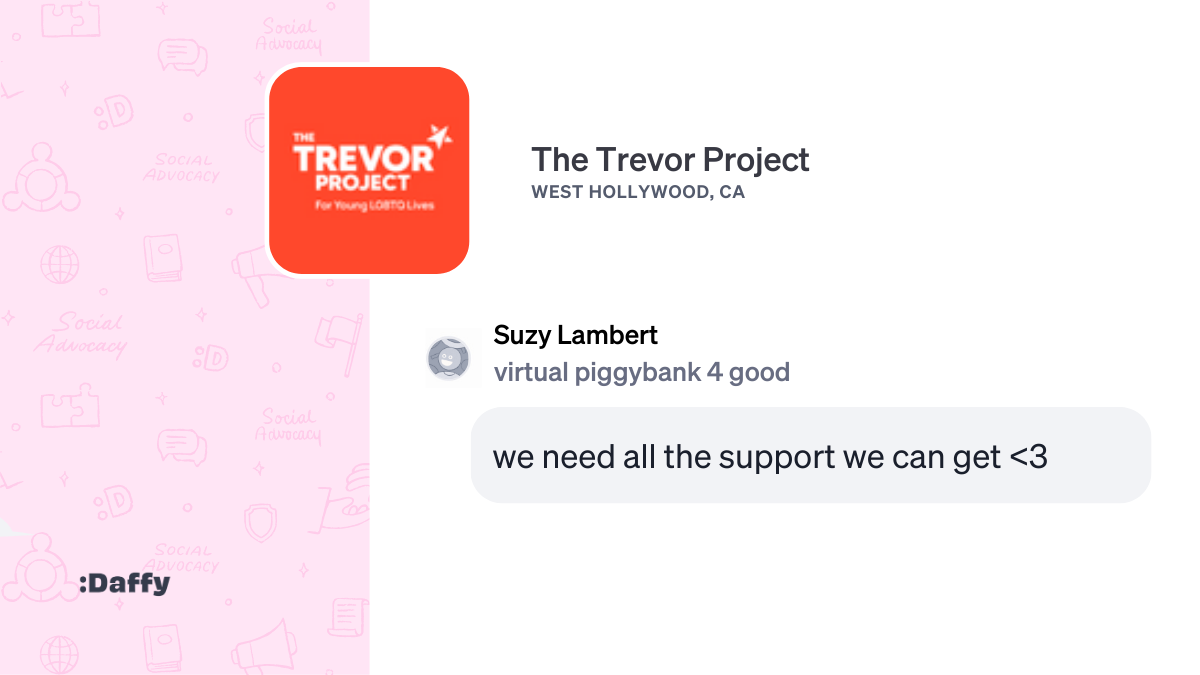 Donate to youth LGBTQ+ nonprofits on Daffy today.
It's important to remember that we can continue to make a difference and support the LGTBQ+ community throughout the year, so we hope you consider donating your time or money to one of these 14 incredible organizations.
Additionally, there are so many incredible organizations so if you know of any other worthy LGBTQ+ nonprofits that we missed, we would love to hear about them! Show your pride and tag us on Twitter at @DaffyGiving. Together, we can make a positive impact and support the LGBTQ+ community.