2022 is finally here, and with the new year comes a new chance to make a change. Whatever you may call them, our resolutions often symbolize the things we care about most and reflect the areas of our lives that we want to improve.
Whether it be spending more time with family, rediscovering an old hobby, or simply trying something new, resolutions often mark what matters most to us.
While many resolutions focus on self-improvement, this year more and more people are looking for ways to give back to their community. It's for good reason with uncertainty about Omicron, the widening wealth gap between the rich and poor, and many of us still missing that feeling of collective effervescence, setting a goal to give back to those less fortunate than ourselves seems like a worthy resolution in 2022 for everyone.
Give Back By Giving More
One of the simplest ways to give back is to donate to charities and causes you care about. However, while most of us believe it is important to set aside money to help others, we often do not meet our own goals for giving, and we often feel guilty about it.
Think about it. How much do you think people should give to charity every year? How much did you actually give to charity last year?
If you're like most people, your answer to the second question doesn't match your first. It's understandable. The professional and personal demands of life often get in the way.
But, what if in 2022, you and many others were as generous as we aspire to be?
We built Daffy for exactly this reason. Daffy helps people be more generous, more often.
Make Giving A Habit with Daffy
We believe that one of the best ways to do this is by making a simple commitment to give. We call it, "The Daffy Pledge."
Just tell Daffy how much you want to give to charity, select weekly, monthly, or yearly, and link your bank account. It's that simple.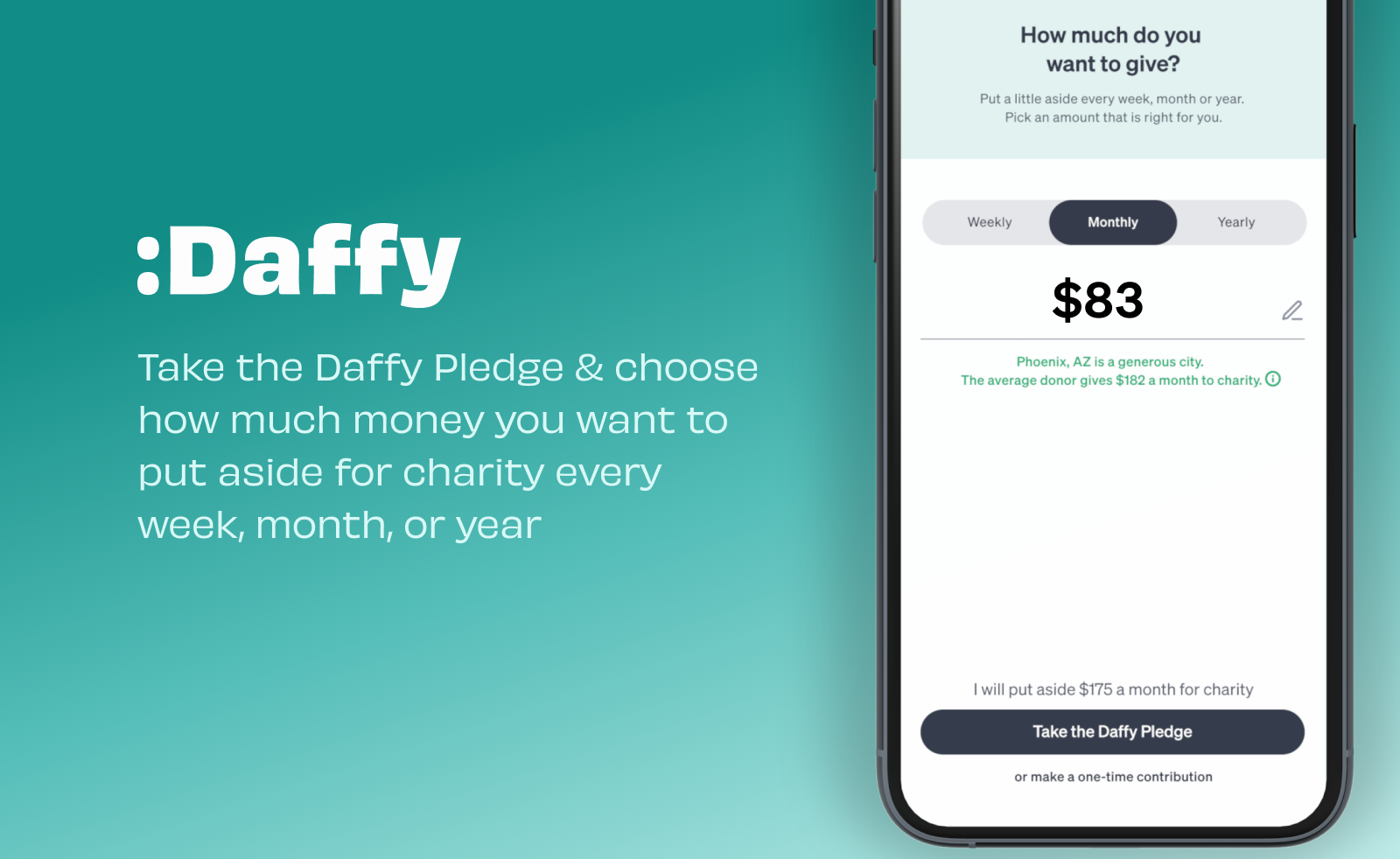 Now your charitable contributions are automated and you'll meet your goal of how much you want to give to charity, and still have time to pick charities to support.
Once you're ready to make a donation, you'll be able to donate to over 1.5 million charities from the Daffy app or daffy.org. And if you are not sure who to give to, tap "Nearby" to see recommendations of charities near you.
So if you want to have an even-greater impact this year, join us to make giving a habit in 2022.