Investing in a donor-advised fund (or DAF) can be a tax-smart strategy that benefits both you and your favorite causes. And with the right donor-advised fund platform, you can make an even bigger impact by making charitable giving a regular habit.
In fact, donations from DAF accounts totaled $45.74 billion in 2021, representing a 28% increase compared to 2020. In other words, people are starting to catch on to the benefits the DAFs offer.
Why are donor-advised funds becoming a preferred vehicle for charitable giving? You can record a tax deduction as soon as you contribute to your account as well as receive big tax advantages when donating appreciated stock, ETFs, or crypto. Then you can take time to choose organizations to support, all while keeping your assets invested in a portfolio of your choice, so you can give more to charities over time.
While traditionally DAFs were only provided by large investment firms such as Charles Schwab, Daffy is a new modern platform that broadens access to DAFs to more individuals through a low-cost membership structure. This highlights a big difference in how fees are charged between these two providers. Daffy beats the competition, saving individuals hundreds of dollars in annual fees each year, depending on account size and portfolio allocations.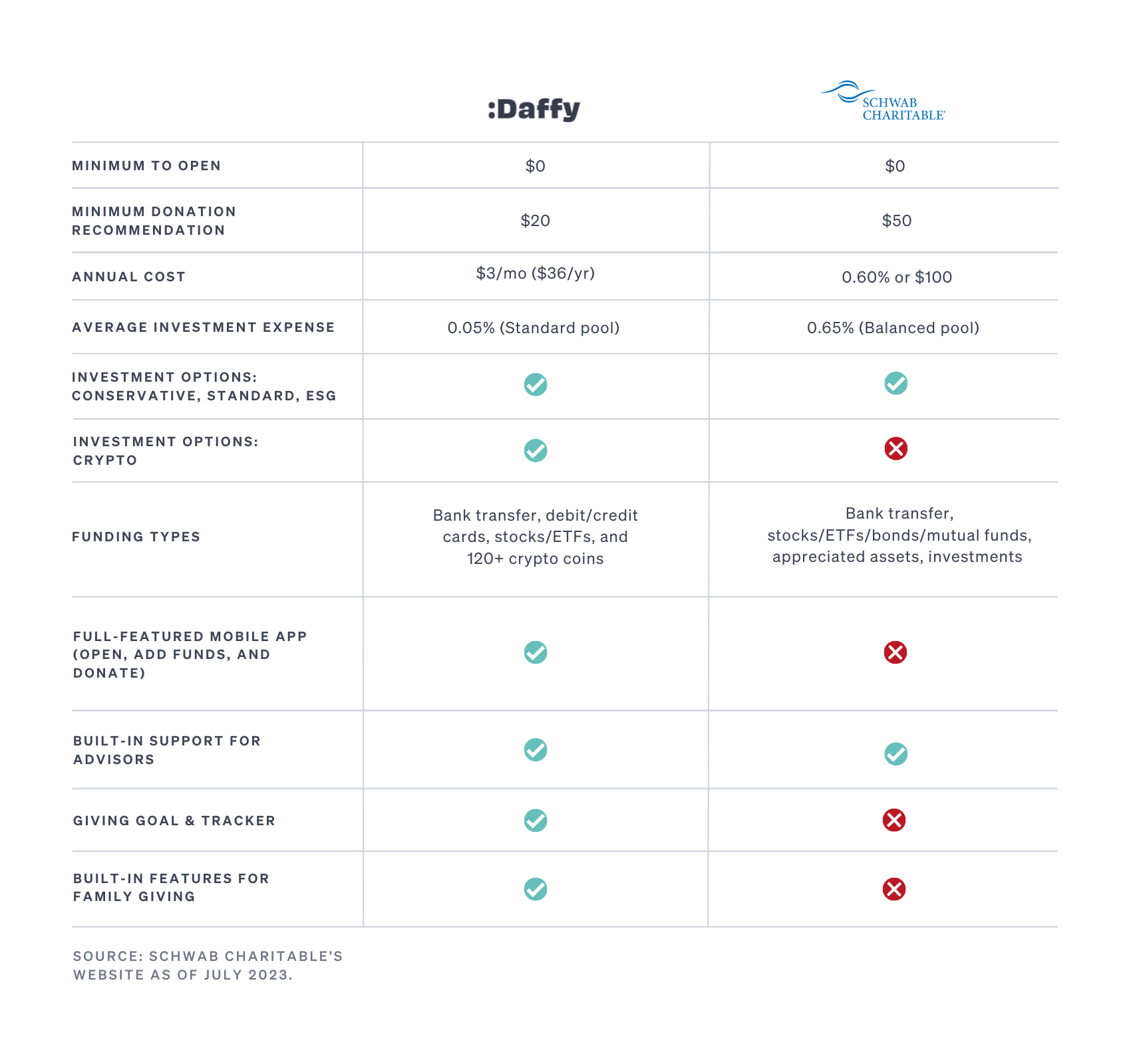 So what does Daffy do better?
Low-cost membership structure
Schwab Charitable operates under a traditional investment firm model with hefty administrative fees on top of investment expenses. Daffy, on the other hand, charges a simple flat monthly membership due, starting at $3 per month.
On top of that, Daffy offers four types of investment portfolios, each with its own range of risk tolerance categories. Members can choose between Conservative, Standard, ESG, and Crypto, giving them the flexibility to invest in their preferred asset classes. Plus, Daffy's expense ratios are low cost for the industry; the Standard portfolios, for instance, have an expense ratio of just 0.05%. That ensures your account balance doesn't dwindle and dilute your impact on the causes you care about.
On the flip side, Schwab Charitable charges each account based on the greater of the two fees: either $100 or 0.60% of your account balance (up to $500,000, after which there is a tiered fee schedule). Additional investment expenses range anywhere from 0.03% to 0.77%.
Full-featured app for easy giving
Daffy's mission is to make giving a habit, which is why members get full account functionality on both the Daffy website and the Daffy app. You can open and fund your account, plus research and make donation recommendations for more than 1.5 million charities directly within both platforms.
You can also automate your giving on a timeline that works for you: weekly, monthly, or yearly. For people who want to make a difference just as much as they want a tax break, choosing Daffy removes a lot of the inconvenience found with traditional DAFs like Schwab Charitable, which doesn't allow you to add funds directly within its app.
Fees: Daffy vs. Schwab Charitable
Features and functionality are important when evaluating DAFs, but so are dollars and cents. Here's how costs change for two different sizes of account balances.
Annual cost for a $1,000 fund
If you have $1,000 to invest in charitable giving, the DAF you choose makes a big difference in your impact. A Daffy member would save $64 in annual fees compared to contributing the same amount in a Schwab Charitable DAF — a savings rate of more than 63%. That extra money could easily make a big difference to your favorite charity, whether it's providing meals for hungry kids, funding medical research, building homes in underserved communities, or helping any other cause that's important to you.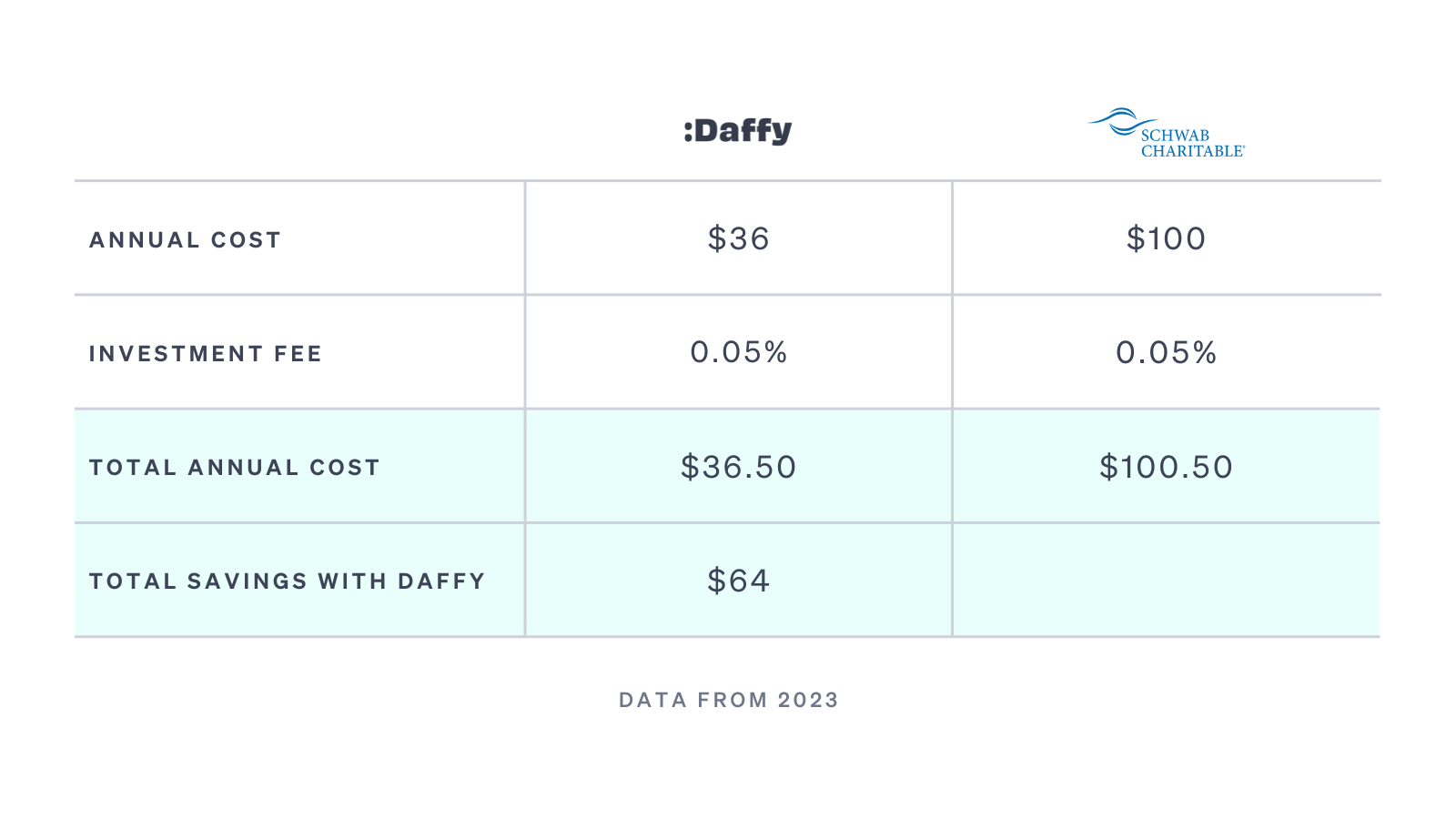 Annual cost for a $100,000 fund
The savings with Daffy becomes even more dramatic with a $100,000 account. An individual would save over $360 per year by choosing Daffy, which totals a 55% savings rate. Even with the same investment fee, the higher administrative fee charged as a percentage of assets under management makes Daffy the clear winner.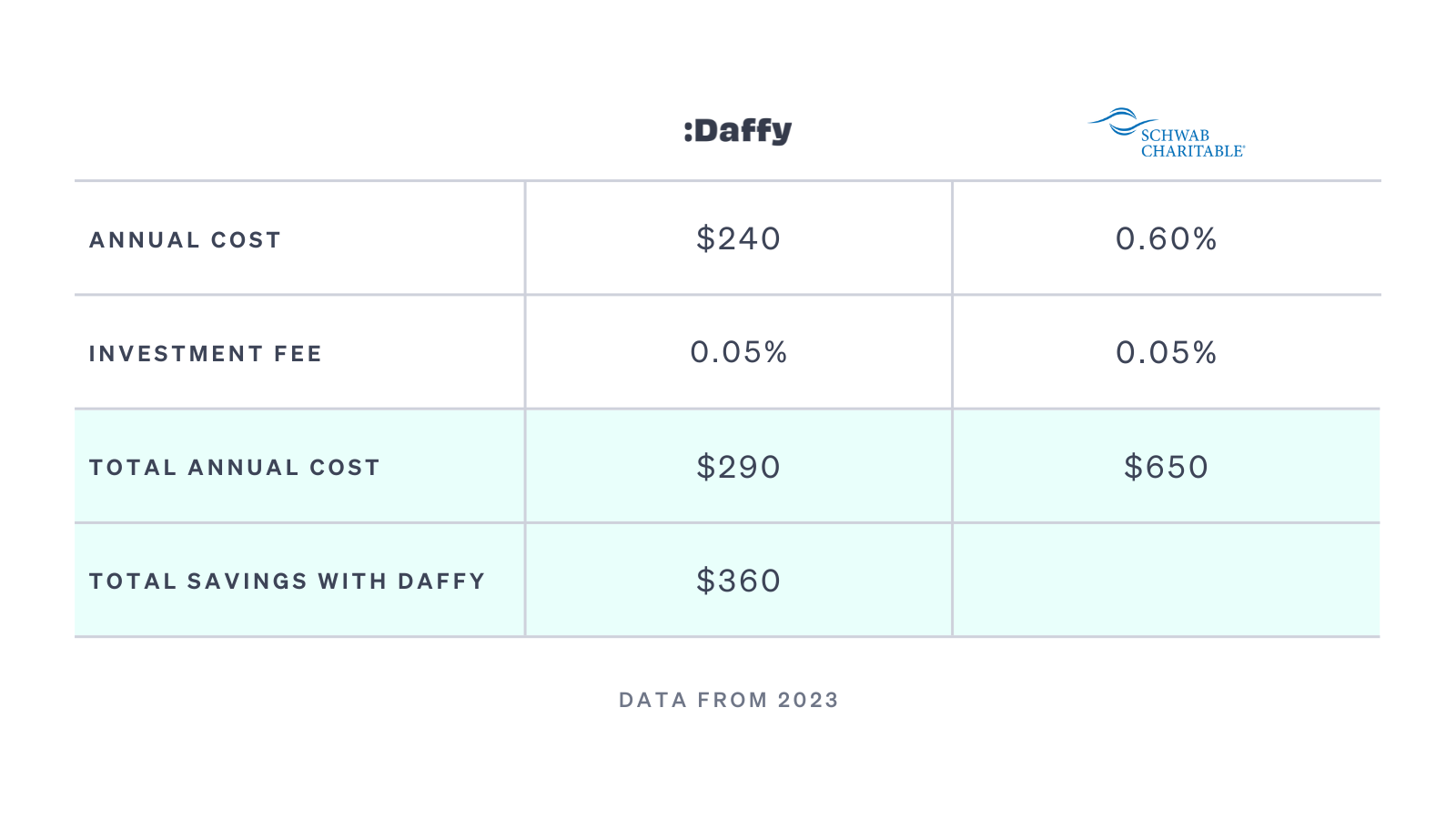 Now the TL/DR
Daffy is best if…
You want to avoid unnecessary administrative fees. There's no way to get around the fact that Daffy charges exceptionally lower fees when compared to Schwab Charitable. That allows you to maximize your contributions to your favorite charities, rather than watch your portfolio balance drop just because of Schwab's overhead costs.
You want to manage your account on a full-featured app. Daffy gives you flexibility in how you want to manage your account, whether it's through a web browser or a native mobile app. Schwab Charitable's limited app allows you to view your account and make donation recommendations, while Daffy members can open and completely manage their accounts through the app.
You want to donate or invest in crypto. Daffy members can donate their crypto to avoid paying capital gains tax as well as invest in one of three crypto portfolios.
You want to make giving a family value and tradition. Daffy offers members the ability to
Schwab Charitable may be a better choice when…
You're already a Schwab account holder and would rather pay high fees than open an account with a new service provider. Although, you can transfer an existing DAF in under 3 minutes. See below!
You want a wide selection of more expensive, higher-fee mutual funds to choose from.
You want to contribute complex assets, such as real estate, private business interests, or fine art.
Ready to transfer your DAF to Daffy?
It's easy to transfer holdings from your Scwahb Charitable account in order to start saving. Here's how:
Download Daffy or get started at Daffy.org
Select transfer an existing donor-advised fund, select Schwab Charitable, and how much you'd like to transfer
Log into your existing provider
Make a grant of any amount to the Daffy Charitable Fund (EIN: 86-3177440)
We'll notify you when your funds are in your Daffy account
That's it!