At Daffy, we're building a brand-new platform for giving, built from the ground up for this purpose. We know there are so many innovative ways we can help people be more generous, more often, and are building in public, so we can constantly improve and update Daffy based on our members' feedback, so keep sharing your thoughts & ideas 🙏.
We're proud to share what's new on Daffy as of March 17, 2022 (v1.10 in the app store). In this latest update, we've added the ability to set up recurring donations, initially fund your account with any type of contribution, invite friends to Daffy and raise funds for your favorite charity while doing so, and more.
Recurring Donations
You asked. We answered. The ability to set up recurring donations is live. 🎉
We knew this was a critical component in building a better system for giving.
In addition, it is critical for charities to have more regular donors for a reliable source of funding, and for members, it removes the headache and hassle of making one-off donations, as well as demonstrates your commitment and ongoing support to that organization.
With Daffy, you can now easily...
Set up monthly donations
Set up quarterly donations
Select "scheduled" & pick any date for your donation
Open Your Account with Stock, Crypto, or Transfer
While Daffy has always allowed members to contribute to their accounts with cash, Apple Pay, stock, crypto, or a transfer of an existing donor-advised fund, you first had to open an account with a linked bank account. However, this seemed to frustrate members who wanted to fund their accounts directly with another type of contribution.
We're happy to report that now Daffy members can fund their initial account with any type of contribution.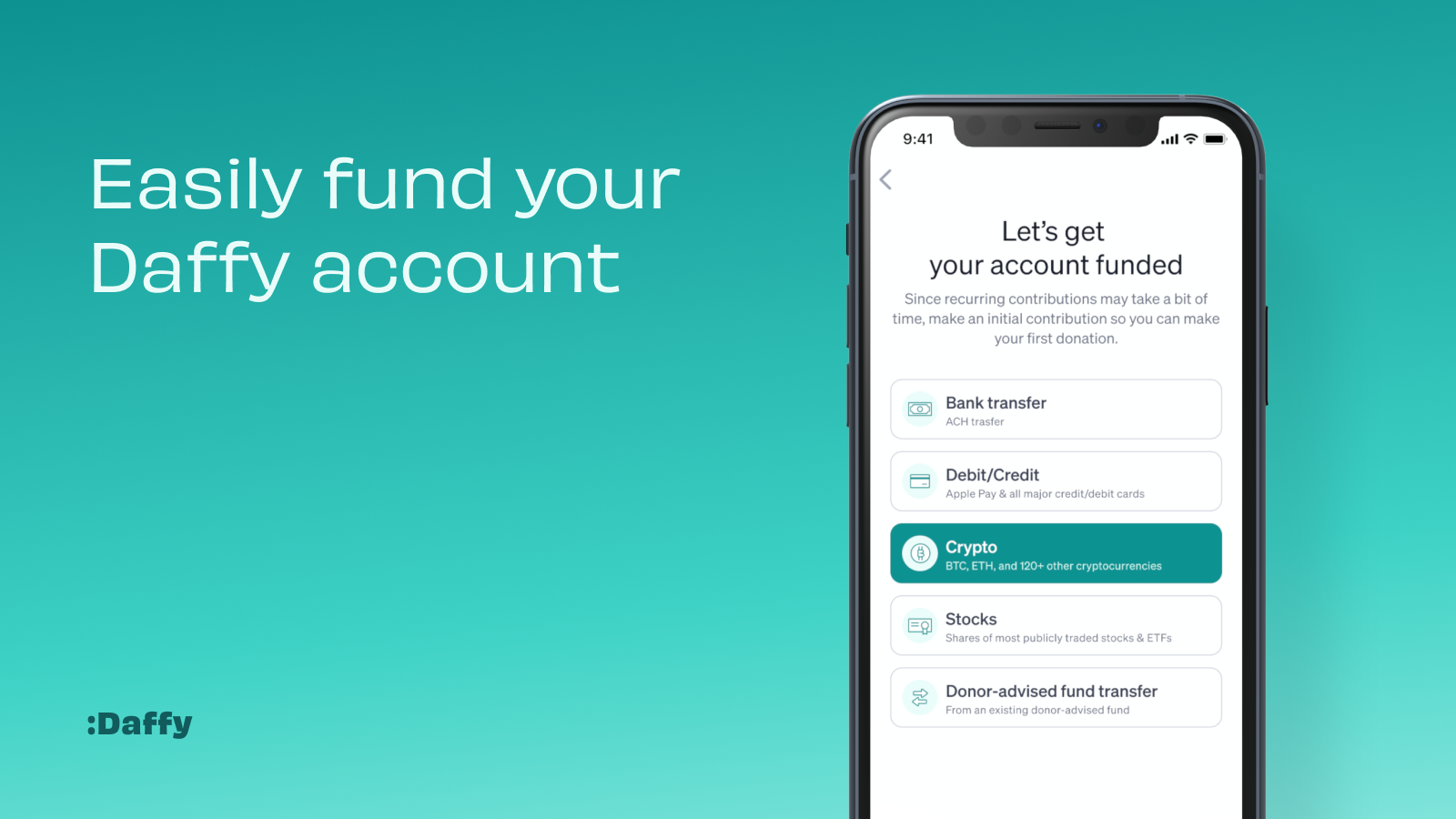 Our hope is that by making it easier to open an account with stock or crypto, we will help accommodate members looking to take advantage of the numerous benefits of donating these assets and make it easier for members looking to transfer their accounts from existing donor-advised funds.
Invite friends to give with Daffy
While most apps and services have some sort of referral program, we're hoping our referral program (1) brings you a little more joy and delight (2) helps you raise funds for your favorite charity. That's why you'll notice a new, gift card-like design.
How it works:
You'll get $25 deposited into your Daffy account to give to a charity of your choice.
Your friend will get $25 deposited into their Daffy account too.
That's $50 more going to charity for each friend who becomes a member of Daffy, thanks to you!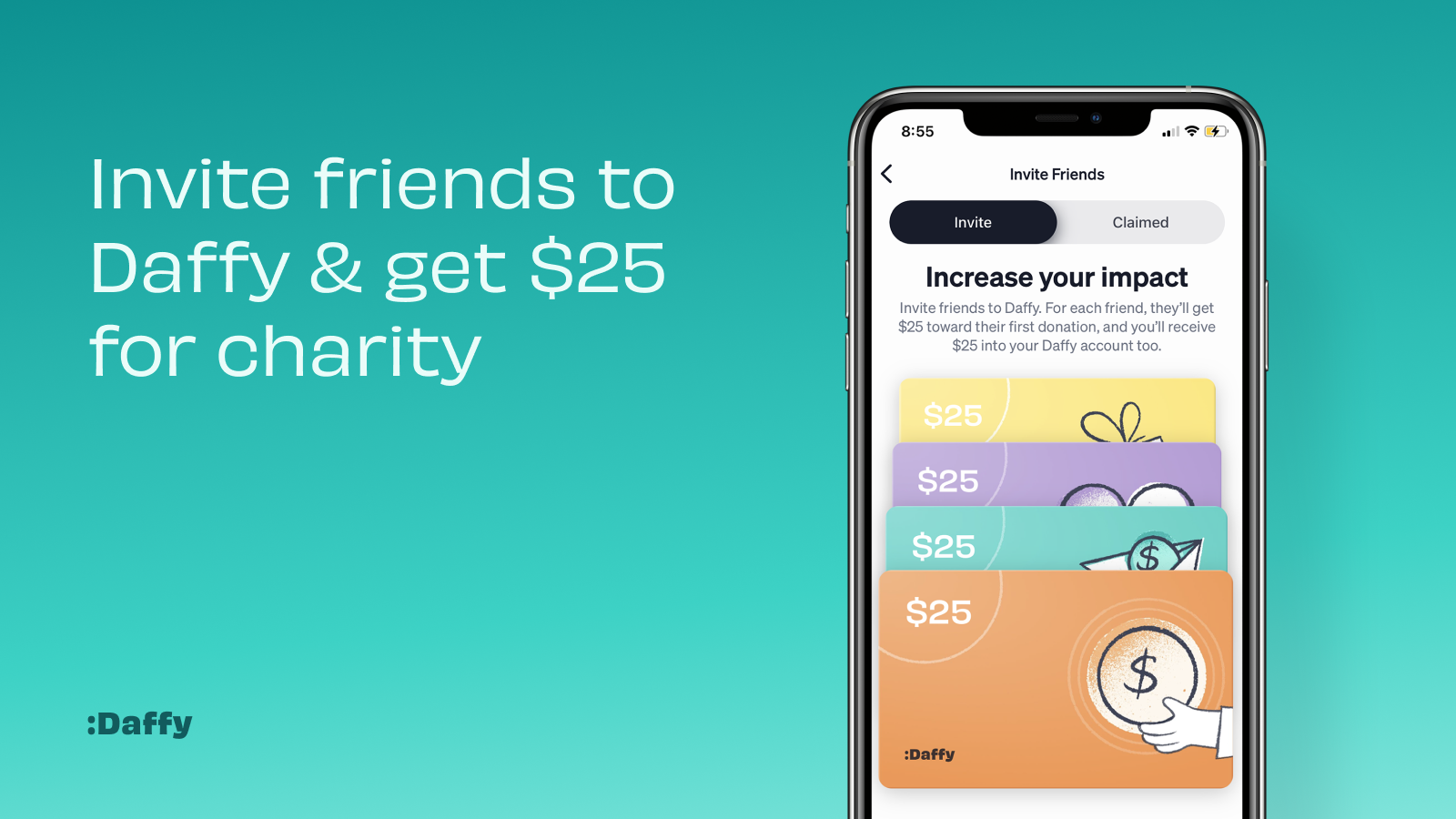 While we're just getting started, we have a vision of growing Daffy to be a community of millions of people who have committed to setting money aside for charity more regularly and appreciate you spreading the word.
Bug fixes & improvements
📈 Adjusted our Portfolio percentage indicator to be based on a money-weighted rate of return instead of a time-weighted rate of return.
📝 Launched our new Resources center, so you can learn more about new Product features, trends in giving, tax strategies to increase your impact and charitable deductions, and more.
🇺🇦  We've also seen an incredible amount of donations to nonprofits focused on humanitarian relief efforts in Ukraine 🙏  and many members asked for suggestions of organizations to give to, so we've put together a few recommendations here.