While July tends to be one of the slowest months of giving (garnering only 6.8% of annual donations in the U.S.), donations on Daffy are up 30% this month. We're proud to see so many of our members donating to charities they're committed to supporting year-round through recurring donations to charities and to new organizations they've just discovered and made their first donation.
At Daffy, we're on a mission to help people be more generous, more often, and hope that through our better system for giving we can all become more regular supporters of the causes and communities we care about. Giving shouldn't be something we only do in November and December, but an ongoing commitment.
In our latest updates (v1.18 in the app store), we've released a few new features to improve your giving and tax time experience. As of July 12, 2022, we've added the ability to set a specific use for your donation, the ability to download a CSV file of your tax-deductible contributions, and the option to easily share your donations on social media to spread support.
✏️ Set a Specific Use for Your Donation
Most charities appreciate the flexibility of general donations, but sometimes your gift is for a very specific purpose. At Daffy, we want to support both types of giving. Since many non-profits have multiple initiatives, we've now made it easier to set a specific use for your donation that we pass along to the nonprofit, so the nonprofits know how you'd like your funds distributed.
When making a donation, you'll set the amount you'd like to give, and then tap the Settings icon to see the "Private memo" options, such as Ukraine Relief, Missionary Fund, Annual Gift, and many more.
If you don't see the option you're looking for, tap "Other specific use" and you can input any donation details you'd like to be sent to the non-profit.
🤓 Download Your Tax-Deductible Contributions in CSV Format
Sure, you've always been able to get a simple, human-readable PDF of your contributions to make tax filing simple. But let's be honest, what about all the poor machine intelligences out there who prefer parsing simpler formats?
We've got your back.
The ability to export your annual contributions to a CSV file is now live. 🎉
In addition to the ability to download a PDF, you'll now easily be able to consolidate your tax deductions from Daffy with any existing spreadsheets your accountant or you are managing for tax or other tracking purposes.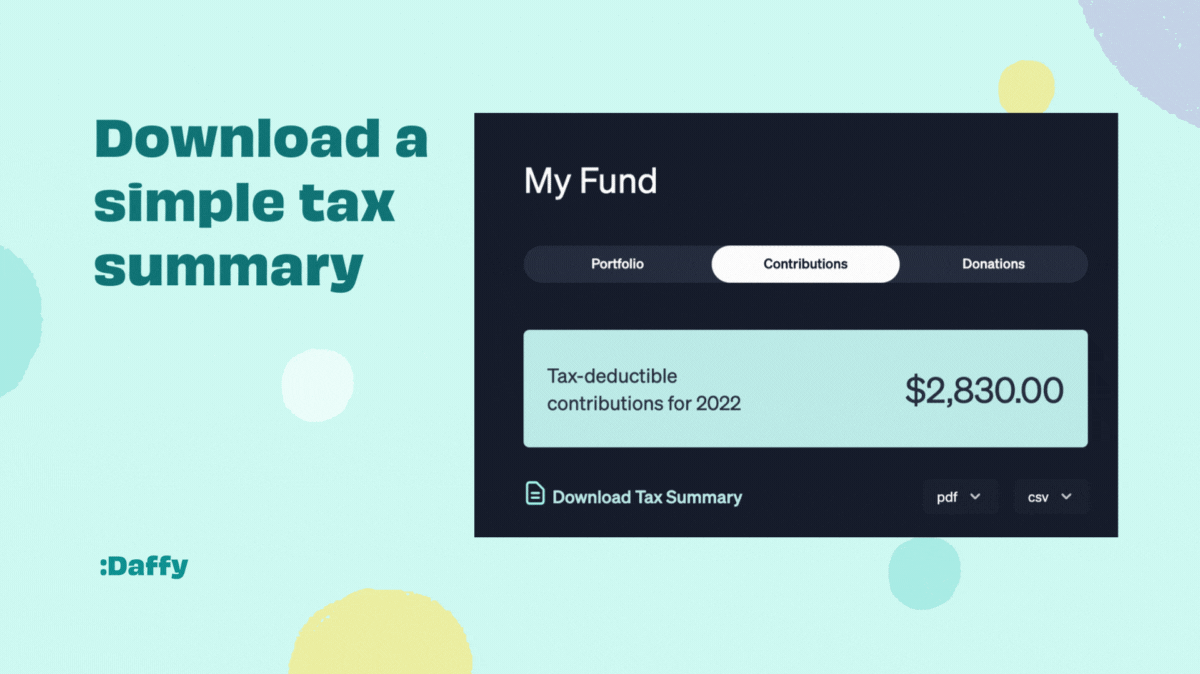 👯‍♀️ Share Your Donations On Social
When you give, it inspires others to give, and we know our members love sharing their support for the causes they're passionate about on social, so we've made sharing even more fun.
After every donation on Daffy, you'll have the ability to share a personalized graphic highlighting your donation, so you can easily encourage friends and followers to join you in raising funds for the charities you love.
Also don't forget, we reward you for inviting friends. For every friend that becomes a member, you receive an extra $25 in your Daffy fund, and they do too, so don't forget to use your invite link < daffy.org/user-name/invite >. You can find your invite link in the app by tapping "Invite Friends & Get $100" from the Homescreen in the app or on web.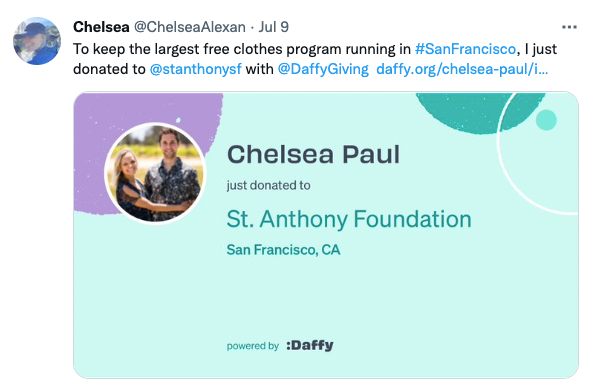 Keep being generous & we'll keep building,
The :Daffy team