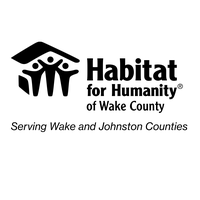 Habitat for Humanity of Wake County
Habitat for Humanity of Wake County
Want to make a donation using Daffy?
Lower your income taxes with a charitable deduction this year when you donate to this non-profit via Daffy.
About this organization
Mission
Habitat Wake brings people together to build homes, communities and hope. 1 in 4 families in Wake and Johnston counties lacks access to affordable housing, which often means choosing between paying for housing and paying for other necessities like food, healthcare and education. Habitat Wake helps families build and purchase safe, affordable homes. Program participants pay an affordable monthly mortgage, complete sweat equity hours and take financial education courses.  Habitat Wake also repairs homes and supports global Habitat building in Honduras, Cambodia and Malawi. The need for affordable housing is tremendous, but with the support of thousands of volunteers and donors each year, we can give more families the chance to build a better life.
Interesting data from their 2018 990 filing
The purpose of the non-profit is outlined in the filing as "The organization's primary purpose is to provide families with modest incomes affordable opportunities to purchase homes. homes are affordable because financial contributions from individuals, companies and churches pay for the building materials and construction is completed with volunteer labor. the home ownership program includes education on topics such as budgeting and financial management and offers participants an affordable, safe, energy-efficient home. eligibility for the organization's home ownership program is determined by income criteria and the individual's commitment to partnering in the program, such as by contributing "sweat equity" to build their own and others' homes.".
When discussing its operations, they were defined as: "Seeking to put god's love into action, habitat for humanity of wake county brings people together to build homes, communities and hope.".
The state where the non-profit operates has been legally reported as NC.
The filing indicates that the non-profit's address in 2018 is located at 2420 NORTH RALEIGH BOULEVARD, RALEIGH, NC, 276042235.
The non-profit has reported 98 employees on their form as of 2018.
Is not a private foundation.
Expenses are greater than $1,000,000.
Revenue is greater than $1,000,000.
Revenue less expenses is $2,567,696.
The organization has 23 independent voting members.
The organization was formed in 1985.
The organization pays $4,092,041 in salary, compensation, and benefits to its employees.
The organization pays $673,591 in fundraising expenses.