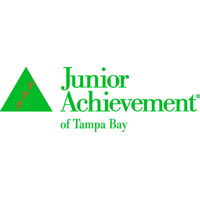 Junior Achievement of Tampa Bay
Junior Achievement of Tampa Bay
Want to make a donation using Daffy?
Lower your income taxes with a charitable deduction this year when you donate to this non-profit via Daffy.
About this organization
Mission
Junior Achievement of Tampa Bay is the pre-eminent resource for entrepreneurship, work force readiness, and financial literacy experiences for elementary and secondary students in Central Florida, and throughout the country. Through our programs, we prepare today's students to become tomorrow's leaders. We bridge the gap between students' academic studies and the real world of work. Junior Achievement demonstrates how education is directly correlated to employment and earnings potential, and helps students identify their values and practice the skills they will need to achieve their personal goals. Our mission is to improve the quality of life for young people by preparing them for adulthood and empowering them to take control of their personal finances and their future careers.
Interesting data from their 2017 990 filing
The purpose of the non-profit is listed in the filing as "To educate and inspire young people to succeed in a global economy and own their economic success".
When detailing its duties, they were outlined as: "Ja of tampa bay celebrates over 50 years of inspiring students with free enterprise, entrepreneurship and work readiness".
The non-profit's legally reported state of operation is FL.
The filing states that the non-profit's address in the year 2017 is 13707 N 22ND ST, TAMPA, FL, 33613.
The non-profit's form for the year 2017 reports a total of 37 employees on their payroll.
Is not a private foundation.
Expenses are greater than $1,000,000.
Revenue is greater than $1,000,000.
Revenue less expenses is $2,499,879.
The organization has 54 independent voting members.
The organization was formed in 1982.
The organization pays $1,738,617 in salary, compensation, and benefits to its employees.
The organization pays $270,818 in fundraising expenses.