At Daffy, we believe that giving is fundamentally better with other people, and just in time for the holidays, we've made it even easier to share the gift of charitable giving with your family, friends, coworkers, and anyone in your life who likes to give back.
After launching Daffy for Families earlier this year, we heard from many of our members that they would also love to support their friend's charity fundraiser directly through their Daffy fund but wanted that close friend to know they donated and of course, with a more personal and human touch than screenshotting a donation receipt. (We totally get that.)
So with our brand-new Daffy Gifts feature, you can send a digital charity gift card directly from your Daffy fund with a personal message, and the recipient can choose any of the 1.5 million charities supported on Daffy, without even creating a Daffy account.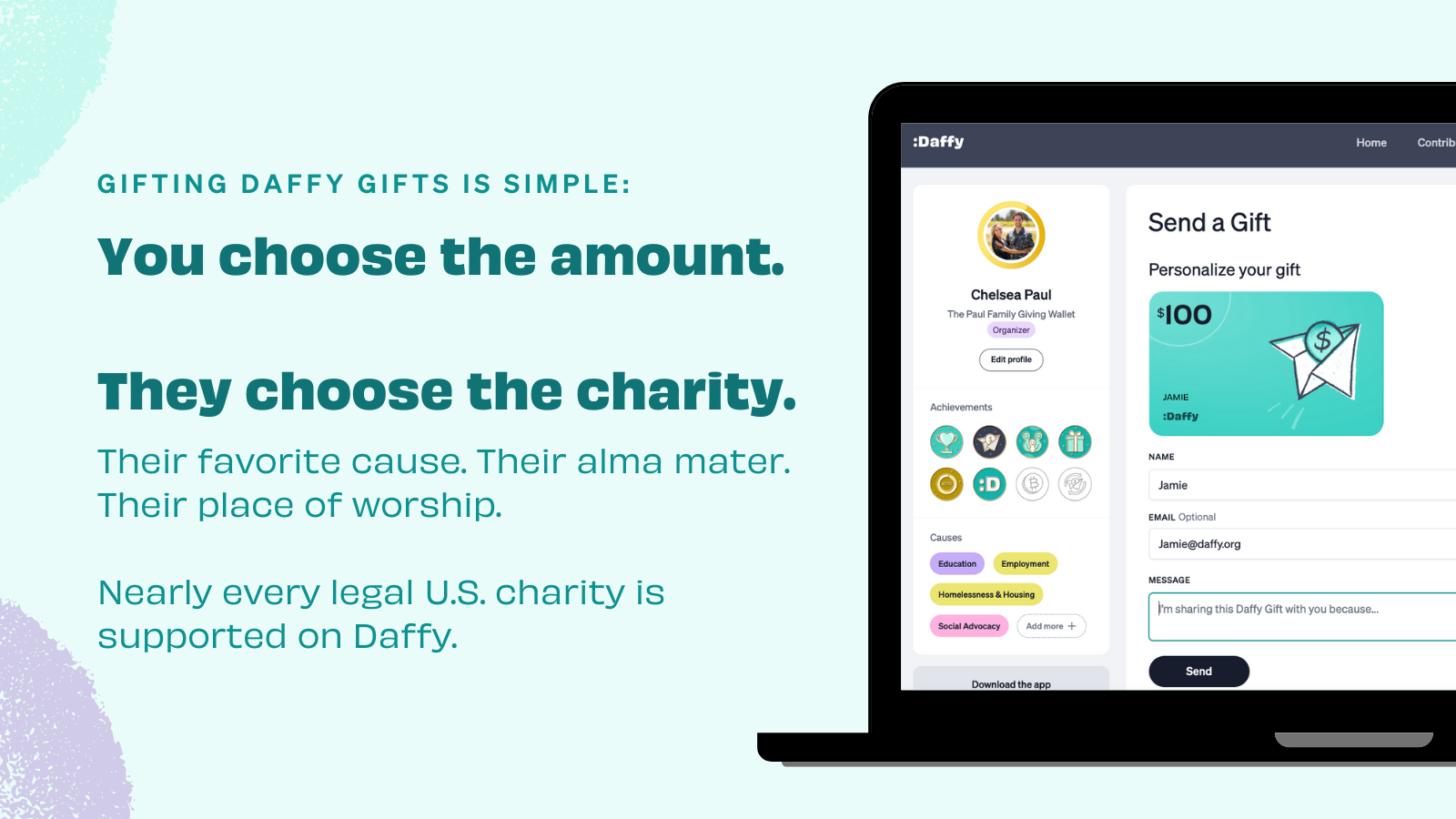 🎁 How Daffy Gifts Work:
We've made Daffy Gifts super simple. If you're a member of Daffy already,
On the Daffy app, tap "Daffy Gifts" on the Homescreen. On web, navigate to https://www.daffy.org/gifts
You choose a recipient and the amount you'd like to gift from your fund
You can add a personal message and send it to their email, or copy the link and send it to them directly however you'd like
The recipient chooses which charity they'd like to support from over 1.5 million charities, non-profits, schools, and religious institutions supported on Daffy. The recipient can redeem without even creating a Daffy account
Once they select which charity they'd like to support, we'll send you an email to let you know to approve it and the donation will be sent from your fund
If you're not yet a Daffy member, no problem. It only takes 2 minutes to get started, so create a Daffy account today. Once you add funds to your account, you'll be able to send as many Daffy Gifts as you'd like!
💝 Give the Gift of Giving Back
We hope you send a few Daffy Gifts to your friends and family this holiday season. It's a great way to feel more connected to whoever you send them to. You may learn more about them and it can also be a great way to discover a few more worthy organizations to support yourself.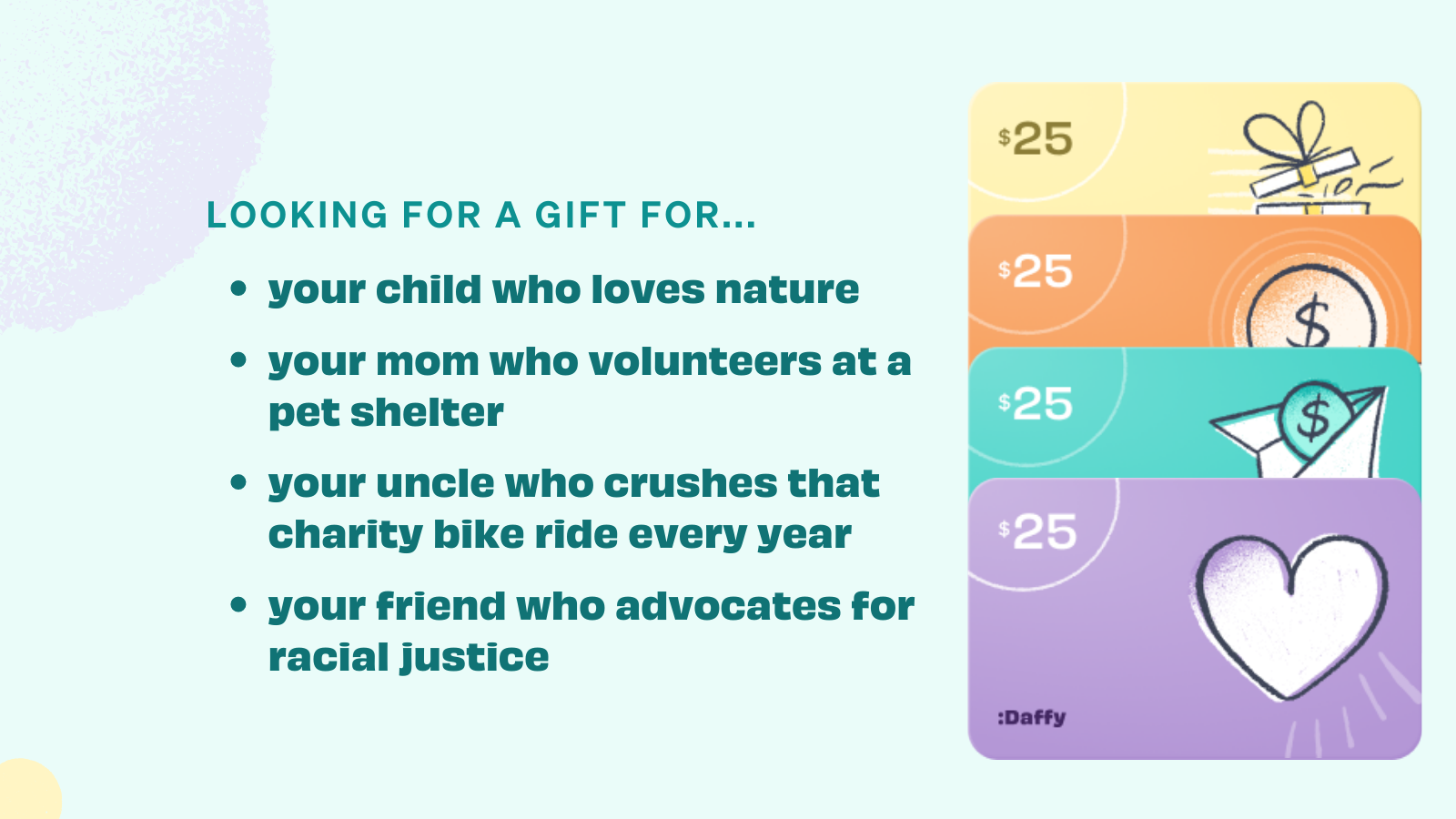 To help you think through who this is a fit for in your life…we think it's the perfect gift for that friend who volunteers at the pet shelter, your child who is always talking about climate change, or your cool uncle who does that annual charity bike ride (that you may have forgotten to support earlier this year).
Also, whether it's in addition to a physical gift or for the person who had an "in lieu of gifts" charity birthday fundraiser last year, sending a Daffy Gift will not only be meaningful to you and the recipient but will also have a positive impact on the charity they support, so it's one of those gifts for good that everyone can get behind.
Join us to spread the generous spirit this season. Send your first Daffy Gift today.🎁
P.S. Daffy Gifts count towards your annual giving goal, so if you want some help to reach your 2022 🎯. Now is the time to gift-to-a-friend.