On Mon, Apr 25, 2022 at 10:41 AM, Yaakov Zar, Founder of Lev, wrote: I have ~100 employees and I want to create and fund DAFs for all of them each month Is that something you can help with?
As the co-founder of a venture-backed startup, you never quite know what each day is going to bring you. As Steve Jobs eloquently described in his 2005 Commencement Address, we connect the dots of our lives looking backwards. As a result, it wasn't obvious that a simple email from one of our early members on a Friday morning in April would change our product roadmap for 2023… and yet, here we are.
Sometimes the best ideas come from your earliest customers.
In retrospect, it seems obvious. Daffy was founded on the simple belief that over the past twenty years, we've seen amazing innovation dedicated to helping us shop, helping us save, and helping us invest. What if we dedicated the same level of effort toward helping people give? Since we launched in 2021, we've helped thousands of members give to charity more regularly through a better system for giving with a modern, donor-advised fund under the hood.
We believe it's time for this innovation to extend to corporate giving programs, and so today we are officially launching Daffy for Work.
A Modern Platform for Employee Giving
There is no question that there is increasing demand for a change within companies.
75% of Millennial employees say it's important for employers to match employees' charitable contributions through a workplace giving program.  And while 65% of Fortune 500 companies offer a giving program of some kind and an estimated $2-3 billion is donated through matching gift programs annually, it's estimated that $4-$7 billion goes unclaimed each year.
What's the problem?
We've made corporate giving too complicated. No one loves corporate expense management systems, and forcing employees to upload a receipt for every single match seems designed to prevent employees from claiming this benefit on behalf of charitable organizations.
In addition, many employees are increasingly uncomfortable uploading specific details about the organizations they support on an employer website. In an increasingly contentious political climate, companies themselves are increasingly uncomfortable being in the middle of which charities their employees support as well.
41% of employees are now currently in hybrid or remote roles, so the traditional approach of centralized workplace giving programs centered around headquarters is no longer effective.
Workplaces have changed. Our approach to corporate giving needs to change as well.
Introducing Daffy for Work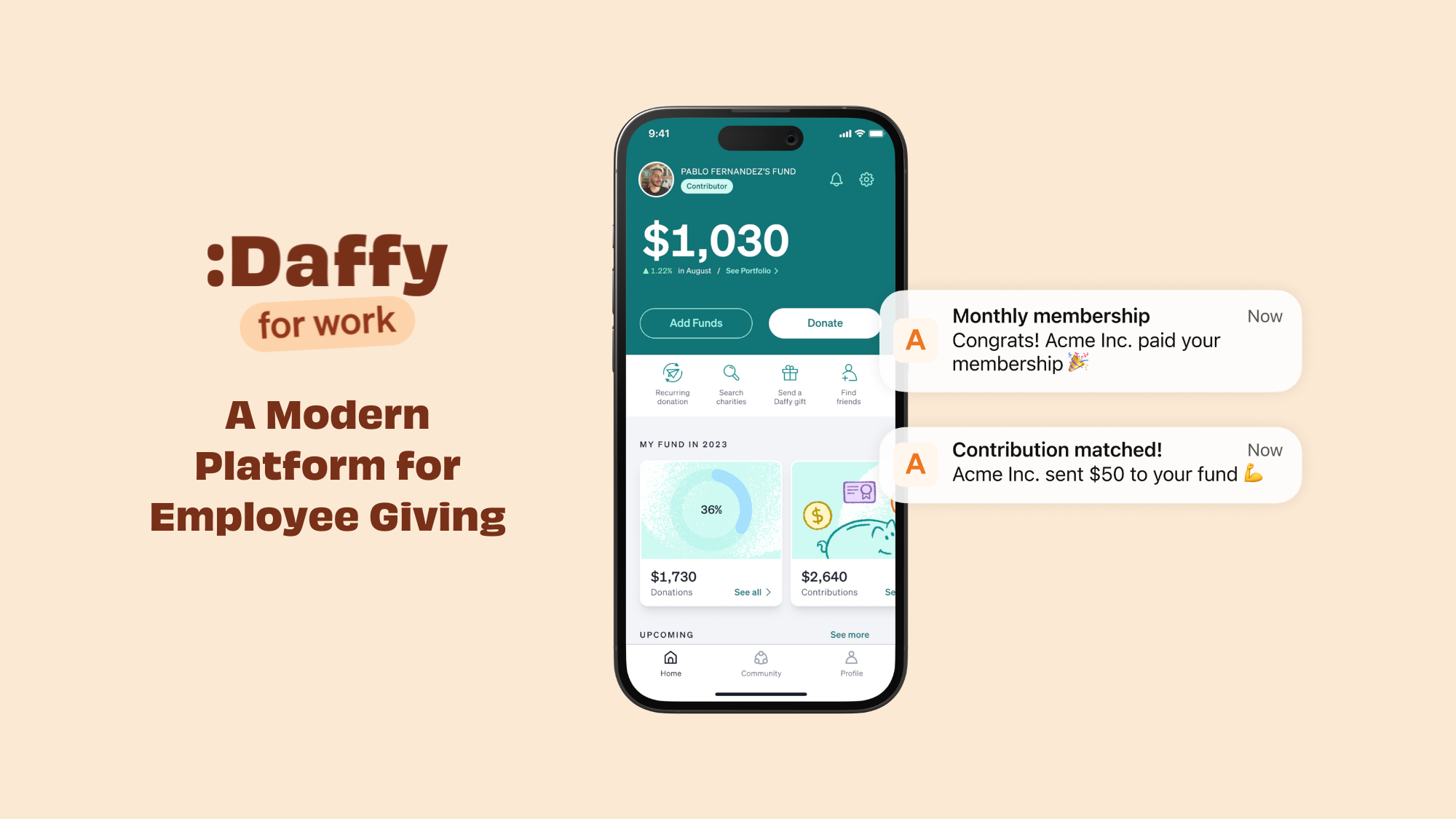 One of the most successful financial workplace benefits of the past 40 years has been the 401(k). When these plans were launched in 1978, there was skepticism that the average American would put money proactively aside for retirement in a workplace program. But 401(k) plans now hold $6.3 trillion in assets in more than 625,000 plans, on behalf of about 60 million participants and retirees.
Daffy for Work leverages the success of the 401(k) to offer employers a simpler, and more powerful, way to encourage their employees to give.
With Daffy for Work, every employee has access to a free, personal donor-advised fund. Employees can choose how much to put aside for charity, receiving an immediate charitable deduction for every contribution. The money is invested in a selection of tax-free portfolios, compounding over time, and then available whenever they feel inspired to make a donation.
Employers can encourage giving by either matching contributions to employee accounts, or by making direct contributions to their employee accounts.
Can you imagine how painful it would be if retirees had to upload expense receipts to their former employers to get reimbursed? No one would design a system like that.
But make no mistake, we believe that this simple change could profoundly affect charitable giving over time. If US employees put aside just 1% of their paychecks for charity, it could mean an additional $100 billion per year in individual giving in the US.
Get Started Today
We've built Daffy for Work from the ground up to have the simplicity and low cost of a modern SaaS application. Getting started is simple:
Go to daffy.org/work
Set how much you'd like to gift or match per employee
Link your corporate card or bank account
Get a custom link to share with your employees
Unlike traditional employer-giving providers that are loaded with hidden costs, Daffy has no setup costs, annual admin fees, or fees based on donations. You simply cover the monthly membership dues of participating employees starting at just $3/mo.
Join the companies like Acorns, Lev, OpenAI, Titan, and XYZ who have already embraced Daffy for Work. Empower your employees, attract top talent, and showcase your company's values with our modern and simple giving solution.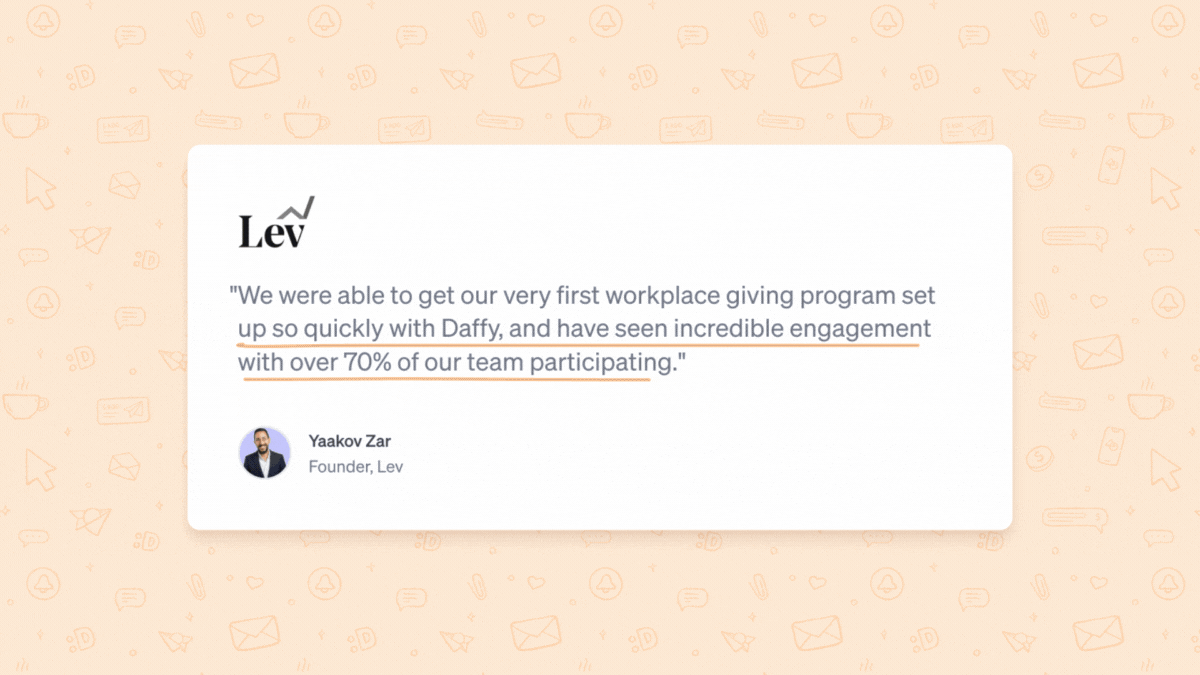 Don't settle for outdated methods of managing workplace giving programs. If you are an employee, forward this post to your HR team. If you are a manager or executive at a company, give Daffy for Work a try. You will be shocked at how simple it can be to support workplace giving.
Let's help everyone be more generous, more often.
Join us.